The End of WAC Football: Where Idaho and New Mexico State Stand
May 4, 2012

Chris Graythen/Getty Images
The signs were all there, but the WAC tried to pull through.  In the end, there was nothing that could be done, and it looks like this conference is heading the way of the dodo. 
With the loss of their flagship program Boise State last year, people started ignoring the conference.  Quick, off the top of your head, who won the conference last season?  If you didn't remember, it was Louisiana Tech. 
This coming season Hawaii, Fresno State and Nevada will leave the conference and join the Mountain West.  Knowing this move was coming, the WAC signed Texas State and Texas San Antonio—or so they thought. 
According to the Associated Press, Texas State will join the Sun Belt instead, while a USA Today reports says Texas San Antonio will be in Conference USA.  It also appears, according to ESPN, Louisiana Tech could be joining Conference USA  to replace teams that they lost to the Big East. 
ESPN is also reporting now that San Jose State and Utah State will join the Mountain West in the 2013 season.
If you aren't keeping score this leaves the WAC with all of two football teams, Idaho and New Mexico State. 
It doesn't appear that the Mountain West or Conference USA will be making an offer to either of these schools to join.  So what happens to them? Do they go independent? Do they try to get more teams in the conference? Find other conferences?
It is unlikely they will go independent.  It is a difficult thing to do and maintain success.  The current schools that are independent are all in a special place. I don't think Idaho or New Mexico State can pull it off for very long.  They may be able do it for a short time though.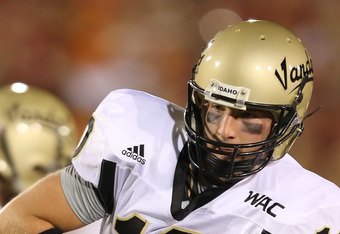 Lisa Blumenfeld/Getty Images
Finding teams to join the WAC is easier said than done.  In their last round of trying to bolster their ranks, they turned to a couple of teams from the FCS level that were barely established and would have no real impact on the face of college football. 
There is also the fact that a conference can't simply call a school and invite them up.  They must meet certain qualifications to be eligible for this level.  Even established schools like Montana and Montana State said thanks but no thanks to the invite last season. 
Finding another conference could go one of two ways. They can find new conferences at the FBS level or move down a notch to the FCS level. 
Neither school would want to move down, but in the long run, this could increase their success and, in turn, increase money.  But would going down to what many consider the minor leagues be worth it? Would many people even notice?
New conferences at the FBS level are probably more likely for New Mexico State than Idaho.  There are talks of UTEP leaving Conference USA for the Mountain West so that could open a spot there.  It is also possible that the Sun Belt could look to go to a 12 team conference with East and West and New Mexico State would be a possible choice to pick up to hit that 12 team mark. 
Idaho on the other hand doesn't really have any options.  The WAC is dying, the Mountain West isn't interested and they are located far away from the MAC, Conference USA or the Sun Belt (even though they were once briefly part of this conference).
With the talks of a possible playoff coming and the discontinuing of auto qualifying conferences, it makes no sense to me for San Diego State or Boise State to continue with the Big East. 
I could see the emergence of a couple of new conferences which will pretty much just look like a reshuffling of the old WAC and Mountain West conferences. 
If Idaho can go independent for a couple of seasons and survive, they could be partnered back up with some of these teams to align into a new conference.