April in Review: What It Means for the Remainder of the Season in San Diego
May 3, 2012

Ezra Shaw/Getty Images
If one could discern anything from the first month of the season for the San Diego Padres, it would be that they have a long season ahead of them.
They finished April with a record of 7-17, the worst in the National League. Eight of their losses were decided by two runs or less, and they have mustered little offense during their worst season start since 1994. As a team, they're currently boasting an average of .216, and slugging .331. If it weren't for the Oakland Athletics and Chicago Cubs, the Padres would be the weakest hitting team in baseball.
Hopefully, however, May will offer different results. The Padres have a perfect record through two games in the month, having taken two games of three from the Brewers for their first series win this season. Strong outings from Edinson Volquez and recent call-up Jeff Suppan yielded back-to-back wins against Milwaukee.
The Padres have hit 12 home runs this year, more than only the Cubs. Oddly enough, though, San Diego has scored 82 runs this season, more than the Washington Nationals. The Nats sit atop the National League East as of Tuesday.
Common knowledge of the Padres has proven to be true. They are a team with great pitching that is failing to win games, mostly due to their poor offense. San Diego is fifth in baseball in ERA, posting a 3.25. Washington is first with a 2.47. Young pitchers like Anthony Bass and Cory Luebke have had fantastic starts so far this season. Bass carried a perfect game into the sixth inning against the Giants in late April, and Luebke has a 3-1 record. Both pitchers lead the team in ERA, Bass with a 2.30 average and Luebke with a 2.61.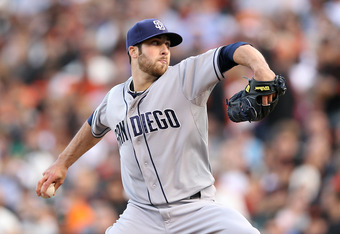 Ezra Shaw/Getty Images
Until the Padres find a way to score more often, they won't find themselves anywhere but in the cellar of the NL West. Hope currently lies in the recovery of outfielder Carlos Quentin, who is returning from arthroscopic surgery in his knee. Quentin began a rehab assignment in Triple-A Tucson earlier this week, and hit a three-run homer on Tuesday.
Adding Quentin's bat to the lineup would relieve considerable pressure from Chase Headley, the only Padres starter with a batting average over .250. If Quentin is able to give the lineup a power boost, other players would be able to settle into at-bats instead of trying to create offense immediately. Young hitters like Yonder Alonso and Cameron Maybin would benefit from a veteran and proven slugger in Quentin, as pitchers would face more resistance in the San Diego lineup than they have grown accustomed to.
The Washington Nationals are the perfect example for San Diego to follow. They don't put up runs in bunches, but their pitching has been phenomenal. They are proof to the Padres that winning can occur without offensive explosion.
Unfortunately, the Padres are missing exactly what they need. They hit too poorly and don't pitch well enough to compensate for it. Their bullpen is not what it used to be, and they lead the majors with 99 walks allowed. This team is close to another winning season, but that season will not be this one.
From an outsider's perspective, the Padres look awful. They were expected to finish last in the division before the season even began, and they haven't proved otherwise. Looking at this season and expecting to see anything but 90 losses is optimistic, and contending for the playoffs is virtually out of reach.
The next few seasons may bring baseball success back to San Diego, with a farm system that is tops in baseball. But the highly-touted prospects need time to develop, and the Padres have been rushed into a position of needing them now.
Given time, this team can win. Until then, however, frustration will be the dominant emotion of Padre fans.