Chelsea FC: Is Juan Mata Having a Better Season Than David Silva?
May 3, 2012

Mike Hewitt/Getty Images
David Silva's second year in the EPL has been a breakout one to say the least. He has more than validated his £24 million price tag, being a big reason Manchester City are in a spot to claim their first English title in over 40 years. He was a finalist for PFA Player of the Year, made the PFA team of the Year and all season long been touted as the league's very best.
However, he may not even be the best Spaniard on the island nation. That honor belongs to a player who has gone a whole season unrecognized, outside of the fan base that supports his club—Chelsea's Juan Mata.
In his first season (not even a full one, since he arrived in late August), he has been the key that drives the Chelsea attack, single-handedly deciding games on whether or not his play can engineer goals.
When Chelsea comes up short at the offensive end of the pitch, it usually means Mata was off his game. When they have their impressive multi-goal routs it is all because of the 24-year-old.
David Silva is an excellent player, and in a business where the endgame is more important that the process, it is hard to argue against someone who has guided his team to a title. But at the same time, it is to be blind to not recognize that Juan Mata is indeed having the same, if not a better season.
For the stats hounds out there, you need to look no further than the numbers the two have put up this campaign. Neither one is known as a goal scorer by trade, though Mata leads by a significant margin with 12 goals to Silva's eight in all competitions.
They are more subtle in their play, bringing about team goals through their passes and runs that have defenses collapse on them and open space for the forwards. But even then, the numbers favor Mata by a large margin, with his 22 assists to Silva's 18.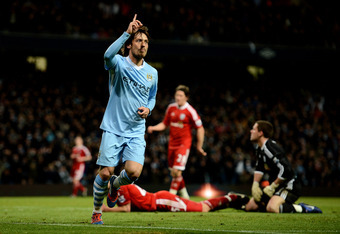 Laurence Griffiths/Getty Images
Advanced statistical analysis will continue to show that Mata has indeed been the better player this season.
EPLindex.com put together an evaluation of the league's top foreign born players who recently came into the league form pre- and post-Christmas. Their charts show Mata has outperformed Silva in nearly all categories since the break, including the creation of nearly one more chance on goal per game:
So, do they (the foreign born players) get tired? Well, in the case of David Silva, Alan Shearer certainly has a point. He is the only player out of these 5 to regress in every 'per game average', most noticeably his touches, passes and goals (although not passing accuracy)…

… For Juan Mata & Sergio Aguero, the numbers are quite indifferent. While some of their values have dropped since January began, others have progressed. And, even in the values that have changed, their change is very slight for best part, which is probably what would be found in most Premier League players.
Though this kind of in-depth analysis may suit the fantasy guru well, the subjectivity of "chances created" and other opta stats make it a poor barometer to judge a single player in a team game. I myself only use such arguments because they are so respected, but I personally find them contrived and overtly biased.
The only objective way to judge an individual player in a sport such as football is the direct contribution they make to their team. It is also the point where Mata makes his strongest case for being the best Spanish player in England.
For much of the season, Manchester City has been the top team in the league. They are loaded with talent, and the huge investments made in the summer are likely to pay off with a title.
In all competitions this season, they have scored 116 goals in 52 games in all competitions, averaging out to 2.23 goals per game. Silva's 22 points have directly accounted for only 19 percent of City's overall offensive production, and he gets a point every 0.42 games.
Chelsea, on the other hand, has had an up-and-down year. Mata, like many Chelsea players, found himself often playing out of position under Andre Villas-Boas. Though the campaign can still be deemed successful if they are to win the Champions League, they have not had a typical year.
As a team, the Blues have scored 106 goals in 57 matches, giving them an average of 1.86 goals per game. However, Mata has found himself directly involved in 32 percent of Chelsea's offensive production, giving him a point every 0.6 games.
Ultimately, these stats are only relative in relation to the silverware they win. Silva is well within reach of hoisting the Barclay's trophy, but Mata would not be put off if he were able to counter it with the Champions League. Both have been integral in their campaigns in these respective competitions, and it seems more of a push to who really has the upper hand there.
The empirical evidence overwhelmingly favors Mata in all major categories. There is no way to get around the significance he has to his team as opposed to what Silva brings to City.
Again, this discussion is in no way to diminish the incredible year Silva has had, but rather put some perspective around it and suggest perhaps the fanfare around City has more to do with the claim of he being the best playmaker in the league.
This is, of course, something that is up for debate, and I expect a fun one to ensue in the comments section. So please, let me know what this information means to you and whether or not it changes your mind about Mata, Silva or how you view the sport in general.
For all my articles, follow me on Twitter: @thecriterionman