Georgia Football: Is Aaron Murray Being Unfairly Criticized for His Play?
May 3, 2012

Kevin C. Cox/Getty Images
Every quarterback has received criticism at least once in their lifetime. From Joe Montana to Tom Brady, no quarterback is immune to fans critiquing their play.
Georgia quarterback Aaron Murray has had a good start to his college career and because of that, he was put on the Heisman watch list for this upcoming season. In fact, Matt Hayes who works for Sporting News, named his top 25 players in college football and he had Murray No. 15.
While the national media loves him, the fans have a different view on the junior quarterback. Some fans think backups Christian LeMay and Hutson Mason are better quarterbacks and the only reason Murray still has the job is the fact that Mark Richt loves his style of play.
There are two ways to look at Murray. Last year, Murray ranked second in the SEC in passing yards (3,149) and first in touchdown passes (35).
Murray has made a few All-SEC teams last year and is regarded by some national media members as the best quarterback in the conference. Out of all the FBS quarterbacks returning, only Matt Barkley has thrown more touchdown passes last season (37).
So Murray has done a lot of good in Athens. That being said, he has some things he has to work on in order for the Bulldogs to progress.
The first thing and the most important thing is that he has to take care of the football. Last season, Murray threw 14 interceptions and six of those picks came in the last four games. Murray also had costly fumbles in some key games like the SEC championship, a game they were leading early on.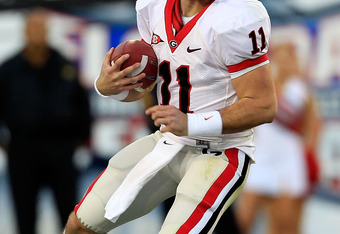 Sam Greenwood/Getty Images
He also has been criticized for his accuracy as he only completed 59 percent of his passes last season.  
But to Murray's defense, he was working with an inconsistent running game and a very sketchy offensive line that to had to make its share of changes throughout the season. And with at least three starting positions on the offensive line up in the air, Murray will be working with a questionable O-line again.
However, the coaching staff believes the running game will be better with the addition of Keith Marshall and Todd Gurley, and they are also banking on Ken Malcome and Isaiah Crowell have improved from last year. Hopefully, that will make Murray a better signal-caller and make better decisions.
So is criticizing Murray fair? Absolutely, it's fair because all quarterbacks have to go through some type of criticism to make them a better player.
But to say that Mason and LeMay are better quarterbacks is a stretch. Both players are talented but there is a reason Murray is considered as one of the best quarterbacks in the country.
Let's hope this is the year he can prove he is one of the best to the believers, doubters and more importantly, himself.