Will the New York Knicks Playoff Meltdown Cost Mike Woodson His Job?
May 2, 2012

Marc Serota/Getty Images
New York Knicks interim coach Mike Woodson has done a fantastic job turning the underachieving Knicks into a decent team during the regular season. An 18-6 finish to the regular season and a commitment to the defensive end of the floor had many to believe that the interim tag should permanently be removed from Woodson's name.
He makes no excuses and won consistently down the stretch with a rash of injuries that included point guard Jeremy Lin and forward Amar'e Stoudemire. Woodson had Carmelo Anthony playing the best basketball of his career in April, and everything seemed great in the Big Apple.
But after a pair of bad playoff losses and more and more whispers about Phil Jackson, it could be Woodson who pays a severe price when it's all said and done.
Yet Woodson doesn't have a track record for postseason success, dropping his career postseason record to 11-20 with the two losses to the Heat. Ultimately, the Knicks' front office brass is going to want a head coach who can win in the playoffs.
Despite what happens the rest of the series, the full-time job should be Woodson's to lose. But if the Knicks continue to melt down, he could do exactly that.
After the Game 1 blowout, Woodson told reporters (via ESPNNewYork.com's Ian O'Connor), "I'm really secure in what I do on and off the floor," he said. "Everything is good. … I'll be all right. If I don't work, I'll be fine."
Woodson should be fine in New York. He has the attention and respect of the players, especially his superstar in Anthony, who campaigned for Woodson to get the full-time gig.
That strategy worked back when Patrick Ewing publicly endorsed then-interim coach Jeff Van Gundy for the job in 1996.
Woodson will be fine. Even if the Knicks don't retain his services, what he's done in the last 24 regular season games won't go unnoticed by NBA teams. 
But this is the job he ultimately wants, and quite frankly he deserves.
However, you can't overlook the facts that as bad as the Knicks have played so far in this series, Woodson has been severely outcoached by Erik Spoelstra.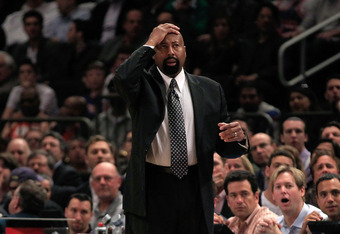 Chris Trotman/Getty Images
There's really no good excuse for being so thoroughly dominated by LeBron James and a defensive game plan that neither Anthony nor Woodson had any answers for in Game 1.
Game 1 was long gone before rookie Iman Shumpert collapsed in the middle of the third quarter. His knee injury, devastating as it was, had no impact on the end result.
Miami's strategy of fronting Anthony with James or Shane Battier, while sending backside help on lobs over the top, was the chief reason the series opener devolved into such an ungodly Knicks mess.
Woodson never adjusted to the adjustments the Heat made after Melo dropped 42 on them in the Garden in April.
His offense remained stagnant, predictable, one-dimensional and helpless against the spirited and energized Miami defense that Spoelstra (and Pat Riley) designed to stop it. Spoelstra had a plan, and all Woodson had was his worst day of the year.
It's been a lot to ask out of Woodson. Tyson Chandler was sick. Baron Davis' back hurts. Shumpert's youth, athleticism and defensive ability are irreplaceable. Jeremy Lin is in street clothes, and Stoudemire lost a fight with a fire extinguisher.
Yet with all the odds stacked against him, Woodson has to find a way to get the Knicks back in this series.
His job could depend on it.
Despite the regular season success, Woodson could be judged on how he performs in the postseason, and so far the results haven't been very good.