NFL Draft 2012: What to Expect from Coby Fleener and Dwayne Allen's Rookie Years
May 2, 2012

Kevin C. Cox/Getty Images
After months of media hype, the draft is over and fans finally have new members of their team to welcome to town. Expectations for draft picks are high, but are they too high?
Over the course of the next few weeks, "What to Expect" will examine every draft pick from the AFC South in its historical context. Using past performances from similarly drafted players and by examining the way in which each team develops certain positions, I will create a realistic baseline by which to judge the performance of each pick.
Readers should be aware that rookies historically perform much, much worse than fan expectations. Also keep in mind that I am not saying the player will perform to these expectations, but rather anything better than the results should be considered a successful rookie year and anything worse would be a disappointment.
The Indianapolis Colts opened the draft by selecting Andrew Luck, but their second-round pick got plenty of attention as well. Coby Fleener was a popular pick by the Colts and fan expectation for him  is high. Is it too high, however?
What about third-round pick Dwayne Allen, also a tight end? What can the Colts expect to get from him?
Since 2003, there have been 23 tight ends taken in the first or second round of the draft. Their names include some of the elite at the position over that span including Dallas Clark, Heath Miller, Vernon Davis, Rob Gronkowski and Brandon Pettigrew.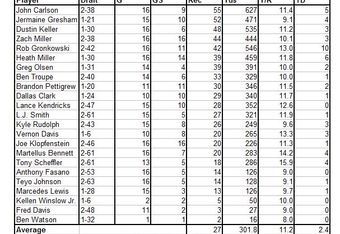 As rookies, however, their production was limited. As a group, they averaged just 27 catches for about 300 yards and 2.4 touchdowns.
There were some huge years in the pack, including 10 touchdowns for Gronkowski, and 55 catches for John Carlson.
Fleener is likely to be on the high end of the projection, due to his role in the Colts offense. It's reasonable to expect 40 catches, 400 yards and four touchdowns as baseline numbers. Those numbers would put him in the top 10 for highly drafted tight ends in their rookie year. Anything more that than would be a bonus.
When you look at just second- and third-round picks to get a baseline for Allen, the averages basically cut in half. Allen can be expected to post around 20 catches, 200 yards and two touchdowns. The later tight ends got off to slower starts, but many have had excellent impact including Jared Cook, Jermichael Finley and Jason Witten.
For Allen, this baseline might well be low, as several of the tight ends on the list played sparingly their first season. It's probably safer to expect 30/300/3 as a slash line for the early third-round pick.
Indianapolis has had excellent tight ends in recent years, and the gold standard for rookie performance was Ken Dilger's outstanding 1995 season. The second-round pick posted 42 catches, 635 yards and four scores. It was actually the best season of his career, and represented career highs in all categories.
Summary
Elite tight ends can be found in the second and third rounds, and there's no reason to expect anything but high impact careers from Fleener and Allen. Both players can expect good usage their rookie year.
Even if one or the other gets off to a slow start, you can still expect them to turn in excellent careers. There's no pass/fail rookie test for tight ends.
The Colts are expected to use their tight ends heavily, and a combined 700 yards and seven touchdowns might be on the low side. Still, it provides a good solid baseline. In time, it's fair to expect one or both of these players to be a dominant figure posting near 1,000-yard seasons. That's probably a year or two off, though.
In 2012, Colts fans should be happy with modest production and a flash of things to come from their new set of feature tight ends.