Chelsea FC vs. FC Bayern Munich: UEFA Champions League Final Odds Preview
May 2, 2012

So it all comes down to this.
What most fans, oddsmakers and soccer experts thought would be an all-Spanish, Barcelona-Real Madrid final ended up being a surprise matchup between the now sixth-place team in the English Premier League and the second-place team in Germany's Bundesliga.
Here are all the particulars and opening odds from the LVH SuperBook here in Las Vegas for the match that will determine this year's European champion:
What: UEFA Champions League final
Who: Chelsea FC vs. FC Bayern Munich
Where: Fußball Arena München, Munich, Germany
When: Saturday, May 19th, 2012
Time: 2:45 p.m. ET/11:45 a.m. PT/20:45 p.m. (Munich)
Television: FOX
Radio: SiriusXM
LVH SuperBook Odds (To Win Outright): Bayern Munich -240, Chelsea +200
LVH SuperBook (90 Mins + Injury Time): Chelsea +½ +125, Bayern Munich -½ -145
Total: Over 2½ -105, Under 2½ -115
LVH SuperBook Odds (3-way Result): Chelsea +425, Bayern Munich -145, Draw +270
Both clubs arrive at this game coming off big upsets in the semifinal round with Chelsea ousting Barcelona (3-2 aggregate) and Bayern Munich eliminating Real Madrid (3-3 aggregate, 3-1 penalty kicks). Both did so in matches held on the road in Spain.
And anyone betting on either the team from Germany (+375, Sportsbook.com) or England (+650) in the "Which Country Will Win UEFA Champions League?" proposition bet or the "Name the Finalists" prop (Chelsea-Bayern Munich +400) can give themselves a big pat on the back right about now for fading the two talented sides from La Liga.
Besides the obvious prestige and the chance to bring the trophy back to west London, Chelsea may very well be heading into this match needing a win to qualify for the UEFA Champions League next season, depending on what happens in its final three EPL matches.
For Bayern Munich, which will enjoy the luxury of playing in its home city, a win in this game can exorcise some of the demons for not winning the Bundesliga (won by Borussia Dortmund) this campaign.
Der FCB will shooting for its fifth UEFA Champions League championship, while the Blues will be seeking their first-ever CL title here. Bayern Munich last won in 2001, while Chelsea lost to EPL rival Manchester United back in 2008 in its only CL final appearance.
Besides playing in Munich, Chelsea will be also hampered by being without the services of captain John Terry, Branislav Ivanovic, Ramires and Raul Meireles for the final.
Terry was red-carded for kneeing Barcelona forward Alexis Sanchez in the back of his leg during the semifinal second leg while Ivanovic, Ramires and Meireles all received yellow cards in the match.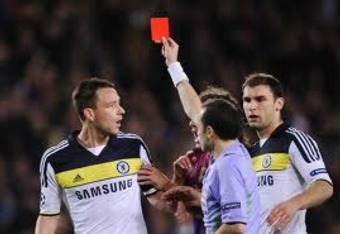 Those yellow cards took their total bookings for the tournament to three and led to their subsequent one-match suspensions.
The Blues will also be hoping defenders David Luiz and Gary Cahill recover from hamstring injuries for the big May 19th match. Without Terry and Ivanovic, interim manager Roberto Di Matteo may have to start Ashley Cole, Jose Bosingwa, Paulo Ferreira and Ryan Bertrand on the back line.
Bayern Munich will be without three players of its own in David Alaba, Holger Badstuber and Luiz Gustavo, who also received three total bookings in the tourney.
The international players union FIFPro issued a plea for clemency for the six players (besides Terry) who were banned, but it was rejected.
Bayern Munich manager Jupp Heynckes will likely have Mario Gomez, Arjen Robben, Franck Ribéry, Toni Kroos, Daniel van Buyten, Bastian Schweinsteiger, Philipp Lahm, Jérôme Boateng and possibly Thomas Müller in his starting lineup, with Manuel Neuer in goal.
Without the aforementioned four Chelsea players banned for the match, Di Matteo may have that patchwork defense along with Petr Cech in goal.
He'll likely have Frank Lampard, John Obi-Mikel, Juan Mata and Didier Drogba in his starting lineup and players like Fernando Torres, Daniel Sturridge, Florent Malouda, Salomon Kalou, Oriol Romeu and Michael Essien at his disposal.
Despite the momentum the Blues are enjoying of late under Di Matteo's stewardship, Bayern Munich looks to be the healthier club. With Bayern's home-field edge and Chelsea having four of its most important players missing the game, the odds (Bayern Munich -240) reflect this reality.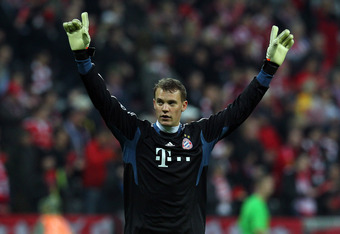 Martin Rose/Getty Images
Should Chelsea need the win to qualify for the 2012-13 UEFA CL, I expect an even stronger and more desperate performance with both Luiz and Cahill being fit for the final.
Both goalkeepers have been fabulous and a big reason these two sides are playing in this match, so the difference may come down to Chelsea's ability, or inability, to effectively control Robben and Ribéry on the flanks.
For the Blues to pull off the upset, I believe Mata and Lampard will have to be at their best. If both Drogba and Torres are playing on the pitch together for some reason, they will need to find some quick chemistry.
Despite the high odds in Bayern Munich's favor, I expect this match to be extremely close and competitive and I wouldn't be surprised if it went to extra time or even a shootout.
If it does go to a penalty shootout—as it did in 2003, 2005 and 2008—UEFA needs to really re-examine its current rules whereby the European soccer (football) champion, after all these matches, can be determined with just one defender (the goalkeeper) on the pitch and the clock turned off.
Just let them play until someone wins it on a goal, 11 versus 11. It's pretty simple.
And as great as soccer is, both the World Cup and the UEFA Champions League could learn a little something by watching the NHL playoffs where they play as many overtimes as necessary until someone scores.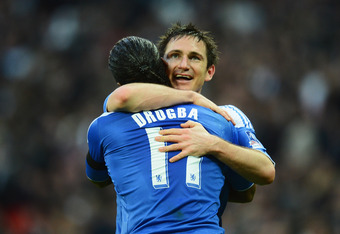 Mike Hewitt/Getty Images
Fair and square. And even better for the fans and much easier on the losing side. Just ask Real Madrid.
Hopefully, this game of all games won't be reduced to such foolishness on May 19th.
And if you want to bet on this match—just watching it is the best idea—I think the most sound approach is to take the club you want to win; betting Bayern Munich when you're a Chelsea fan or vice versa can make for some really tough viewing.
Your best bet? Stock up and your favorite food and beverages, invite some friends over and make sure your dog has been walked ahead of the opening whistle.
Sayonara.
PREDICTION: Bayern Munich 2 Chelsea 1
BET: Over 2½ -105
Follow me on Twitter: @KevinStott11