Detroit Red Wings: Most Disappointing Players from the Playoffs
May 2, 2012

Bruce Bennett/Getty Images
The Detroit Red Wings have entered the off-season long before they had hoped. 
Their disappointing end came at the hands of the Nashville Predators.  At one point in the season, the Red Wings led the NHL, but injuries threw the entire team off track and they were never able to rebound.
While most of the injured players were back when the playoffs started, many were far from 100 percent healthy.  Despite that, hopes were high that the team would be able to regroup.
When they playoffs start, teams not only hope that their star players step up but that every player on the roster finds that next level of play.  The Red Wings did not have enough players stand up during the playoffs.
Here are the biggest disappointments of the playoffs.  Hopefully these players can use their play and the first-round exit as motivation during next season.
Johan Franzen
When you lead the team in goals during the regular season, the expectations are that you show up in the playoffs.  He only scored once during the series.
Valtteri Filppula
Filppula had a very good regular season where he set career highs in goals, assists and plus/minus rating.  It was hoped that he would be able to continue those scoring ways in the playoffs in order to take the load off Pavel Datsyuk and Henrik Zetterberg.  He failed to score in the playoffs.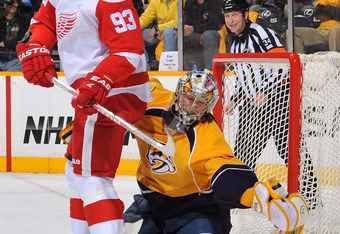 Frederick Breedon/Getty Images
Brad Stuart
Brad Stuart will be a free agent this off-season and all signs point to him heading back west to be closer to his family.  His minus-five rating and numerous turnovers during the playoffs made it seem like he already had one skate out the door.
Jimmy Howard
Now this is a tough one to have on the list. 
Howard is not to blame for the series loss.  The players in front of him really did not play well.  But looking around at other playoff series you see where goalies step up and steal a game or two for their team. 
Howard allowed three goals in four of the five games.  Ideally, he could have pulled off at least one shutout or at least a one-goal game.  He did not play bad but the Wings needed him to carry the team as they struggled.
Now some might include Todd Bertuzzi as well, however, his fight with Shea Weber following the WWE style cheap shot he put on Zetterberg takes him off the list.
The off-season should be very big for the team.  With Stuart, Lidstrom and Holmstrom up in the air as to their return and several free agents the team will be chasing, this could be a very different looking team next season.