2012 NBA Playoffs: Derrick Rose's Injury Will Be Too Much for Bulls to Overcome
May 2, 2012

Jonathan Daniel/Getty Images
Derrick Rose's injury-induced absence from the Chicago Bulls' lineup proved too much to overcome as the Bulls dropped Game 2 of their Eastern Conference quarterfinal matchup to the Philadelphia 76ers. The loss illustrates the difficulty the Bulls will face in overcoming Rose's injury to advance in the playoffs.
The Bulls struggled on the offensive end and missed Rose's leadership as the 76ers ran away with the game in the second half. Without Rose's offensive prowess and leadership, the Bulls are an incomplete team.
When Rose is out of the lineup, the Bulls struggle to score points. The 76ers were able to free their defense from focusing all of their attention on Rose. Not having to send extra defenders at Rose allowed them to matchup one-on-one and pressure the Bulls into difficult shots.
This was especially apparent in the third quarter as the Bulls suffered through a quarter-long scoring drought. The Bulls spent the third quarter bricking long jumpers and turning the ball over, allowing the 76ers to turn an eight-point deficit into a 14-point lead.
A healthy Rose could have helped the Bulls end the scoring drought and bring the game back under control. 
In addition to missing his offense, the Bulls were in desperate need of Rose's leadership. As Game 2 began to slip away, the Bulls looked lost and unsure of how to respond to the 76ers' run. No one on the team stepped up. There was no one there to say, "I got this."
This is where the Bulls will miss Rose the most. Rose has the swagger necessary to put the team on his back and take over a game.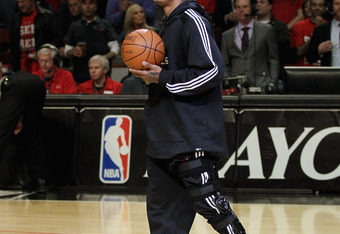 Jonathan Daniel/Getty Images
Rose's injury will likely result in a shorter playoff run than the Bulls were hoping for. Yet, even without Rose, a first-round exit would be shocking.
Maybe the emotion of the night and the realization that Rose isn't there to rescue them was too much for the Bulls to overcome in their first game since Rose's injury. Maybe they'll see the tape, be embarrassed at their performance and clean up their defense and rebounding issues before Game 3. The coaching staff might even make adjustments that allow the Bulls to be more efficient on the offensive end.
These are all things the Bulls can do to give themselves a better chance to win this series. But what they can't do by looking at film is find a leader and go to guy in difficult situations. That was what Derrick Rose was for.
The Bulls can't replace Rose. And not having Rose may prove too difficult a burden to overcome.