Manchester Derby 2012: Alex Ferguson Responsible for Manchester United's Loss
April 30, 2012

Michael Regan/Getty Images
Sir Alex Ferguson is a legend in the pantheon of the greatest managers in the history of world soccer.  He has won five FA Cups, four League Cups, 10 Community Shields, two Champions League titles, and a whopping 12 Premier League titles.
Today, however, in what was one of the biggest Premier League games of his career, he killed his team's chance of taking a 13th.
His squad selection for the Manchester Derby at the Etihad Stadium was, in a word, baffling.  His big-game faith in Park Ji-Sung, who has been such a loyal soldier for Ferguson since his arrival at Old Trafford, won out over form and, quite frankly, common sense.
Park started in the midfield for the Red Devils today and looked totally off the pace.  He hasn't played much this season and it's showed. City players routinely beat him to the ball and evaded his attempts at marking them.
His inclusion was a massive error, particularly as it forced out a player—Danny Welbeck—who has been in fantastic form lately.  He and Wayne Rooney have been an effective tandem this season and particularly in recent weeks, scoring in his last two matches and looking very threatening in his previous three.
Another omission that was absolutely inexcusable was that of Antonio Valencia.  Valencia can carve up a team on the wing, and his absence from the right side of the field significantly reduced the pressure on City and allowed Gael Clichy to push far up on the left side, where he made several threatening plays and nearly sealed the game in the 88th minute with a vicious shot from the upper left corner of the box.  A lack of effective wing play was one of the factors that allowed City to control possession and deny United a single shot on goal.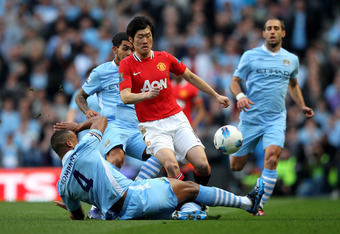 Alex Livesey/Getty Images
Ferguson's suspect squad selection was exacerbated by his waiting so long to correct it.
Park was not withdrawn for Welbeck until the 58th minute despite being the obvious weak link on the field, and—even more unforgivably—Ferguson waited until the 78th minute to introduce Valencia when it had been clear for at least 25 minutes that the United attack desperately needed an injection of pace.
The race is obviously not over.  Despite the massive hype this match has been getting, it did not give Man City the title—it merely makes them the favorites over the last two games.  The Citizens have a tougher ride over the next two weeks, making a trip for their next game to the Park formerly known as St. James for a tough game against Newcastle United.
Savvy transfer moves Papiss Cisse—who has scored 11 goals in 11 games since his arrival during the winter transfer window—and Demba Ba—a free transfer who scored 15 goals by January—have revitalized Newcastle, and Toon will go into the game level on points with Tottenham Hotspur for the fourth and final Champions League spot.  It will not be easy.
United has a relatively easy date with Swansea City at Old Trafford followed by a trip to Sunderland, while City faces struggling QPR.
Should City win the title this year, it will be in large part because of Ferguson's tactical errors today.  We may end up looking on this game as the day Sir Alex finally lost his edge.