2012 NFL Draft Grades: Green Bay Packers and Other Near-Perfect Drafts
April 29, 2012

Al Bello/Getty Images
The Green Bay Packers had a near flawless 2012 NFL draft, as they came away with some excellent players who will help the team immediately and into the future.
Ted Thompson has made his name as a savvy draft general manager, but this year he really stepped it up a notch or two.
Normally, Thompson is known as a very conservative GM. He rarely makes huge signings, he doesn't make blockbuster trades, and he rarely reaches in the NFL draft. He must really feel a sense of urgency to fix the Packers' issues on the defensive side of the ball though, as he traded up three times in this draft.
The aggressiveness really worked out for the Packers though, as they enter the season with a handful of picks that can make an impact right away.
Defensive end Nick Perry out of USC was projected to be a top-10 to -15 player by many draft experts, and he'll transition nicely into a role as 3-4 outside linebacker across from Clay Matthews. Perry should get a ton of pressure on opposing offenses' weak sides.
Jerel Worthy from Michigan State may end up being the biggest steal of this draft for the Pack. Worthy is an aggressive, strong defensive tackle that was projected as a late first round pick, but the Packers were able to trade up and take him in the second round after he fell to day two.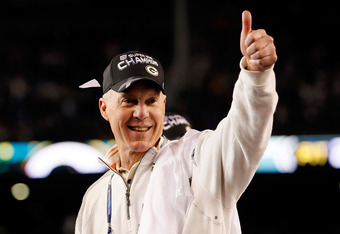 Kevin C. Cox/Getty Images
Other notable draft picks by the Packers include Vanderbilt corner Casey Hayward—who has a chance to be a great starter in the NFL—safety Jerron Mcmillian out of Maine, offensive tackle Andrew Datko from Florida State and quarterback B.J. Coleman from Chattanooga.
Overall, this is a draft Packers fans may look back on for years to come as the one that put their team back on top.
Here's a few other great drafts worth mentioning:
Cincinnati Bengals: The Bengals have put themselves in position to be a contender in the AFC for a very long time. They were already an up-and-coming team led by quarterback Andy Dalton and receiver A.J. Green, and they just got a whole lot better.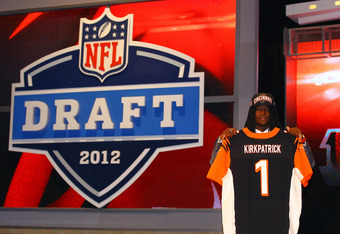 Al Bello/Getty Images
They were able to snag Alabama corner Dre Kirkpatrick with pick No. 17, a supremely talented defensive back whose stock had fallen due to some character concerns. Then, they got possibly the three biggest offensive steals in the draft with Rutgers receiver Mohammed Sanu in the third round, Georgia tight end Orson Charles in the fourth and Cal wideout Marvin Jones in the fifth.
The Bengals are going to be incredibly hard to stop on offense and I expect them to do big things in the AFC this year.
New England Patriots: Like the Packers, the Patriots had a great offense but struggled to stop teams defensively. That problem may have been all but erased with their draft picks. They were able to snag defensive end Chandler Jones out of Syracuse in Round 1, and then they absolutely stole Alabama's stud linebacker Dont'a Hightower just three picks later.
Those two picks alone will change New England's defense, but they also made a solid choice in Illinois safety Tavon Wilson in Round 3 and took a chance on Nebraska corner Afonzo Dennard in the seventh round, who could end up being a steal considering he was projected as a second round talent.
The Patriots really did a great job filling out their needs, and per usual, they will be a factor in the AFC because of it.