Race Control Calling Penalties, but Not Paying Attention to the Race
April 29, 2012

Let me start this article out by saying this first. Carl Edwards should have been penalized.
Okay, whether or not he was the leader, he still jumped the start. Either way. This article is about an underlying problem that almost every media member is ignoring.
As the controversial restart was about to happen, race control told Carl Edwards' spotter, Jason Hedlesky, that he was the leader. The track-scoring pylon showed Carl as the leader, and so did FOX's ticker.
Now, again, we all know that he was not! We just watched Tony Stewart beat Carl off of pit road. Tony was given the lane choice. So why is race control giving teams false information?
Your guess is a good as mine.
And Robin Pemberton failed to recognize that issue. The spotter of the 99 and 14 were called to the NASCAR hauler after the race. He then came out and said that the 99 beat the 14 to the line, causing the track scoring pylon to change the leaderboard. However, several pictures show that that's not the case, because the pace car was still on the track. Keep in mind, FOX's ticker is run off of NASCAR's OFFICIAL scoring pylon.
Now all of a sudden, Hedlesky is silent. Why is that?
Perhaps NASCAR knows that they in fact, did make a mistake. And instead of addressing this issue, and issuing a statement to their fans, or lack there of in Richmond, they decide to ignore it and give the people involved gag orders to the media.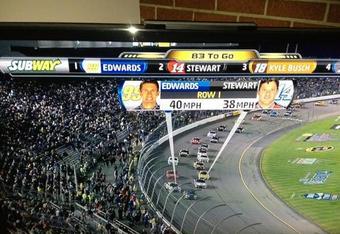 Great way to run your sport right?
And then there's the last caution.
Tony Stewart said in his interview that a water bottle caused the last caution. That's right. A water bottle. Dale Earnhardt, Jr., in an interview with Wendy Venturini also made a claim that he would be upset if a water bottle ruined "my chance at a win."
Well guess who reported the "deBriS" (notice BS is capitalized) on the back straightaway? What would make this story more interesting? According to multiple NASCAR writers on twitter, it was the 99 that called in about the "deBriS" on the back straightaway!
A make up caution? Draw your own conclusions.
And that brings me to the number of fans in Richmond. I STILL can't figure out why no one came to Richmond. I mean, this sport is honest, it runs smoothly, and everyone tells the fans what is going on.
I don't understand why a fan wouldn't show up to the track on a Saturday night. With all the questions being asked still after the statements are issued,  I think it's pretty clear why this sport is rapidly declining in popularity.
Let's keep ignoring the issue NASCAR, it's what in the "best interest of your sport."