Atlanta Braves: How Will Tim Hudson's Return Affect the Team?
April 28, 2012

Greg Fiume/Getty Images
Tim Hudson will make his first start of the season for the Braves this Sunday, according to MLB.com.
After having back surgery over the offseason, Hudson was unable to start before now.
He made two rehab starts in Triple-A Gwinnett, during which he gave up only one earned run across 10.7 innings.
Hudson's return to the Braves' starting pitching staff will have some huge effects on the entire team, and they should all be positive.
His return is very timely, especially because of the struggles Jair Jurrjens has been experiencing this season.
Jurrjens is currently 0-2, with a 9.37 ERA, and was sent down to the minors after his most recent start. Because of Hudson's return, Jurrjens will be able to work out his pitching issues in the minor leagues, which is helpful to the Braves.
One of the most important things Hudson will bring to the Braves is a clear ace, as well as a veteran on the mound.
The Braves' starting pitching staff currently averages at the age of 24, and is being led by Tommy Hanson, who is 25, and the oldest of their current starters. 
All of the Braves starters have been pitching well, but they have no clear ace, and no starter above the age of 25.
Tim Hudson will bring both of these things to the team.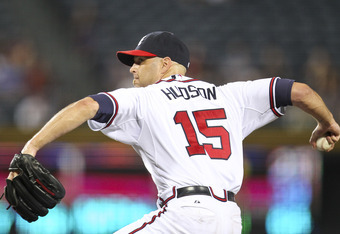 Daniel Shirey/Getty Images
This will be his 14th season in the MLB, and he will likely be able to continue from last season his role as ace of the Braves.
In this way, as well as others, Hudson being in the staff will take pressure away from the younger arms.
He will also be a help to the bullpen, because the Braves' current starters are often taken out after only pitching five or six innings. Hudson will hopefully be able to pitch at least seven innings in most of his starts.
The final and most important way Hudson will help the Braves is by contributing wins to the team.
In his six full seasons with the Braves, he has averaged nearly 15 wins per season, and has not yet displayed signs of decline.
Hudson will replace Jurrjens, who has been unable to get wins for the Braves, and will hopefully lead their team to have the best record in the NL East.