Miami Dolphins 2012 Draft: Why Ryan Tannehill Was a Better Pick Than Jake Locker
April 28, 2012

Al Bello/Getty Images
The Dolphins made one of the few reliably predictable draft picks yesterday when they selected Ryan Tannehill. Scouts and fans alike are divided on the pick—Bleacher Report's own Matt Miller gave the pick an "F" grade. What does he look like when compared to his twin pick from last year's class?
Separated by a year, Jake Locker and Ryan Tannehill share the same draft fate. Selected No. 8 by the Tennessee Titans and Miami Dolphins, respectively, both quarterbacks had pundits questioning the value in selecting each in the top 10. While it will take years to answer those questions, many fans do not have that kind of patience.
The scouting reports for these two are not dissimilar. Both came out of college with great arm strength and athleticism, but accuracy questions for Locker and a lack of experience along with late game failures for Tannehill were drags on their draft stocks.
Which quarterback was the better selection? After taking a deeper look, I posit that Ryan Tannehill wins this argument in the short term.
Here is a look at a statistical comparison of the two quarterbacks over their final two seasons in college:
| | | | | | | | |
| --- | --- | --- | --- | --- | --- | --- | --- |
| Player | Att. | Comp. | Comp. % | Yds | YPA | TD | Int. |
| Tannehill | 479 | 765 | 62.6 | 5,382 | 7.04 | 42 | 21 |
| Locker | 414 | 727 | 56.9 | 5,065 | 6.97 | 38 | 20 |
It is remarkable how comparable those statistics are, actually. The only significant advantage Tannehill shows here is completion percentage. Neither has a stellar rate, but at least Tannehill cracked 62 percent, nearly six points better than Locker over those last two seasons.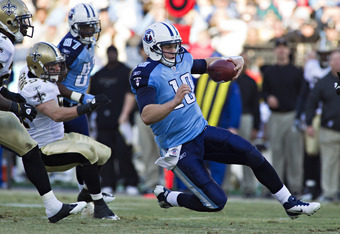 Wesley Hitt/Getty Images
Right about know is where I and many other Dolphins fans would point out that Tannehill suffered from somewhere between 64 to 79 drops as a senior, depending on who you talk to. While this did affect his completion percentage, Locker did not exactly have a good receiving corps in Washington, so I will call this argument a wash. There is one real kicker in these statistics, however.
Tannehill compiled his statistics in seven fewer starts.
The fact he compiled 300-plus more yards and four more touchdowns than Locker in seven fewer games tilts the stats in Tannehill's favor, though operating in different offenses is a big factor.
Another notch in Tannehill's belt is the fact Locker was far more seasoned in his final two seasons than Tannehill, who was only moved back to quarterback as a junior after having switched to receiver for his first two seasons as an Aggie. That Tannehill outperformed Locker despite far less experience is telling.
Those who would argue for Locker probably have valid points, but they also have the benefit of hindsight. He performed well in limited duty last season with the Titans, which only triggers confirmation bias for those seeking to refute my argument or prove Tannehill was a bad pick. 
True, Locker did perform well, but he also had an abysmal 51.5 completion percentage. Look for that to improve going forward, but he never cracked 60 percent in college.
At any rate, I am not here to say Locker is a bad prospect. On the contrary, as an avid fantasy footballer, I look forward to seeing what Locker can do with a full season under his belt and the weaponry he has in Tennessee.
Just the same, I look forward to seeing what Tannehill will be able to do after some NFL seasoning.