Trades the Oakland Athletics Need to Make to Contend in the AL West
April 30, 2012

Greg Fiume/Getty Images
In Major League Baseball, there are two types of winning teams. There are teams that can go out and buy the best talent out there (read: Yankees) and simply overpower any team that dares stand in its way. Then, there are teams that do things more tactfully. There are the teams that find prospects that they like and raise them through the farm system until they develop into a primetime player (still on their minor league contract) and get as much as you can out of that player before he gets bought away by the previous teams.
Newsflash: The A's are no New York Yankees.
This means that the A's have to be the best of the best at finding the proverbial diamonds in the rough and milking them for every good, cheap season they can get out of them. For those of you that are not A's fans, watch the first 30 minutes of Moneyball and you are all caught up.
So, now that the A's are hovering around .500 and seem to be progressing towards being able to contend in the AL West, they need to make moves to improve the team from a 70 (give or take) win season to the 90 (give or take) win season needed for a shot at a playoff berth. Here are some trades I think Oakland needs to make.
Dispense Fautino De Los Santos
De Los Santos, currently pitching for the AAA Sacramento team, does have potential. De Los Santos, originally looked at as a potential closer, has a triple-digit fastball on a good day, but also has control issues to go along with it. Since the A's have Grant Balfour for 2012 and 2013, with a club option on 2014, De Los Santos can be dealt for improvements elsewhere.
I'm thinking either a prospect at first base or at third base. These are weak spots in the A's lineup right now. This is where the scouts just have to get lucky. If the A's can get rid of a frivolous closer and get a major league first baseman in the making out of it, it would go a long way for Oakland's overall offensive production.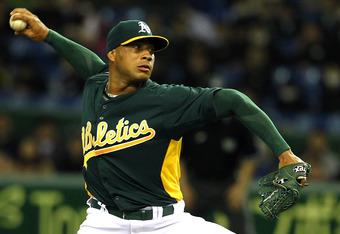 Koji Watanabe/Getty Images
Find Another Jarrod Parker
As much as I am sure that Tyson Ross is a high-class individual, he just isn't ready to start in the major leagues yet. Bartolo Colon and Tommy Milone have been incredible this season, Brandon McCarthy's best pitching is still ahead of him (hopefully) and the one outing Parker has had this season was a good one. Who is going to be No. 5? Well, hopefully not Ross.
A trade for a sneaky good AAA prospect is not a terrible idea. I would try to work a trade with a minor league outfielder for a minor league starting pitcher. With Coco Crisp, Yoenis Cespedes, Josh Reddick and Seth Smith in Oakland, I don't think the A's will need any help in the outfield anytime soon.
In a more long term experiment, I wouldn't mind seeing A.J. Griffin, with the AA Midland Rockhounds, get called up to AAA in Sacramento and see how he does. He's probably the best starter the AA squad has right now. Through five starts, Griffin is 2-0 and has a 2.08 ERA and an opponent's batting average of .187. That being said, he has hit a rough stretch as of late. So, Mr. Beane, wait for him to get his momentum back, then give him a shot at the AAA batters in Sacramento.
I would like some extra talent at third base and a heir apparent at catcher as well, but this isn't a wish list for Santa Claus. Or is it?