Carl Crawford Injury: Why OF'S Elbow Woes Are Blessing in Disguise for Red Sox
April 27, 2012

Elsa/Getty Images
"Man, that Carl Crawford signing sure is working out!"
The author of that quote? Nobody. It's been that kind of tenure for Crawford with the Boston Red Sox.
By now, you've probably heard that Crawford won't be returning to left field for the Red Sox for quite a while. According to Gordon Edes of ESPNBoston.com, the former Tampa Bay Rays star has a sprained ulnar collateral ligament in his left elbow. The team is opting for a conservative treatment plan rather than surgery, but one source said Crawford could be out as long as three months.
That's not a given, of course. But just for the heck of it, let's go ahead and cross off May, June and July. If Crawford ends up needing those months to heal and to get back into the swing of things, he won't be back until August.
Yeesh. He was one of the worst hitters in the known universe in 2011, and in 2012 he may only give the Red Sox two months of his time. 
Should I mention Crawford is on the books for over $20 million this season?
Perhaps not. In fact, let's skip right over that to address another question:
Is it possible that this is actually good news for the Red Sox?
Believe it or not, I say yes. I say yes because, honestly, the last thing the Boston Red Sox need in their lineup right now is Carl Crawford.
Take a look at how the Sox have been swinging the bats this season. They're second in the majors in runs, second in team batting average, third in on-base percentage and second in slugging percentage. They've been scoring runs in bunches, especially recently. The lineup has been clicking on all cylinders.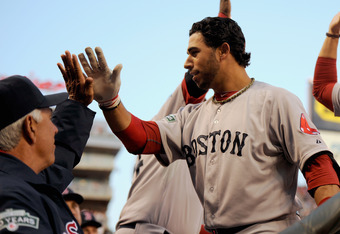 Hannah Foslien/Getty Images
The Red Sox do miss Jacoby Ellsbury, but Mike Aviles has done a fantastic job filling in for Ellsbury atop the lineup. In 42 leadoff at-bats, Aviles is hitting .381 with a .409 OBP and all four of his home runs. The initial thinking when Ellsbury got hurt was that Crawford could come back and fill in at leadoff, but at this point nobody should be in a hurry to move Aviles out of the leadoff spot. 
So right now, Crawford's absence is not a bad thing. On the contrary, it's actually a good thing.
If Crawford were to come back today, it would be even harder to figure out his place in Boston's lineup than it was last year. To fit him in, Cody Ross or Ryan Sweeney would have to hit the bench, and both of them have been swinging the bat very well in the early goings. Even after finding a home for him, Bobby Valentine would have to worry about Crawford producing. That's a fingers-crossed situation.
Obviously, Boston's lineup isn't going to stay hot all season. It's going to cool down, and players are going to get banged up. Down the line, the Red Sox lineup will need reinforcements.
And that's the bright side of Crawford's potentially lengthy absence. If he returns a couple months down the road, the Red Sox could view his return as something of a trade deadline acquisition. He would be an extra weapon for the stretch run.
By the time Crawford comes back, the Sox should have Ellsbury back, and they'll probably have Daisuke Matsuzaka back as well. Andrew Bailey's return could be fast approaching by that time.
This season is not going as the Sox drew it up, but the good news for them is that they stand to get stronger and deeper going forward as key players return from injury. Come August, the Red Sox are going to be a better team than they are now in April.
Ideally, Crawford will be a better player then than he was at any point last year. Considering how awful he was, that's not too much to hope for.