C.J. Wilson: Why He Was a More Important Addition Than Albert Pujols
April 27, 2012
J. Meric/Getty Images
After 19 games, of which the Angels have only managed to win six, it has become painfully obvious that if the team is going to have any shot at making the postseason, it is going to be the starting rotation that will need to carry them.
At the dawn of a new season, each team assesses its respective outlook by calculating its best-case scenario, its worse-case scenario and its realistic scenario.
For the Angels, on offense, the best case scenario had Albert Pujols, free from the distractions of his free agency, putting up an MVP-caliber season and challenging for the league lead in all major offensive categories. It had Kendrys Morales, healthy for the first time in two years, picking up right where he left off and teaming with Pujols to form the most dangerous one-two punch in the league. It had Howie Kendrick challenging for a batting title, Mark Trumbo making the seamless transition to third base while continuing to be an offensive force, Vernon Wells rebounding from last year's horrific season and Torii Hunter squeezing out one more year of above-average offense. 
Yeah, that's not gonna happen.
The only question at this point is whether the team will be able to avoid the worst-case scenario, which probably looked something like Pujols, Morales and Hunter (the projected 3-4-5 hitters) combining for one home run in April while the offense as a whole struggled to hit, particularly with runners in scoring position.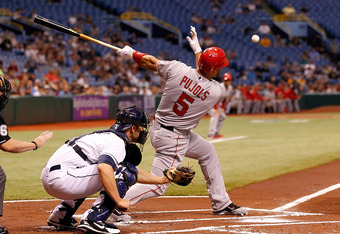 J. Meric/Getty Images
So far, not so good.
That's why the Angels' signing of Wilson will prove to be much more important than their inking of Pujols.
Look around. The steroid era is over. This is now a pitcher's league again. You cannot bash your way to victory on a daily basis anymore. Absent the presence of juiced baseballs (and players); good pitching will always beat good hitting.
Just look at the standings for proof.
In the American League, Texas leads everyone with a 2.62 team ERA, and it's no surprise they've ridden that all the way to the best record in baseball (13-4). In the National League, the Washington Nationals are off to their best start in franchise history (14-5) behind a major-league best 2.20 team ERA.
St. Louis, Baltimore, the Dodgers and White Sox all are in or tied for first place in their respective divisions courtesy of pitching staffs that rank in the top 20 overall in team ERA.
If the Angels are going to do anything this year, they are going to do so on the backs of their starting pitchers. Unfortunately, Ervin Santana is struggling to keep the ball in the ballpark, and Dan Haren off to an uncharacteristically slow start. Jered Weaver is pitching like his usual brilliant self, but that only underscores the importance of Wilson, who has been just as dominant but doesn't have the record to show for it because of lousy run support.  The bottom line is, he's been as good as advertised so far, and he will need to continue to be in order to keep the team afloat until the offense finally comes around.
Even when he's on, Pujols cannot win a game by himself.  Wilson can, which at this point makes him much more valuable to the team than Pujols and, therefore, makes him a much more important signing.