Kyle Busch Eyes Sprint Cup Turnaround at Richmond After Slow Start to 2012
April 27, 2012

Jerry Markland/Getty Images
Kyle Busch is not off to the start he may have hoped for in 2012.
Since going to victory lane in the season-opening exhibition event, the Budweiser Shootout, Busch has gone winless in Sprint Cup points-paying races so far in 2012 with a pair of Top Fives and three Top 10s to his credit in the season's first eight races.
"It just hasn't quite gone the way that we had hoped for yet," Busch said of his slow start via satellite interview. "But we've had some good runs that we've been excited about."
"You know," Busch elaborated, "Daytona's always kind of a crap shoot. Phoenix, we led a lot of laps and ran up front and finished sixth in the final rundown. California, we ran up front, led a lot of laps and finished second there."
"There's been some positives," Busch continued, "but there definitely hasn't been the type of excitement or the type of racing that we've been able to see in the No. 18 team in years past where we've been up front, leading a lot of laps and dominating."
But if there's hope to be had for Busch, it comes this weekend at Richmond, a track where Wild Thing has won three times, including a year ago.
"This weekend's race is a big race for us," Busch said of Saturday night's 400-mile event. "Richmond is one of the better tracks we come to on the circuit that we've had a lot of success at."
"I look forward to getting back here and getting back on the race track later this afternoon (for practice) and trying to get a good setup put together for our race Saturday night."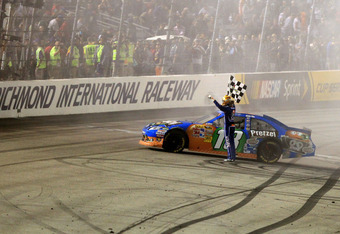 Streeter Lecka/Getty Images
Hope may also come in the form of one of Busch's competitors, who shares the same engine package as Busch and his Joe Gibbs Racing teammates this season.
"What the No. 56 looks like this year, those guys look really, really good over at MWR," Busch said of Martin Truex Jr., the man who sits second in the points and first among Toyota drivers.
"TRD is building our engines now, so I don't think there's much to be concerned about there," Busch said, referring to Toyota Racing Development, which has built the engines for Michael Waltrip Racing since its inception in 2007.
"Those guys are hard at work trying to make more horsepower and trying to get us caught up to there we can be a little bit better under the hood."
"We'll just have to keep playing it out, but so far so good."
As far as what it will take to make Kyle Busch's 2012 Sprint Cup season a success, Busch's response was quite simple:
"We need to win some races."
Like we even had to ask.
Busch certainly has some chances coming up to do some damage. In the circuit's next three races at Richmond, Talladega and Darlington, Busch has a combined five Sprint Cup victories, with at least one win at each track.
In terms of making a comeback in the standings, one has to like Busch's chances. Along with the aforementioned upcoming races, Busch's engine program has shown some muscle and may just continue to get better.
And if his early-season misfortunes are out of the way, Busch could be on track for some big things this summer, when he is notoriously at his best.
As far as his goal for the season, it will come as a surprise to no one if Busch accomplishes it Saturday night and takes his No. 18 car to victory lane at Richmond.
Be sure to tune in Saturday night for the Capital City 400. Coverage begins at 7:00 ET with the green flag dropping just past 7:30 ET only on FOX.
All quotes were obtained via satellite interview by the writer. Busch's sponsor M&M's also has a contest running he would like you to check out, so be sure to visit mms.com to learn more about it!