NL Worst of the Night: Heath Bell's Four Walks Blow Game for Miami Marlins
April 27, 2012

Mike Stobe/Getty Images
Highlighting a bad performance from the previous night in baseball might seem like a harsh way to start the morning. But look at it this way: If you had a rough night or bad day, here's someone who may have had it worse.
Closers have had a rough year thus far in baseball. Heath Bell was one of the best closers in baseball over the past three seasons with the San Diego Padres. But the beginning of his tenure with the Miami Marlins isn't going very well.
Bell blew his third save of the season (in five opportunities) Thursday, costing the Marlins a 3-2 loss to the New York Mets that dropped them to 7-11 for the season. 
The story isn't that Bell blew the save, though. Closers—even the best ones—are going to do that. But it's how he blew the save that has to be particularly troubling. 
Bell took the mound in the ninth, protecting a 2-1 lead. He walked David Wright to lead off the inning, something you never want to see a closer do. Unfortunately for Bell and the Marlins, he wasn't done yet.
Two batters later, Bell walked Ike Davis on four pitches. He followed that up by walking Josh Thole to load the bases.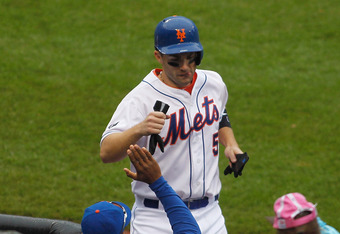 Mike Stobe/Getty Images
Then Justin Turner pinch-hit for reliever Ramon Ramirez. And the battle began.
Bell went after Turner with four-seam fastballs, mostly because his breaking stuff wasn't getting over the plate. But Turner just kept fouling those pitches off. Eight of them, in fact. 
Overall, Turner worked a 13-pitch at-bat against Bell. The last one missed for ball four and walked in the tying run. 
Bell looked like he might be able to keep the game tied, getting Scott Hairston to ground into a forceout. Yet Hairston still worked Bell for eight pitches. So he probably didn't have much left for the next batter, Kirk Nieuwenhuis.
The radar gun confirms that Bell was pretty gassed, as his last two pitches to Nieuwenhuis were 92 and 91 mph. Virtually every other fastball he threw in the inning were in the 93-95 range. But location was the main problem on Bell's last pitch. He left it high in the strike zone, right down the middle of the plate. Nieuwenhuis crushed it to right field for a walkoff single.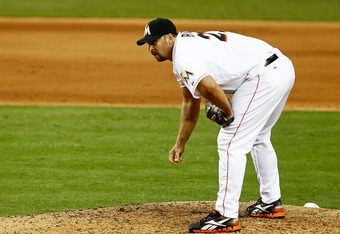 Mike Ehrmann/Getty Images
As John Autin points out at High Heat Stats, Bell had never walked more than three batters in game. And even then, he's only done it twice in 441 career appearances.
His 46 pitches (24 thrown for strikes) are the most he's thrown in a one-inning outing. That total is also eight more than any reliever has thrown in a stint of one inning or less this season.
Bell's meltdown left him with a 9.53 ERA for the season. He has walked seven batters and given up nine hits in just 5.2 innings. 
The natural question to ask is if Bell is hurt. Something obviously isn't right. And this might go back to last season, when Bell's strikeouts decreased dramatically. His Ks per nine innings went from 11.1 to 7.3. Is Bell just wearing down after five seasons of heavy use?
The most saves Bell has blown in a season is seven. And that was back in 2008, when he was setting up for Trevor Hoffman in San Diego. Anyone want to make a bet as to whether he exceeds that total this year?
Follow @iancass on Twitter