NBA Playoffs 2012 Bracket: 1st-Round Favorites with Nothing to Worry About
April 26, 2012
Harry How/Getty Images
As the Memphis Grizzlies reminded everyone last year, even the biggest underdogs can make a statement in the NBA playoffs. There may be upsets to be had in the 2012 edition as well, but some favorites are a good deal more vulnerable than others.
This trio of higher seeds should cruise to first-round victories over the next couple of weeks:
San Antonio Spurs
Despite being the victims of last year's monster upset by Memphis, the Spurs have a couple of key factors working in their favor this spring. Coach Gregg Popovich has gone to a lot more trouble to keep his aging stars rested heading into the postseason, and the Utah Jazz are not nearly so dangerous an eighth seed as the Grizzlies were.
Utah has its share of talent, but Paul Millsap won't present anything like the matchup problems that Zach Randolph did a year ago. Al Jefferson will get his points, but the disappointing Jazz defense (24th in the league in points allowed) won't be able to keep San Antonio from scoring more than enough to advance to Round 2.
Chicago Bulls
The Bulls have done remarkably well in Derrick Rose's absence this season, but Rose is back and healthy as the playoffs get underway. That means that it won't make much difference whether New York or Philadelphia winds up as the No. 8 seed in the East.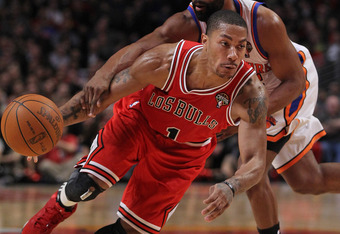 Jonathan Daniel/Getty Images
Neither team has enough firepower that it can count on scoring the points it will need against the No. 1 defense in basketball. Rose's own scoring contributions, plus the boost he'll give teammates such as Luol Deng and Carlos Boozer, will ensure enough offense for the Bulls to move on to the Eastern semis.
Oklahoma City Thunder
OKC's first-round opponent isn't nailed down either, with Denver and Dallas both having a chance to land in the No. 7 spot. Either way, though, Kevin Durant and company aren't going to have much to worry about.
Should the Mavericks turn out to be the team—and they're the likelier prospect—Dallas' aging core and lack of defense will sink them against the Thunder's depth and firepower.
The Nuggets, meanwhile, have the offensive chops to make things more interesting, but lack an individual leader to match Durant or Russell Westbrook.