Mel Kiper Jr 2012 NFL Mock Draft: Teams with Great Hauls in Analyst's Last Mock
April 26, 2012

Jeff Gross/Getty Images
Mel Kiper Jr. got a little creative with his final 2012 NFL mock draft. 
Instead of the piecing it together in traditional form, he broke it down team-by-team in a three-round format. 
Pretty cool actually. 
These are the teams that escaped with the best hauls in his last mock.
Rd. 1 (32) TE Coby Fleener, Stanford
Rd. 2 (63) RB David Wilson, Virginia Tech
Rd. 3 (94) OT Donald Stephenson, Oklahoma
Kiper says: I've liked Fleener to the Giants for a while. I think he just provides something that passing game doesn't have. Remember, Fleener won't just line up off tackle; you can split him out and use his size and speed to work matchups with smaller corners or slower linebackers. Teams will spend a lot of time looking at how to slow the momentum the Giants should carry over with their passing attack, and Fleener adds something new to account for.
Wilson provides power and explosiveness in the run game, and Stephenson is the requisite pick this team needs to make to keep some semblance of depth on the offensive line.
My take: Kiper says a lot here, and says it well. Fleener and free-agent acquisition Martellus Bennett would formulate a fantastic and threatening tight end tandem. David Wilson is a tremendous talent—he's the most athletically-gifted running back in this class.
I love the idea of him and Ahmad Bradshaw sharing carries in the foreseeable future. Stephenson could possibly move over to left tackle eventually, but he'd fill Kareem McKenzie's right tackle spot immediately, or at least provide competition for 2011 fourth-rounder James Brewer.
Rd. 1 (5) CB Morris Claiborne, LSU
Rd. 2 (36) RB Doug Martin, Boise State
Rd. 3 (68) LB Demario Davis, Arkansas State
Kiper says:  I know the pick of Claiborne won't be a surprise to anyone, but it's just a really safe pick. Claiborne doesn't blind you with speed, but everything else is there to make him a Pro Bowl-caliber corner for a long time. I have running back as a big need for this team, and Martin makes a lot of sense to me early in Round 2. I actually have LaMichael James rated higher on my Board, but Martin is a really complete back and could become the lead horse if LeGarrette Blount is around for only one more year.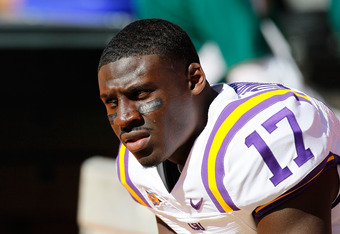 Kevin C. Cox/Getty Images
It's also clear the team is looking for a complement to Blount in the meantime, and coach Greg Schiano hasn't been shy about Blount's fumbling issues. Linebacker is a need spot, and Davis is right about there in terms of where I have him graded.
My take: A perfect draft for the Buccaneers. Playing in the NFC South, they need top cornerback talent. That's precisely what Morris Claiborne is. Doug Martin is an underrated but "do-everything" back that runs with power and deceptive elusiveness. 
Demario Davis isn't a household name because he played at Arkansas State, but is a speedy sideline-to-sideline guy that should start in 2012. 
Rd 1 (10) WR Michael Floyd, Notre Dame
Rd 2 (41) OT Jonathan Martin, Stanford
Rd 3 (71) LB Mychal Kendricks, California
Kiper says: Not in order, but I've hit my top three needs if I'm Buffalo. There are front offices that have Floyd as the top wide receiver in the draft, so getting him at No. 10 is pretty fair, given I've had him at about that spot on my Big Board. Floyd is a big target who will pick up the route tree quickly and give Ryan Fitzpatrick a much-needed new option.
Martin is a guy who once carried a solid first-round grade and could be a total steal at No. 41. Kendricks has immense physical talent and could be plugged in immediately, something the team did with Kelvin Sheppard last year.
Stephen Dunn/Getty Images
My take: An ideal first three rounds for the Bills. Floyd's got No. 1 wideout potential and would allow Stevie Johnson to wreak total havoc underneath as the team's possession guy.
Jonathan Martin is one of my favorite offensive tackles in this class—a true technician and a mauling run-blocker. He'll certainly be able to add strength before he steps on an NFL field.
Mychal Kendricks blew up at the combine with his fluid athletic ability and has great sideline-to-sideline speed. He'd provide wonderful outside linebacker depth in Buffalo.  
Rd 1 (7) DE Melvin Ingram, South Carolina (or trade down)
Rd 2 (38) WR Stephen Hill, Georgia Tech 
Rd 3 (70) CB Josh Norman, Coastal Carolina
Kiper says: The Jags need pass-rush help so bad, even if Justin Blackmon were somehow still there at No. 7, I'm not sure they pull the trigger. Ingram, if he can do anything, can rush the passer. The guy is wonderfully versatile, and even with his short arms he disengages really well and falls back on an arsenal of moves. This is not an elite class of pass-rushers, in my opinion, but the Jags can say they got the one who grades out best as of draft day.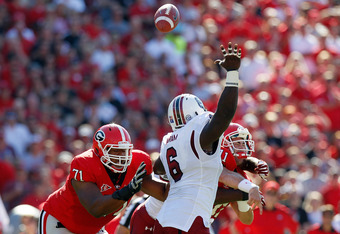 Kevin C. Cox/Getty Images
You can do worse at No. 7. Hill provides help stretching the field in Round 2. He is remarkably explosive given his long frame (he ran sub-4.4 at 6-foot-4). Still needs plenty of refinement coming out of Georgia Tech's run-first (and second) offense, but he gives the Jags something they don't have on the roster, even with the addition of Laurent Robinson. Norman is much-needed help at corner, so the top three needs are punched out.
My take: The pass-rush is aided, and Blaine Gabbert gets a true downfield threat at the wide receiver spot. As Kiper, Jr. says, Ingram is extremely versatile and really is a special talent. The defense wasn't atrocious last season, but it needs fearsome edge rushers. 
Hill's a work in progress, but is oozing with upside. Josh Norman is an underrated small-school guy, but he thrived at the East-West Shrine game. He'd be a welcomed addition to their secondary and should be starting in 2012. 
St. Louis Rams 
Rd. 1 (6) WR Justin Blackmon, Oklahoma State
Rd. 2 (33) OT Mike Adams, Ohio State
Rd. 2 (39) DT Kendall Reyes, Connecticut
Rd. 3 (65) RB Lamar Miller, Miami
Kiper says: I know St. Louis has been listening on this pick and could move down, but if the price isn't right, the pick of Blackmon would be. He might not have the upside of a superstar, but he has the floor of a very good player. He's proficient at doing anything a receiver must: He'll get open, create space, fight for and work back to the ball and work underneath as well as over the top.
Adams isn't a mauler, but he can really move his feet and could help at right tackle early with the upside of a pretty good left tackle, which is nothing to scoff at. Reyes is a steal at No. 39 if he's around and should fit well inside on this improving defensive line.
Miller can be explosive and will take the load off the great Steven Jackson. Some help on both sides of the ball here, with a focus on getting a dreadful offense back on track.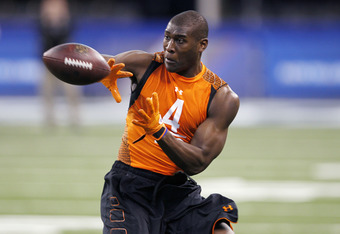 Joe Robbins/Getty Images
My take: Although I don't love the Adams pick, if he's the best available offensive tackle, he should be the selection. Blackmon is the next coming of Anquan Boldin and will make Sam Bradford's life significantly more comfortable. 
An offensive tackle of some sort is needed, so like I wrote, I'm "OK" with Adams in Round 2. Kendall Reyes will be a disruptive force in the middle of the defensive line, and Lamar Miller is an absolute steal in the third round. He's got stupendous flatline speed and possesses great lateral movement. The perfect back to be groomed under veteran Steven Jackson.