Chicago Cubs: The Curious Case of Alfonso Soriano
April 26, 2012

Brian Kersey/Getty Images
In a stunning turn of events, Alfonso Soriano came through in the clutch—albeit a sharp grounder to the 2B he could not handle—Tuesday night in the Chicago Cubs' game against their rivals the St. Louis Cardinals.  It was the Cubs' second straight walk-off win against the reigning World Series champions.
The surprising aspect of the Cubs' win Tuesday night was not so much whom they defeated nor how they won.  Rather, it was who lifted them to victory.  Alfonso Soriano has been much maligned throughout his Chicago career, more so over the past three-plus seasons.
Soriano's first two seasons in Chicago were not what was expected, but decent enough to keep the boo-birds at bay. 
Still, expecting a player to perform as well in his first season under a new contract as he did during his previous contract year has proven to fail.  The numbers in that first year do not usually surpass or equal those put up in his contract year.  Nevertheless, Soriano's numbers were respectable but still nowhere near the value of his contract.
Since joining the Cubs, he has not hit above .300, has not had a season with 40-plus home runs—achievements obtained only once before in his career—nor a season with 100-plus RBI—obtained twice in 2002 and 2005. 
After the 2008 season, his slugging percentage and OPS have both fallen off a cliff, his stolen base numbers have not climbed out of the double digits and his hits\season numbers have wallowed in the mid-110s—besides 2010, when his 128 hits eclipsed the 127 he had in his second season on the North Side.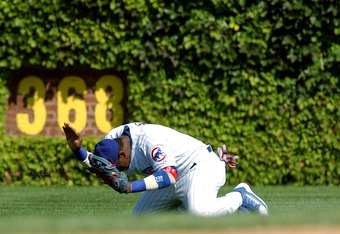 Jonathan Daniel/Getty Images
And that is what has irked Cubs fans about Soriano.  His yearly and cumulative statistics with the Cubs have not validated the high contract the Cubs gave him, and he did not seem interested or able to improve. 
Cubs fans love a player with awesome statistics, but I have not met a Cubs fan who does not appreciate a player who gives the maximum effort.  That is what drove us mad at the tail end of Sammy Sosa's career, and that is what Soriano was doing to us.  Each showed a lack of effort and unwillingness to listen to his coaches.
His performances in the clutch began to mimic Sammy Sosa's as Slammin' Sammy was winding down his Chicago Cubs career.  It's the bottom of the ninth, down by one with a runner on third, two strikes, two outs.  The result?  To quote Dan Patrick:  The whiff.
When the Cubs would need a big hit, Soriano would either fly out or ground out.  When we needed a home run, zilch.  For a time, it seemed his home runs would come only when the game was out of hand, when the Cubs were either up big or down big and a one- or two-run blast was moot.
As a Cubs fan since 1987, I have always embraced any and every Cubs player to put on the royal blue pinstripes.  But a faithful Cubs fan's loyalty can only go so far. 
What happened to Sosa in his final years as a Cub ( i.e. corked bat, a multitude of fluke injuries, his unwillingness to listen to his manager or hitting coach, continuously swinging at balls down and outside and his defensive woes) was an embarrassment to all Cubs fans and made a mockery of our loyalty.
This is how it seemed Soriano's run with the Cubs would wind down as well.  Up until this season, that is.  Before, it seemed Soriano was hell-bent on, to coin a phrase, out-Sammy-ing Sosa.
Soriano had suffered through fluke injuries, more than his fair share of spells of defensive ineptitude, base-running blunders and swings of the bat that are seemingly nowhere near the baseball. 
But this year, there looks to have been a change of attitude in Soriano.  Through spring training, he seemed to be more willing to listen to his manager and hitting coach than Sosa did after his steroid-fueled, ego-inflating run in the late 1990s and early 200s, and he placed the team first over personal statistics.
He does still chase some pitches down and away, but not all of them, like he used to.  While It is still very early in the season, it looks like a refocused Alfonso Soriano playing in left field and in the batter's box.
Whether his improved effort is due to his rededicating himself to the team or the possibility of being traded, as some baseball pundits thought was possible this past offseason, at the deadline it is a welcome sign in the Friendly Confines.
His numbers still are not where we—nor he—want them to be.  But an improvement in his effort is a good sign for his future with the Cubs, however long it may be. 
We Cubs fans (at least those before 2003) appreciate effort, even if it does not produce significant results.  This is what Soriano will come to recognize as his improved effort creates greater applause than his old nonchalant attitude produced jeers.
It is easy to be lazy in workouts and preparation when a player still has "it", but when a player no longer does, he has to work that much harder to maintain his ability. 
I believe Soriano has come to this realization.  Only time will tell if his renewed effort will last the entire season or is a flash in the pan to up his trade value.