Liverpool FC: Looking at Luis Suarez and His Strike Partnerships
April 25, 2012

Laurence Griffiths/Getty Images
Liverpool is in a bit of a slump. That may be putting it a bit lightly considering they are currently in 8th place from 34 games (W12-D10-L12) pulling in at 46 points, at +3 GD.
Liverpool and success go hand-in-hand. Who else in England has won five Champions League titles, three UEFA Cups, three Super Cups, 18 league titles, seven FA Cups and eight League Cups?
The past few seasons, have been nothing short of frustrating and infuriating. The club should be winning, the club should be contenders for both the league title and the Champions League, but we're not.
We know there are problems. We know this for a fact.
How many times have the frame of the goal been hit this season? It's been hit 30 times. That's 30 potential goals, the difference between Champions League and not.
Confidence (and goals) seems to be dwindling at the club.
This is about goals, not rebuilding a team, so let's keep the transfer banter to a minimum.
Luis Suarez
Liverpool acquired Luis Suarez from Ajax during the 2011 January transfer window for £22,800,000. At Ajax, he had made 110 appearances, scoring an incredible 81 times. Suarez, then, averaged .74 goals per game. Currently at Liverpool, finishing up his first full season with the club, he has made 28 appearances, finding the net only eight times. At Liverpool, his scoring per game dwindled to 0.29 goals per game. He's been able to find the target 44 times, but has only been able to convert 18 percent of that into goals.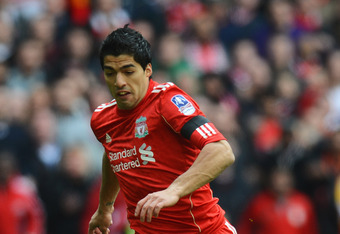 Mike Hewitt/Getty Images
What happened?
One can easily say that the Dutch Eredivisie is more attack-minded than the Premier League, that it's common for footballers in the Dutch league to score more often because of that reason. Maybe so, but look at who Suarez played with in the Ajax squad. During the 2008-2009 season at Ajax, he played with Klaas-Jan Huntelaar, who is now sought after for his physique and prowess at goal, making 54 appearances for Schalke 04 with 33 goals to his name.
At Ajax, Huntelaar and Suarez made 33 and 17 goals, respectively. Ajax finished 2nd place that season and was awarded a spot in the Champions League qualifying stage. Huntelaar was later bought by Real Madrid during the 2009 January transfer window.
If you look at Suarez's attacking partners this season at Liverpool, there are no players that have been able to put the ball in the back of the net as frequently as the Huntelaar-Suarez combination had at Ajax.
Maybe Suarez gets tired from weaving in and out between defenders to get into the box, leading to his unbelievable misses, maybe it's because he backtracks deep to win the ball to bring it to a scoring position. More players need to start getting their act together and start pumping balls into the box to give the forwards a chance to do what they do best – finish.
Andy Carroll
Andy Carroll was bought from Newcastle United for an exorbitant £35m in the January transfer window, merely days after the acquisition of Suarez from Ajax.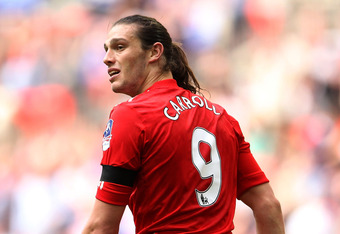 Scott Heavey/Getty Images
At Newcastle, Carroll made 80 appearances over three years at the club (from 2007-2008, he spent the season on loan at Preston North End scoring once from 11 appearances) and scored 31 times. He made his reputation as a marksman with his header, but this season he seems to have lost his midas touch (and he didn't even debut for the Reds until March 2011).
At Liverpool, Carroll has made 32 appearances with only four goals to show for it. That's a ridiculous 0.13 goals per game. He's also missed some clear-cut chances (6 out of 8 times!) that would have been a put away by a clinical finisher (Granted, Suarez hasn't been the most accurate finisher either, converting a paltry four goals from 15 clear-cut chances...).
Carroll may have the physical strength and the aerial abilities up front that defines a target man, but he lacks positioning and technical abilities to help move the club up the charts. He may be "only" 23 years old, but if you look at other under-25 footballers of his rank and stature, they definitely rank and score far more than he does.
Take a look at former Anderlecht striker, Romelu Lukaku, now at Chelsea, who has scored 33 goals in 73 appearances for the Purple and White all while under 18 years of age.
Brought in on the last day of summer transfer as a free transfer, Craig Bellamy is perhaps the best signing that Liverpool has put pen to paper on. Although used frequently as a substitute to use his pace against tired defenders, he should be started alongside Suarez on a constant basis.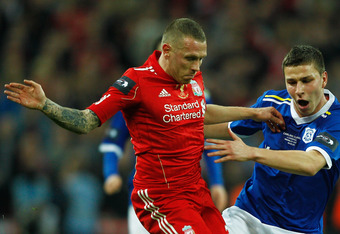 Paul Gilham/Getty Images
Bellamy, to date, has been on the pitch in a Liverpool shirt 24 times, finding the net six times (placing him second in Liverpool's goalscorers this season). He averages exactly 0.25 goals per game. Not significantly higher than Carroll's, but it is definitely higher.
He's also scored from free kicks and can bend some wicked corners into the box as we've all seen him do against Blackburn where Carroll scored the winning header.
Unfortunately I am not signed up with Opta Sports, which would be a goldmine for me to analyze the times Carroll has started with Suarez and times Suarez is on the pitch with Bellamy, and so much more...
Bellamy's explosive speed matched with the technical prowess of Suarez, I think, would benefit Liverpool and their chances of climbing the table to a respectable position, and bringing on Carroll as a substitute to hold up play and win headers as he was bought to be would be the ideal plan.
I understand why Kenny Dalglish would bench Suarez and play Carroll with Bellamy–he wants Suarez fit for cup games.
But I guess this just means we need more depth in a squad that's seeing red.