WWE Extreme Rules 2012: Start Time, Live Streaming and PPV Info
April 25, 2012

Michael N. Todaro/Getty Images
The WWE will attempt to build off a highly successful WrestleMania telecast with a return trip to Allstate Arena near Chicago for Extreme Rules. It's the same place last year's tremendous Money in the Bank pay-per-view was held and promises another top-notch crowd.
There are several storylines worth watching on Sunday, but none more prominent than the return of Brock Lesnar. His segment with John Laurinaitis at the end of Raw was a borderline disaster, so he'll be much better off getting back to what he does best—wreaking havoc.
The other marquee match will feature CM Punk returning to his hometown with hopes of extending his already lengthy title reign by knocking off Chris Jericho once again. It will be interesting to see where this match get placed because it should fire up the crowd.
Here's a look at all the key information for the show.
Where: Allstate Arena in Rosemont, Ill.
When: Sunday, April 29 at 8 p.m. ET
Watch: Pay-per-view (local cable providers)
Live Streaming: WWE.com has PPV for $44.95
Match Card
John Cena vs. Brock Lesnar – Extreme Rules match
CM Punk (c) vs. Chris Jericho – Chicago Street Fight for WWE Championship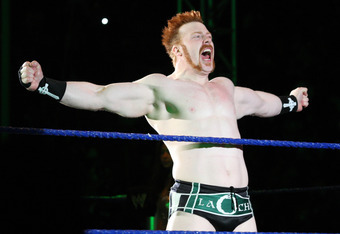 Gallo Images/Getty Images
Sheamus (c) vs. Daniel Bryan – Two out of three falls match for World Heavyweight Championship
Big Show (c) vs. Cody Rhodes – Intercontinental Championship match
Kane vs. Randy Orton – Falls Count Anywhere match
Santino Marella (c) vs. The Miz – United States Championship match on pre-show
Main Event Preview and Prediction
Lesnar returned on Raw the night after WrestleMania to a huge ovation. The diehard fans who attended the year's biggest event had already known there was a good chance he would be coming back based on various reports, but that didn't stop them from going crazy.
Based on how strong the company has made him look by continually beating down Cena, it would be a shock if he didn't pick up the victory on Sunday. It's clear the creative team has major plans for the former UFC champion.
After getting beat by The Rock in one of the biggest matches ever, Cena has continued to look weak ever since. They are playing it off like he's lost his confidence, but I have to believe a much bigger change is on the horizon, especially following another loss.
Prediction: Brock Lesnar
What They're Saying
Edge made a surprise appearance on Raw to give Cena a motivational speech before battling Lesnar:
WWE announcer Jim Ross says he's looking forward to physical nature of the two biggest matches on the card:
VERY excited about Extreme Rules in Chicago on PPV especially @JohnCena vs Lesnar and @CMPunk vs @IAmJericho. Expect prolific physicality.

— Jim Ross (@JRsBBQ) April 18, 2012
Undercard Match to Watch: CM Punk vs. Chris Jericho
Punk and Jericho have put on an extremely entertaining feud over the past couple months. From the best in the world claims to Y2J attacking Punk's straight-edge lifestyle, it's been a terrific example of what a great storyline looks like when executed properly.
So far, Punk has been able to maintain the belt, but I expect that to change on Sunday. Things are setting up too perfectly for him. Between the PPV being in his hometown and making it a Chicago Street Fight, the scales have been tipped too far in his favor.
Jericho's return to the WWE won't be complete without a title run. Look for him to finally figure out a way to beat Punk, earning a lot of heat from the partisan crowd in the process.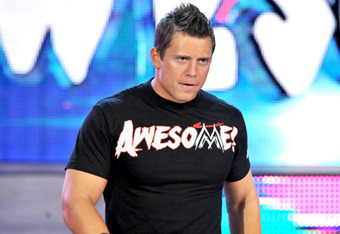 Which Star Will WWE Bury? The Miz
After headlining last year's WrestleMania with Cena, The Miz has been on a steady decline. He's obviously been hurt by returning stars like The Rock and Lesnar, but his lack of television time lately has been noticeable.
Being placed in a match on the pre-show against Santino for the United States title is a sharp contrast from being on top of the card. And since Santino has been getting such positive crowd reactions, it's hard to imagine him dropping the title in a match so few people will see.
Even though The Miz should eventually begin working his way back up the ladder, it's a matter of opportunity and there just isn't any available right now.
Star Unaccounted For: Lord Tensai
The WWE has been pushing Tensai, who was previously known as Albert during an earlier run with the company, heavily since his debut earlier in the month. His push has included a victory over Cena that was aided by David Otunga.
Being given that type of immediate boost usually means significant things are ahead, so having Tensai get his first PPV victory on a secondary show would seem like the wise move. Instead, he's been left off the initial card altogether.
The character has definitely struggled getting off the ground in terms of crowd reaction. You have to wonder if his monster push will be reconsidered if things don't improve soon. It's tough to punt a key storyline so quickly, but the early feedback has been weak.