Chelsea vs. Barcelona: Why Pep Guardiola's Reign at Barcelona Should Be Over
April 25, 2012

Shaun Botterill/Getty Images
It's obvious now that Pep Guardiola has done all he can for Barcelona. Three straight losses—the second-leg draw against Chelsea counts as a loss—have shown his weaknesses.
Guardiola was not able to change anything in losses to Chelsea and Real Madrid and could not carry his team over the hump in the second leg against the London club.
Sure, the players deserve their blame for profligacy in the first leg and the "Clasico" as well as some bad defending and a missed penalty in the second leg but in the end it boils down to Guardiola's decision-making.
This is not necessarily panic time nor should he be suddenly given the axe but it may be time for him to move on. The players certainly don't need to leave. If there is one change that could help the club next season it is a managerial one.
Guardiola's reign as Barcelona head coach should be over because he has carried them as far as he could. His tactics, decision-making and his man-management are his weaknesses and they have really come to the foreground this year.
Thirteen trophies in almost four years is impressive. While some of his critics may say that this group of players could have done all that without him, Pep Guardiola was instrumental in all those successes.
He changed the way the players trained, the clubs mentality, allowed the youth program to flourish even more and fine-tuned Frank Rijkaard's 4-3-3 while making a few modifications himself along the way.
Don't forget that his changes have also helped the likes of Lionel Messi, Xavi and so on become the players they are now. As the seasons have gone on, Guardiola has implemented little changes in the teams' tactics.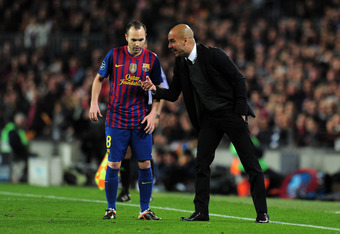 Shaun Botterill/Getty Images
Things were simple in 2008-09. Players still moved and roamed about with fluidity but there was an element of rigidity and structure as well with players occupying their starting positions for the majority of the game. Messi would stay on the right and Samuel Eto'o would stay in the middle and so forth.
The next season, 2009-10, saw the introduction of Zlatan Ibrahimovic to replace Eto'o. This move stunted the team's passing fluidity a little but showed Guardiola's thought process that a new dimension was needed in attack. It didn't necessarily work, though.
Ibrahimovic saw playing time, but Messi soon became the focal point and was eventually moved to the middle of the front three, something which was solidified in the 2010-11 season. That again signified a bit of tactical change as Messi was used in a "false nine" role and Barcelona continued to beat all before them.
This year there really hasn't been any change. At times the Barcelona players have just being passing and passing with no purpose and, for the most part, as Messi's 63 goals have shown, looking for the little Argentinean.
Their insistence on playing through the middle has made it easy for their opponents to defend at times as losses to Getafe and just now to a 10-man Chelsea team have shown.
Each year the team has become more reliant on Lionel Messi and despite personnel changes here and there it all ends with him just as Guardiola's tactical innovations ended in 2010-11.
This is not to say that Barcelona should look to the long ball or pumping crosses into the box but that the team could be so much more effective were they seemingly not given strict instructions to give the ball to Messi.
Teams have had more and more time to study Barcelona and each new defeat provided a perfect case study for Barcelona's next opponent. The basic template of the Barcelona game did not change over Guardiola's three years but the different ways to defend them did. 
He was able to get away with making few changes in previous seasons because teams were still not fully prepared for it but now everybody knows exactly what to do to get the best of Barcelona. This then leads to two other areas where Guardiola has failed and has possibly cost the club further glory.
His decision-making, mainly substitutions and lineups, as well as his man-management have not helped the club. The lineup for the first game against Chelsea was to be expected and it would have worked had the team put away its chances.
The decisions for the "Clasico" and the team's second leg against Chelsea were much more questionable. Cristian Tello was not ready to play against a team of Real Madrid's caliber and Pedro should have been chosen in his place.
To make matters worse, Isaac Cuenca was then chosen to start against Chelsea with Pedro still relegated to the bench. That move surely damaged the attacker's confidence some more. The decision to suddenly start Pique and bench both Adriano and Dani Alves was also confusing.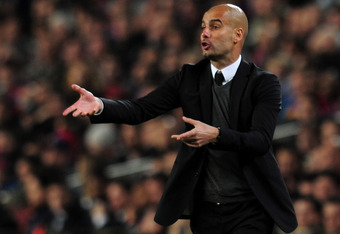 Shaun Botterill/Getty Images
Barcelona needed to score goals but they gave Chelsea the upper-hand by sticking basically eight players in the width of the 18-yard box thus allowing the Chelsea defenders to say tight and park the bus without having to worry about a threat from out wide.
Guardiola should have gone with his 4-3-3 and forced Chelsea to cover out wide as well. The fact that Pedro still did not make it onto the field ahead of young Tello is mind-boggling.
Decisions such as these may have been admissible in previous seasons but now, in what was to be a defining season for the club, they have hurt the club.
Guardiola has failed to show confidence in some of his players at times and that, as well as a lack of depth after injuries to Ibrahim Afellay, David Villa and Eric Abidal, has really been a detriment to the club.
Both Pedro and Gerard Pique have suffered through various injuries and lapses in form this season but have been key players in the majority of his reign, his treatment of these players over the last few weeks leaves another question mark against his managerial prowess.
We've so far gone through all of this without mentioning the poor decisions in the transfer market as well his problems with former players Samuel Eto'o and Zlatan Ibrahimovic.
Transfers aren't solely done by the managers discretion but Pep Guardiola certainly had a part in letting go of players like Bojan, Gabriel Milito and Maxwell. All these players would have given the club much-needed depth this season.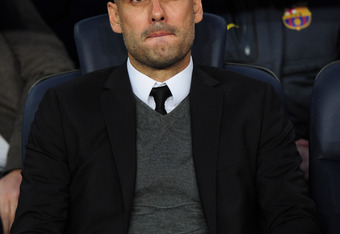 Shaun Botterill/Getty Images
Guardiola has no problems with his born and bred La Masia and Catalan players nor those who fit well into what he wanted to do and showed no attitude towards him.
Neither Ibrahimovic nor Eto'o fit into these categories and despite what they could have helped the club achieve, though Ibrahimovic was certainly more expendable, Guardiola let them go.
Pep Guardiola has done a lot for the club but it really is time for a fresh face. The club needs someone who can look beyond one player for tactics to work, one who will show some flexibility in his tactics and someone who will make better decisions for his team when the game is on the line.
Moving forward, Pep Guardiola is not the man for Barcelona anymore. What he has done will go down in the club's history for eons to come but he should not try emulate these achievements without some changes to his managerial qualities.
If he is able to change and fix these things then maybe he could stay. He may be better off with a change of scenery, though.
Arsenal could do with a man of your abilities. Just saying.