NBA Most Valuable Player: This Year's Unclear MVP Race
April 24, 2012

Chris Trotman/Getty Images
All season long, I could not come up with a pick for MVP.
Kobe Bryant was not a candidate for me. He took too many shots away from Andrew Bynum, who has enjoyed an elite season.
Derrick Rose wasn't a candidate, either. He was off of the court for almost half the season, and his Chicago Bulls won plenty of games without his services.
Tony Parker was up there for me, but I attributed the San Antonio Spurs' success more to their teamwork and Gregg Popovich's master coaching this season, rather than Parker's career season.
Chris Paul was also considered, but the Los Angeles Clippers just haven't been as good as I thougth they would be this season.
That leaves me with LeBron James and Kevin Durant, the two main contenders for most people.
Both players have composed incredible seasons.
Durant has scored the ball with pure ease all season long. And after trailing Kobe for months, he jumped out in front as the league's leading scorer on Sunday just as the season is wrapping up.
There have been times where his Oklahoma City Thunder have looked like the clear-cut best team in the league with him going insane, dropping gaudy scoring numbers in the process.
The case against him is the fact that his teammate, Russell Westbrook, has been really good this season. He deserves a ton of credit for the Thunder's success as well.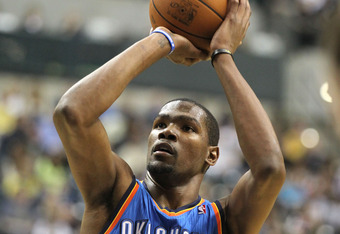 Andy Lyons/Getty Images
The Thunder have also gone through some rough stretches, harming Durant's chances a little.
Once again, James has produced another stat-stuffing season. But this one has been been dripping with efficiency. For much of the season, he was on pace to have the highest Player Efficiency Rating of all time. While the rating has dipped over the the last few weeks, he has still been highly impressive this year.
He's done almost everything for his Miami Heat. On offense, he's scored almost as much as Durant while playing playmaker as well. On defense, he has not only guarded four or five positions, but he's guarded them all effectively.
His chances drop when you consider that the Heat, like the Thunder, have experienced rough patches as well. His notorious questionable clutch abilities have also been on display a number of times. Missed free throws and indecision during late-game situations make people question how valuable he really is.
The fact that he plays alongside fellow superstar Dwyane Wade hurts a little, but not as much as Durant playing with Westbrook. Wade has kind of regressed a little and missed a solid chunk of games this year, both due to injuries.
When you take both résumés and put them side by side, LeBron may have the slightest of edges in the race.
It's looking more and more like he will end up winning the award for a third time. I suppose I could live with and accept him winning it, but I will not hold it to the same regard as his previous pair of MVPs.
His season just hasn't had an MVP feel to it. As Grantland's Bill Simmons pointed out earlier this month, whoever wins this year will be picked because we "had to talk ourselves into a candidate because there wasn't a clear winner."
James' current season cannot be looked at the same way as his 2009 and 2010 seasons. His Cleveland Cavaliers posted win totals of 66 and 61 wins, respectively. James did not have any teammates as good as Wade, but he still propelled them to levels high above the rest those seasons.
Even when key injuries affected the team at certain points, James' stellar nightly performances basically cancelled them out.
As opposed to how it has been for James in Miami, he was the main guy in Cleveland every single game. He had much more control of his team as a Cavalier and therefore, had a bigger impact on his team. With the Heat, sometimes Wade is leading the way while James plays second in command.
That doesn't sound MVP-ish to me.
I'd feel better if the award just wasn't handed out this season. That is my gut feeling of how it should be.
But since that isn't an option, James will probably hold the trophy up once again. It just won't have the same glow as it did the last two times.