Boston Red Sox: The Time Has Come for Will Middlebrooks and Aaron Cook
April 24, 2012

Christian Petersen/Getty Images
Everyone in and around Boston can see it, so why can't Red Sox ownership?
As the late, great Jim Morrison once said, "The time to hesitate is through." The Boston Red Sox need to make three significant changes to right this ship. Presumably you already know what they are, but here they are explained:
Move Daniel Bard back to the bullpen.
I don't care about giving Daniel Bard a fair shot right now. It is beyond obvious that the Red Sox need the stability he provides in his role as the team's setup man, leading into Alfredo Aceves. He is dominant when he can just haul back and throw 97 mph.
Will it make him angry? 
Maybe.
Will it help the team?
Definitely.
The Texas Rangers had the right idea when they moved Neftali Feliz into the starting rotation; they had a plan and were prepared. Alexei Ogando was groomed to be a setup man, then they went out and signed a proven veteran closer in Joe Nathan.
Realistically speaking, Daniel Bard is about a year away from his real shot at the starting rotation.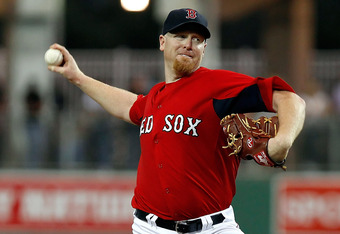 J. Meric/Getty Images
Bring up Will Middlebrooks to play third base.
So far this season, Kevin Youkilis has shown us absolutely nothing that would lead me to want to extend his trials and tribulations at third base.
His .174/.250/.283/.533 batting line is atrocious. 
Through 13 games, he has had 46 at-bats. By no means is that a small sample size, and he's only managed eight hits. Of those eight, three were for extra bases.
The argument for Youk has always been his uncanny ability to get on base.
Well, now he's not even doing that. He's striking out...a lot.
His replacement in waiting, Will Middlebrooks, on the other hand, is in full-on beast mode with a capital "B".
In his 18 games for the Pawtucket Red Sox, he has had 70 at-bats, knocked in 25 runs and scored 16, while adding 26 hits, three doubles and eight home runs. 
Youkilis cannot even sniff Middlebrooks's 53 total bases or his .371/.413/.757/1.170 batting line.
Middlebrooks is only 23 years old and entering his prime. We're watching Bruce Banner turn into the Incredible Hulk in Triple-A while we watch the Greek God of Walks turn into Herbert, the old man from Family Guy.
Pull the bandage off quickly and trade Youkilis off to the Oakland A's for Grant Balfour. The fans already expect and accept it, for the most part.
Bring up Aaron Cook.
Just how well is Aaron Cook performing in Triple-A? The only member of the Red Sox pitching staff in the majors with a comparable ERA is Scott Atchison at 1.86. Cook posts a 1.33. Oh, and Atchison has only pitched in 9.2 innings.
Cook has as many wins as Bard, Clay Buchholz and Josh Beckett combined.
Only Jon Lester has made as many starts as Cook, with four. However, Cook has pitched 27 innings while Lester has only pitched 24.
He has managed to give up less hits than Buchholz or Lester.
Cook also boasts a lower WHIP than every member of the Red Sox staff with the exception of Atchison (1.03) and Junichi Tazawa (0.33), while Cook sits at 1.11.
Lastly, Cook has given up less home runs than Beckett, Buchholz or Lester so far this season.
Sure, it is only in Pawtucket, but he looks damn good and it is just going to waste right now when the big club could certainly use him.