New York Yankees: Trying to Figure out Derek Jeter's Resurgence in 2012
April 24, 2012
Chris Trotman/Getty Images
Remember when everyone said that Derek Jeter looked finished?
I bet not too many people are saying that right now. Not after the start he's having to the 2012 season.
Entering Tuesday night's game, Jeter is hitting an amazing .411 with four home runs and 13 RBI and an on-base percentage of .436.
Those aren't just good numbers, those are All-Star quality numbers for the Yankees captain.
Heading into last year, when Jeter and the Yankees had a mini-battle in negotiations to get a new contract, people felt Jeter was overvalued and didn't deserve the money he was making.
He got off to a slow start and people really felt that he was on his way out. He even went on the disabled list for several weeks.
He returned in July, and then something happened. It was like a different player returned in the No. 2 jersey.
After Jeter collected his 3,000th hit on July 9, 2011, he went from being a .260-.270 hitter to a .325 hitter the rest of the 2011 season and ended up with a .297 batting average.
Jeter admitted that the pressure of trying to get his 3,000th hit at home was on his mind, and it was like a weight off his shoulders once he got it.
It now seems like that the second half of 2011 is carrying over into 2012 because Jeter is playing like the Jeter in the prime of his career.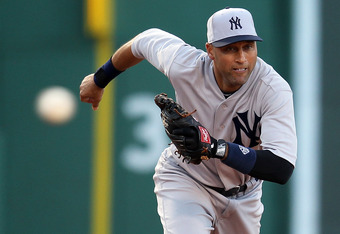 Jim Rogash/Getty Images
So far, Jeter is 30-for-73 and he isn't just getting basic base hits, he's driving the ball with authority and getting extra base hits.
As long as Jeter continues to play like he's 27 and not 37, it only benefits the Yankees as the season goes along because he's the table-setter for the offense.
When he gets on base, it creates opportunities for the core hitters like Nick Swisher, Robinson Cano, Alex Rodriguez, Mark Teixeira and Curtis Granderson.
What will be the most interesting thing is after the 2013 season if Jeter continues to hit like his is now.
When Jeter signed his three-year, $51 million deal back in December of 2010, he signed it coming off a down season. He has a player option for 2014 worth $8 million.
The Jeter that is hitting now is certainly worth more than $8 million and the Yankees have to know that their captain may be in line for another raise, even if he is getting up in age.
He might not be a shortstop by the time 2014 rolls around, but if he continues to be a solid leadoff hitter, he'll still have a spot on the Yankees.
Whether Jeter is more comfortable without the milestone pressure or he's refocused himself, his current tear is just one of those things in baseball that simply, is very hard to explain.
But the Yankees are benefiting right now from it and in the future, Jeter may benefit from it as well, so right now, everything is good in Yankees universe.