Tampa Bay Lightning: Where Roberto Luongo Can Change His Tires
April 25, 2012

Rich Lam/Getty Images
The Tampa Bay Lightning sure had their issues in net with Dwayne Roloson following up his remarkable run from 2010-2011 to a performance reflecting that of a 42-year-old goaltender.
Roloson re-signed with the Lightning during the offseason in hopes of making another deep playoff run after coming so close to getting past the Boston Bruins in Game 7 of the Eastern Conference Finals last year. Unfortunately he was limited to just 40 games and a mediocre 3.66 GAA in a disappointing year for both himself and the Lightning.
The team must address their goaltending woes this offseason. Roloson will most likely retire, and Mathieu Garon is under contract for one more season. Garon, however, is nothing more than a dependable backup NHL goalie.
The franchise also has a few young prospects in the system, including Dustin Tokarski and Jaroslav Janus. Both are 22-years-old and have spent the past three seasons with their AHL affiliate, the Norfolk Admirals.
While they could settle with one of their younger goalies, they have the ability to go for a proven starting goalie. One by the name of Roberto Luongo who is all but out of a job as the Vancouver Canucks' starting netminder. In what was a short-term and long-term decision, the Canucks went with Cory Schneider in Game 3 of their Western Conference Quarterfinal series with the Los Angeles Kings in which they eventually lost in five games.
Despite having some playoff blunders with the Canucks, he has put up great numbers in the regular season and postseason. He was the goalie for a team that is much more known for its offensive abilities, and less for their defensive strengths. His defensemen made a lot of stupid decisions with the puck, such as Kevin Bieksa and Alex Edler.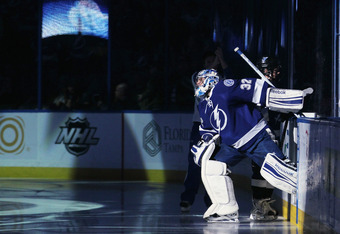 Bruce Bennett/Getty Images
Tampa has a solid defensive structure and boasts terrific young talent especially in Victor Hedman on the back end. Tampa Bay is a much more relaxing area for those that prefer to escape media fishbowls like Vancouver. Luongo resides in Ft. Lauderdale during the offseason, so he still has those Florida connections and I'm sure would welcome living here year round.
What would Luongo cost the Lightning?
Considering the size of his contract, it does reduce some leverage the Canucks would have in trade bargaining. Luongo has ten years remaining on his 12-year contract that carries a cap hit of $5.33 million. However, for the future of the Bolts they don't want to have nearly half of their cap room occupied by a half dozen players. Maybe Ryan Malone would be willing to waive his no-trade clause to go to a Stanley Cup contender like the Canucks. Malone is an honest player that would bring much needed grit to Vancouver's roster. He's versatile and could fit alongside Ryan Kesler or the Sedin twins nicely.
Just some food for thought as it looks like Luongo could be on his way out of the Canucks after six seasons in blue and green.