San Diego Chargers: Final 7-Round Mock Draft, Analyzing Matt Miller's Picks
April 24, 2012

Donald Miralle/Getty Images
Matt Miller, arguably the best writer on Bleacher Report and draft expert, published his final seven-round mock draft for the NFL. This article is intended to break down the San Diego Chargers' mock draft and analyze his selections.
To start off, I would like to say I respect Matt Miller and what he has done for Bleacher Report, but his mock draft for San Diego was a little unusual.
Round 1: Pick 18—Michael Brockers, LSU, DT

Here's what Matt had to say: "The team's 2011 first-rounder, Corey Liuget, struggled in his rookie season and is still a question mark as a starter. Michael Brockers will step in and lock down a defensive end position for the next decade in the Chargers' 3-4 defense."
Odds that Brockers gets selected: 3/10
While I agree with his statement about Liuget and Brockers, I question his selection. Both Nick Perry and Whitney Mercilus were still available. Liuget may not have had the best first season, but San Diego believes in him, as well as Luis Castillo and Antonio Garay. Their linebacking corps is what needs to be improved. The player the Chargers do not believe in anymore is Larry English. Unless he can somehow have a breakout season, English should be gone after this year.
This is where Nick Perry fits in perfect. He's a great pass-rusher that would extend the Chargers' ability to get inside the pocket to both sides. He has trouble in the run game, but both Takeo Spikes and Jarret Johnson would help him there. Just imagine: Shaun Phillips, Takeo Spikes, Jarret Johnson and Nick Perry with Donald Butler, Travis Laboy and Antwan Barnes coming off the sideline. San Diego could become a feared team to play against.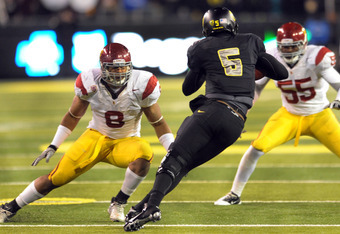 Steve Dykes/Getty Images
My Selection: Nick Perry, LB/DE, USC
The only way the Chargers pass on Nick Perry is if there is someone better than him available, like Melvin Ingram or Courtney Upshaw. San Diego has made it clear it will not trade back in the first round.
Round 2: Pick 49—Kelechi Osemele, Iowa State, OG/OT
Here's what Matt had to say: "San Diego's offensive line has numerous holes, and Kelechi Osemele is versatile enough to fill a need wherever the hole pops up. He's best suited at guard but could be a right tackle in the future."
Odds that Osemele gets selected: 5/10
I've been seeing this pick a lot lately for San Diego in the second round. Osemele is a very talented player that, like Matt said, is versatile enough to fill a need wherever a hole pops up. The question here is, where is the hole? Jared Gaither and Mario Henderson look to be the two starting tackles next season. Nick Hardwick will be the center. Tyronne Green and Louis Vasquez may not be the best linemen, but each of them have only been in the league for three years. They have room to grow, and they will. The reason the offensive line was so horrible last season was because of injuries. Look at how effective it was the last couple games, when most of the line was healthy.
My Selection: Harrison Smith, SS, Notre Dame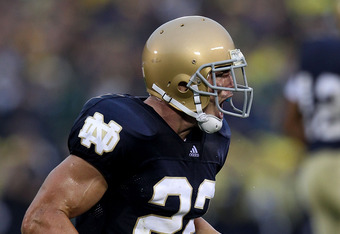 Jonathan Daniel/Getty Images
The need for an offensive lineman is not as big as it's being made to be. Harrison Smith is a guy I already see in San Diego. A.J. Smith loves him. We all know when Smith wants someone, he gets him. Miller has him going 10 picks before to the Redskins. The Chargers will probably trade up to grab Smith early in the second round.
Round 3: Pick 78—Orson Charles, Georgia, TE
Here's what Matt had to say: "Antonio Gates is still a great player, but the Chargers could easily go with a two tight end set and punish secondaries in the AFC West with the athleticism of Gates and Charles together on the field."
Odds that Charles gets selected: 0/10
Right now, the San Diego Chargers have five tight ends on the roster: Antonio Gates, Randy McMichael, Kory Sperry, Brad Taylor and Dante Rosario. There's no way the Chargers take a tight end here. Yes, Gates and McMichael are old, but Sperry, Taylor and Rosario are young and talented. The Chargers will have to move on from Gates in a couple of years, but until then, San Diego should not be in the market for another tight end.
My Selection: Dwight Bentley, CB, La.-Lafayette
Some have mentioned the Chargers should take LaMichael James in Round 3. Here's my response: defense, defense, defense. Top three needs are a pass-rusher, strong safety and cornerback. This pick would fill the last need. Bentley is an outstanding player and would be a steal in the third round.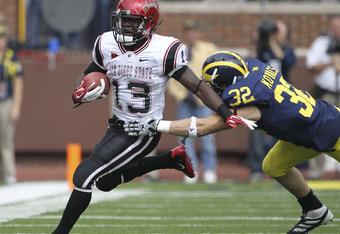 Leon Halip/Getty Images
Round 4: Pick 110—David Molk, Michigan, C
Odds that Molk gets selected: 0/10
Absolutely not. Nick Hardwick is one of the best in the league at his position. He's the leader of that offensive line. Health has not been a problem for Hardwick either, which is another reason why a center should not be selected here. Collin Baxter, the backup center, is only entering his second season in the NFL.
My Selection: Ronnie Hillman, RB, San Diego State
This is the reason the Chargers have not signed a backup running back in free agency. Hillman has explosive speed and elusiveness that resembles former Charger Darren Sproles. San Diego learned this season that not having a change of pace back like Sproles really does make a difference. Mike Tolbert is gone now, so this pick makes even more sense.
Round 5: Pick 149—Leonard Johnson, Iowa State, CB
Odds that Johnson gets selected: 6/10
Johnson is a very talented player. His ability at his position would help the secondary in San Diego in many ways. This pick only makes sense if the Chargers have not selected a cornerback already. Because it is a high need for San Diego, I think the fifth round will not be where a cornerback is taken.
My Selection: Nate Potter, OT, Boise State
The offensive line isn't a huge need for the Chargers, like I stated earlier, but that doesn't mean they can't take a player that can compete for a position in training camp. I don't see an offensive lineman being taken earlier than the fifth round.
Remember: If the Chargers trade up in the second to grab Harrison Smith, they may not have a fourth- or fifth-round pick.
Round 6: Pick 183—Jaye Howard, Florida, DT
Odds that Howard gets selected: 6/10
This, to me, is the most logical pick that he has predicted. The DT depth is not great, but it's also not a big need. Taking Howard in the sixth round would be great for the Chargers. Antonio Garay would be able to teach a guy who has a lot of potential to become great.
My Selection: Jaye Howard, DT, Florida
I like this pick. It would be the perfect addition for the Chargers in the sixth round. If Howard is not available here, Mike Daniels, DT, Iowa, could be the guy to go to San Diego.
Round 7: Pick 226—Emil Igwenagu, Massachusetts, FB
Odds that Igwenagu gets selected: 0/10
The Chargers will not draft a fullback. Le'Ron McClain was just signed and Jacob Hester was just re-signed. This is one position that San Diego has depth in. Both fullbacks on the roster are starting-caliber players. Igwenagu will not be picked here.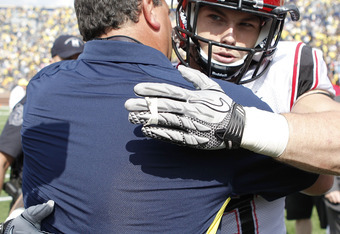 Leon Halip/Getty Images
My Selection: Miles Burris, LB, San Diego State
I will not be surprised if Burris gets picked way before this round. This guys is an absolute stud. His athleticism is off the charts, which is why he's caught the eye of some teams, including the Chargers. To me, he resembles Clay Matthews. If he's available this late, San Diego will definitely jump all over him.
Round 7: Pick 250—Bobby Rainey, Western Kentucky, RB
Odds that Rainey (Bobby) gets taken: 5/10
The Chargers will not wait till the last pick to address their backup running back situation. If Hillman is not selected in the fourth, Rainey could be picked.
Not Bobby Rainey though, Chris Rainey.
San Diego will already have a running back drafted by the seventh round. If it doesn't, Bobby Rainey would be an excellent pick, but again, I don't see the team waiting this long.
My Selection: Jaymes Brooks, OG, Virginia Tech
The Chargers could go anywhere with their last pick in the draft. An offensive guard would be most likely drafted to add depth, but mainly to create competition in training camp.
Check out the entire seven-round mock draft by Matt Miller.
Also follow me on Twitter for more Chargers updates. @alexramirez127