Desmond Jennings: Is He Still One Year Away from Being a Star?
April 23, 2012

Al Messerschmidt/Getty Images
Desmond Jennings hasn't played his first full season in the big leagues yet, but it doesn't seem like he's too far away from becoming a star. With less than a hundred major league games under his belt so far in his brief career, it's become clear that the 25-year-old has a bright future ahead of him.
Jennings has all the tools for a successful career, but the million dollar question is when his talents will transform him into a star. He's a potential five-tool outfielder with excellent speed, great range, some power, terrific baserunning skills and the ability to hit for average and get on base.
Jennings burst onto the scene as a late-season call-up for the Rays last year and immediately made an impact, putting up some impressive numbers in his rookie season. In 63 games, he batted .259/.356/.449 with 25 RBI, 10 home runs and 20 stolen bases.
After 16 games, it looks like Jennings is on the right track to start his 2012 season, batting .262./.319/.385 with two home runs, seven RBI and three stolen bases.
Although his on-base percentage is not as high as it was last year, or probably where he'd like it to be this season, Jennings has gave the Rays the consistent leadoff guy they need thus far. It's obviously to early to judge anything, but he definitely hasn't been a disappointment.
Defense is another area of his game that helps show he's gradually turning into a star in Tampa Bay. Jennings has done an outstanding job in left field ever since he's been called up to the majors, making highlight reel catches on balls that many outfielders can't get to.
He's also filled in a bit in center, a position that he has a legitimate future in and would make him an even more valuable player to his team.
In just his second season, there's only one thing standing in between him and stardom. That single weakness has been contact hitting. Jennings posted a strikeout percentage of 20.6 last year, and has not yet improved this season with a percentage of 20.8. Both ratios are considered below league average, especially for leadoff hitters.
High strikeout totals are normal for young players—even young stars—in their first couple of years, which is why it shouldn't be too much of a concern for the Rays. With ridiculously good speed and a nice line-drive stoke, good things usually happen when Jennings makes contact with the baseball. 
Once Jennings starts to cut down on the strikeouts, the other parts of his game will excel more than ever before.
Better contact hitting will not only effect Jennings' overall numbers, but it can also make a huge difference in the Rays' offense. Less strikeouts would lead to a higher OBP, which would lead to more stolen bases, which would would lead to more runners in scoring position, which would ultimately lead to more runs scored.
Jennings will improve as a player and likely breakout as a star when his strikeout ratios decrease.
Jennings' scary close similarities between former Rays superstar left fielder Carl Crawford can give us an idea of when Jennings could really start to shine at the big league level.
Both Crawford and Jennings are speedy leadoff-hitting left fielders who came into the league with somewhat similar expectations, making this a pretty good comparison, although Crawford started his career at a younger age.
Amazingly, they both played 63 games in their rookie seasons and batted exactly .259. Although Crawford had 10 more RBI in his strong rookie year, Jennings probably had the better season with 11 more stolen bases, eight more homers and a much higher OBP.
Crawford started to emerge as a star in his sophomore year and first full season, stealing a league-high 55 stolen bases while batting a solid .281. Jennings is currently in his sophomore year and first full season, which is why we can expect to see him begin to rise as a young star by the end of this year.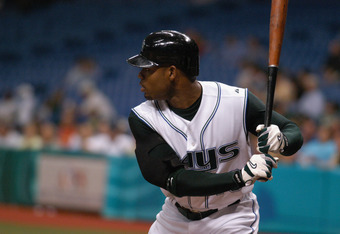 Tim Boyles/Getty Images
I don't expect Jennings to turn into one of the top leadoff men in the league as quick as Crawford did, but I would be a bit surprised if he doesn't reach his All-Star caliber potential within the next year or so.
Just like Crawford, Jennings's great speed will be what separates him from the many talented outfielders in the American League. In addition to that, I believe his natural power could make him really something special, as well as a serious 20-40 threat as early as this year.
A little over a month ago on Bleacher Report, I wrote a full-year stat projection article on Desmond Jennings, predicting all of his major statistics for the 2012 season. Click here to check it out if you haven't seen it yet.