Philadelphia Eagles Mock Draft: One Last 2012 Mock Draft
April 23, 2012

Patrick McDermott/Getty Images
Ever since participating in the Bleacher Report community draft a few weeks ago, I've come to respect the art of drafting more.  It's easy to target players you like.  It's even easier to assume certain players will be drafted within certain ranges.
What is rarely thought of with a mock draft is that each talent evaluator is likely to view players differently, leading to surprises across the board.  Also not taken into account is that the team itself likely isn't evaluating its own roster the way we all do.
Before getting into the picks I'd like to preface by saying that I believe Asante Samuel will be traded for a later-round pick.  For this mock I have him traded for Tennessee's fifth-rounder, pick No. 153.  I also executed the first round little differently from most mock drafts.
It's extremely rare that the Eagles ever do what people think in the first round.  Rarer still that mock drafters end up guessing right with the Philadelphia pick.  I believe the Eagles are enamored with Fletcher Cox and that he is the player they want most.
I also believe they will have to trade up to get him, and in the spirit of surprising Eagles first-rounders, I have them failing in that attempt and holding onto the 15th pick.  On to the selections:
First Round, Pick No. 15: Stephon Gilmore, CB, South Carolina
Virtually every mock draft has the Eagles getting a defensive tackle with a few defensive ends sprinkled in.  If someone from the group of Fletcher Cox, Michael Brockers or Dontari Poe is selected, it would be no surprise, but I just have a hard time believing any of those three will last until the 15th pick.
There was a time when I thought they'd pick a defensive end, but I think they pull a customary surprise with Gilmore.  It may raise some eyebrows but with Samuel gone, Nnamdi Asomugha getting no younger and Dominique Rodgers-Cromartie with only a year left on his deal, Gilmore would be a good pick.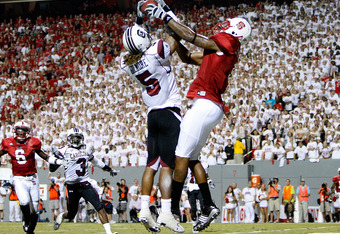 Streeter Lecka/Getty Images
He is shooting up draft boards due to his elite combination of size and speed and his overall versatility.  Gilmore has intercepted eight passes with 17 pass breakups and 15.0 tackles for loss.  He can cover, he's great in run support and he has a lot of return experience as well.
Second Round, Pick No. 46: Lavonte David, OLB, Nebraska
The Eagles fill a huge need at outside linebacker to help out new addition DeMeco Ryans.  David is exactly what the Eagles need at the position.  He is fast and athletic and he can stay on the field in any situation.
He is undersized at 225 pounds, but he is a great tackler who plays to his absolute potential.  He isn't an ego player and he will fit in and do what is asked of him.  David would immediately upgrade the defense's ability to cover backs and tight ends and he provides a sound tackler on the edge.
It's hard to imagine many fans groaning in disapproval at this pick.
Second Round, Pick No. 51: Brandon Thompson, DT, Clemson
After failing to get their man in the first round, the Eagles get a second-tier prospect to add to the rotation.  Thompson has fallen down draft boards since the end of the season when he was viewed as a late first-rounder.
Whatever Thompson's stock is at the moment, he is a worthy pick who could help immediately.  He has some technique issues but has tremendous first-step explosiveness to shoot gaps and get after quarterbacks.
Kevin C. Cox/Getty Images
He can anchor against the run and be effective moving laterally to stop ball carriers as well.  In 38 starts in college he managed just 4.5 sacks but 47 quarterback pressures.  He may not rack up sacks but he will be in the quarterback's face with regularity.
Third Round, Pick No. 88: Orson Charles, TE, Georgia
The Eagles had much-publicized red-zone issues as well as a much-publicized heavy use of two-tight end sets.  The Eagles have a really good one in Brent Celek and a goof prospect in Clay Harbor.  With that being said, if you are relying on two tight ends, you might need some depth at some point.
Charles would provide that and he would also give them a reliable target that is dangerous after the catch.  His timed speed is nothing to write home about, but he never looked slow playing in the track meet that is SEC football.
Charles has great hands, he can get open, stretch the seam and make plays after the catch.  He isn't big for a tight end, but at 6'3" and 251 pounds he is a big target that will enhance the offense and give Michael Vick a new dimension to work with.
Fourth Round, Pick No. 114: Brandon Mosley, OT, Auburn
If the NFL is all about quarterbacks and defense is all about pass rush, offensive tackles are always a hot commodity.  The Eagles signed Demetress Bell and extended King Dunlap and Todd Herremans.  Presumably Jason Peters will be back in 2013.  However, while it seems like the Eagles have a full stable, who knows what Jason Peters will be going forward?
In Mosley the Eagles get a player who protected Cam Newton on a national championship team.  He also is a tough, physical and mean player, traits that have been missing since Jon Runyan moved on.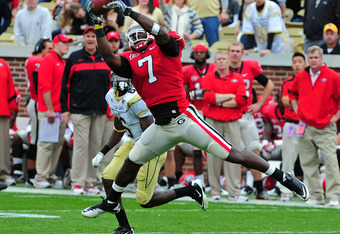 Scott Cunningham/Getty Images
He isn't the most athletic offensive tackle but he had the 10th-fastest 40 time at the position and tied for third in the bench press at the combine.  He has the ability to get out and block on the second level, as he converted from tight end.  He has some developing to do, but he has a chance to be a good pro.
Fifth Round, Pick No. 153: Devon Wylie, WR, Fresno State
One of the few really overly weak parts of the Eagles roster is in the return game.  DeSean Jackson had his least effective season on punt returns and Dion Lewis was completely ineffective as a kick returner. Wylie could cure those ails from day one, at least on punts.
Wylie has blazing speed and he can be a huge weapon in the slot despite his lack of size.  Jason Avant is a hard worker and he can make a tough catch, but honestly he has had huge fumbles and drops and he spent too much of last year whining about fans being upset with the team's performance.
Wylie may not be a sexy pick because Eagles fans want a tall wide receiver, but he can be a weapon in two different area of the game.  His 4.39 speed would be put to good use under Andy Reid.
Fifth Round, Pick No. 155: Tauren Poole, RB, Tennessee
The Eagles have arguably the game's best running back in LeSean McCoy.  He was tremendous in 2011 and had as heavy a workload as can be expected on an Andy Reid team.  As good as McCoy is, they have no insurance if he goes down to injury.
Dion Lewis is a nice quick back who can play in space, but he can't be trusted to carry the load.  In Poole the Eagles get a back who, while not spectacular, can run catch and block.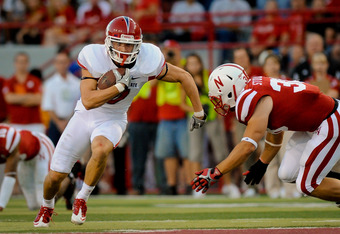 Eric Francis/Getty Images
Pool rushed for more than 1,000 yards as a junior with 11 touchdowns before a disappointing senior season in a bad Tennessee offense.  Over his final two seasons he also caught 43 passes.  He isn't as electrifying as McCoy, but he is a back that can handle carries, catch the football and pick up the blitz.
Sixth Round, Pick No. 172: Janzen Jackson, S, McNeese State
Another popular topic when it comes to the Eagles is the lack of quality safeties.  They aren't likely to draft one high, but they will probably take one at some point.  Jackson would be a nice player to take a chance on.
His athletic ability is off the charts and he was one of the most heavily recruited defensive players coming out of high school as he originally opted to go to Tennessee before transferring after off-field issues.
In three seasons at the collegiate level, Jackson totaled eight interceptions, 12 pass breakups and six tackles for loss.
He doesn't have an ideal build at just 188 pounds, but Jackson can run and most of all he can really hit.  Jackson is known for engaging in violent collisions on the field, something this defense can use more of.
Sixth Round, Pick No. 194: Olivier Vernon, DE, Miami
The Eagles love the pass rush and they finally take an end.  Vernon is far from polished, but that isn't really what you're getting at this point in the draft.  He makes up for his being raw with a lot of raw ability.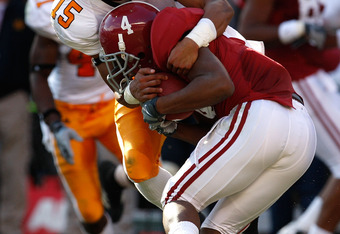 Kevin C. Cox/Getty Images
He has great first-step quickness, with good strength and consistently plays with effort.  He's a smooth athlete that can break in all directions and be disruptive in the backfield.
Perhaps the best attribute is his versatility as he has experience playing inside as well in pass-rushing situations.  He could possibly develop into the type of quick interior pass-rusher Darren Howard was a few years ago.  He may not pan out, but not many do at this point and even fewer have his level of ability.
Sixth Round, Pick No. 200: Dwight Jones, WR, North Carolina
At this point why not the big wide receiver that makes fans happy.  The odds are stacked against whomever is picked here, so why not a 6'3", 230-pound wide receiver with 4.55 speed?
Jones has his faults as he plays a bit stiff and upright.  He also doesn't show much lateral quickness and isn't a threat in the open field.  Fortunately the Eagles don't need that as they already have plenty in the form of DeSean Jackson and Jeremy Maclin.
What the Eagles need to add to the receiving corps is a big body that can go up and get the football, especially in the red zone.  That is one thing that Jones can do.  He wouldn't be a lock to make the roster, but with his measurables he's worth a look.