Bruins vs. Capitals: Highlights, Twitter Reaction and Analysis from Game 6
April 22, 2012

Patrick McDermott/Getty Images
In thrilling fashion, the Boston Bruins have forced a Game 7 in their opening-round playoff series against the Washington Capitals. 
Boston looked poised to win this one 3-2 on Sunday evening, but Alexander Ovechkin had different thoughts. He scored a neutralizer with less than five minutes to go, and this elimination game was sent to overtime. 
Less than four minutes into the extra session Tyler Seguin scored the game winner to extend the Bruins' season. 
This was an exciting and well-played, back-and-forth contest. The teams traded goals on their way to overtime. It has been a great series and it is fitting they are headed toward a Game 7. 
Tweets of the Night
Damon Amendolara, of 98.5 The Sports Hub, was not at all surprised by the exciting, high-drama action of this Bruins elimination game.
Well, it wouldn't be a Bruins elimination game without some Temple of Doom-style "rip your heart out and show it to you pumping" OT drama.

— Damon Amendolara (@theDAshow) April 22, 2012
Hockey Night in Canada offered some insight into Bruins power play struggles.
Instead of looking for the perfect play, should the #Bruins not have just tried to put the puck on net during the 4-3? #HNIC

— HockeyNightInCanada (@hockeynight) April 22, 2012
The game winning goal is sure to be one of the highlights of Seguin's career. The stats folks at ESPN give us a little nugget that makes the moment even more memorable for Seguin.
Tyler Seguin: 1st career OT goal in either regular season or postseason wins it for #Bruins.

— ESPN Stats & Info (@ESPNStatsInfo) April 22, 2012
Must-See Highlight of the Night
Alex Ovechkin's stick managed to find Zdeno Chara's face in this little scuff-up. The effort earned Ovi a trip to the penalty box, despite the fact that Ovi wasn't convinced it was warranted. 
Grades for Key Bruins
Tim Thomas: B
Thomas had a chance to close the door on the Caps in the third period and he couldn't do it. With a 3-2 lead he let Ovechkin beat him between the pads. 
He faced a ton of shots in this game, and finished with 36 saves on 39 shots.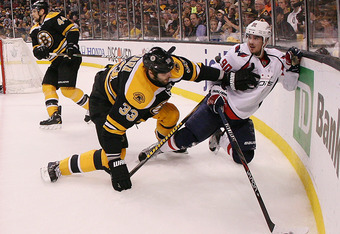 Bruce Bennett/Getty Images
Zdeno Chara: B
Chara was at his physically imposing best for much of this game. Then he skated towards Alex Ovechkin near the boards and Ovi's stick "accidentally" caught Chara square in the face. 
The blow opened up a gash on the bridge of Chara's nose. He continued to play, but his performance was not quite as crisp following the blow. 
Rich Peverley: A-
Peverly has been fantastic in this series and he kept that hot hand going. He scored the games opening goal and assisted on the second. 
Grades for Key Capitals
Braden Holtby: C+
Holtby had flashes of brilliance. He made a great save off of a shot from the stick of Tyler Seguin following a rebound. 
He also blew a save on a shot that he would surely tell you he should have made. All in all it was the kind of frustrating and inconsistent performance you would expect out of him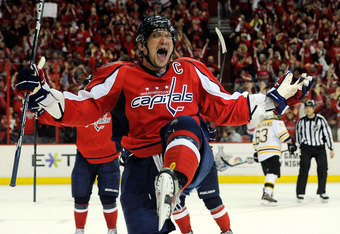 Patrick McDermott/Getty Images
Alex Ovechkin: A-
Ovi came up big when his team needed him most as he scored the equalizer with time running out in the third. 
He was active all game, and fired off plenty of shots on goal. This could have easily been a multi-goal effort for him. 
Alexander Semin: 
Semin couldn't get anything going in this game. He fired off just two shots, and didn't score or get an assist. 
His team also performed much better when he wasn't on the ice. He had a minus-two for this one. 
Stat of the Night: 1
That is the difference in score for each of the six games of this series. That is the first time in NHL history that the first six games of a playoff series have been decided by just one goal. 
Game MVP: Tyler Seguin
When you net the game winner to save your team from elimination, chances are pretty good that MVP honors are headed your way. 
Seguin also had an assist to go with his monumental goal. 
What's Next? 
Game 7 is next! It will be played on Wednesday night in Boston. This has been an amazing series. If you care about hockey at all, which it is probably safe to assume you do since you are reading this, that is a game you don't want to miss.