Duke Basketball: Would Andre Dawkins Sitting Out Have a Negative Impact?
April 22, 2012

Mike Ehrmann/Getty Images
Andre Dawkins is not leaving Duke but he is considering sitting out the Blue Devils' 2012-13 men's basketball season, Jeff Goodman of CBSSports.com reported on Friday.
Steve Wiseman of the Durham Herald Sun reported:
His father, Andre Dawkins, said Friday that his son could need a break from playing college basketball and that Duke's coaching staff is fully supporting him. "Everything is positive," Andre Dawkins Sr., said. "Redshirting may be an option for Andre this fall because he came in early from high school."
While Dawkins has shown at times in his first three years as a Blue Devil that he can shoot as well as just about anyone in college hoops, he has never demonstrated the long-term consistency that would launch him into the national spotlight.
You might be thinking, "Dawkins shot a respectable 39.2 percent from the arc this past season, didn't he?"
Yes, but after scoring 22 points (in 21 minutes of playing time) to help the Blue Devils defeat Florida State on the road on February 23rd, Dawkins only scored 8 points in the final six games of the season, shooting 2-for-17 (an arctic 11.7 percent) from downtown.
Dawkins simply didn't "look right" down the stretch. He is the kind of player who, when his shot isn't falling, has trouble contributing much in other areas of the game.
And overall, his game can be a little one-dimensional. He only had 20 assists (in 34 games) for the entire season. Miles Plumlee had 18. Nuff said?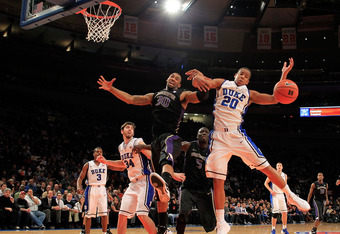 Chris Trotman/Getty Images
Even after Austin Rivers decided to enter the 2012 NBA Draft after one season in Durham, Duke's backcourt looks to be congested going into next season.
Senior SG Seth Curry is the Blue Devils top returning scorer (13.2 PPG).
Incoming freshman guard/McDonald's All-American Rasheed Sulaimon has had a fantastic run in the high school all-star game circuit. He claims that he has been told that he will see time at both backcourt positions next season.
Part-time PGs Tyler Thornton and Quinn Cook will be fighting for every available minute of possible playing time.
If Dawkins decides to play the 2012-13 season, I hope that he is able to regain his confidence and shooting touch, as well as develop some of the other parts of his game (defense, passing, rebounding) in order to spur the Blue Devils' success.
If he decides to sit out, the Blue Devils should have more than enough firepower in the backcourt to make life miserable for many of the teams on their schedule.