Roscoe Smith: UConn Forward Joins Exodus of Talent from Huskies
April 21, 2012

Jim McIsaac/Getty Images
University of Connecticut forward Roscoe Smith has been granted his release from the Huskies basketball program and the university, marking the latest of stars leaving the squad.
CBS Sports is reporting about the transfer:
Smith's father told CBSSports.com on Saturday morning that his son, a sophomore forward for the Huskies, will leave the program and has received his release.
With uncertainty around UConn head coach Jim Calhoun's future with the program and serious questions about the recruiting class, Smith becomes the latest in a long line of Huskies walking away this offseason.
What it Means
For the immediate future of the Huskies, this could be a serious issue. While Smith's 6.3 points and 25.4 minutes per game were down from the year before, his averages were sure to jump up in his junior year with UConn.
Now that he will be transferring, another school will benefit from Smith's return to form. UConn really messed up by not persuading the big forward to stay.
Smith joins the likes of Jeremy Lamb, Andre Drummond and Alex Oriakhi as players who have left the program this offseason. Add Smith to that list and that's a major blow to any school.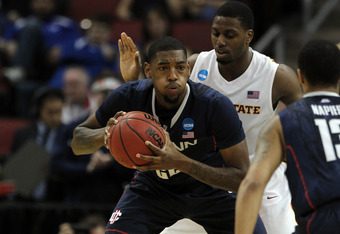 Jonathan Daniel/Getty Images
What's Next?
The first thing the University of Connecticut needs to do is analyze where they are heading in terms of a head coach. Calhoun is getting to the point where he could leave any year, and that's an uncertainty kids don't want to deal with.
Once they figure out if Calhoun stays or goes, they have to find his eventual successor and have that person become the main recruiter. At least that way, if Calhoun just decides one day that he can't do it anymore, there will be a viable replacement to back him up.
This should be the only thing on the Huskies' minds right now.
Check back for more on the NCAA Basketball as it comes, and check out Bleacher Report's College Basketball Page to get your fill of college basketball.