Jesus Montero: Is He Still One Year Away From Being a Star?
April 23, 2012

Rick Yeatts/Getty Images
It's been barely a month since the start of the baseball season, but for the Mariners it's already been an adventure...
A trip to Japan to face the A's as part of Opening Day, followed by facing Yu Darvish in his MLB debut, then blowing a seven run lead at home to the Indians along with a blown save by Brandon League, not to mention being on the wrong end of a perfect game on Saturday to the White Sox' Philip Humber. 
New year, same Mariners?
With the team still striking out in bunches and the bullpen helping Felix Hernandez and the rest of the starters to one no decision after another, it's hard to find sunshine at this point in the season.  Patience is wearing thin to the point we can still forgive, but can't really forget—especially after Saturday's debacle.
Our dirty little secret went national that day in a cover-your-eyes performance for the ages.
So what's the good news?   
It's hard to say if Sunday's performance can be offered as evidence.  After watching the M's come up short once again, Seattle Times writer Steve Kelley offered his advice on Monday morning, saying he hopes the kids can start growing up.
We've been told ad nauseam that guys like Dustin Ackley, Justin Smoak, Danny Hultzen, and Taijuan Walker are going to be stars...someday.
To top that off, we've been told since January that Jesus Montero could possibly be the biggest star of all.  Yet if that's true, how soon should we expect progress?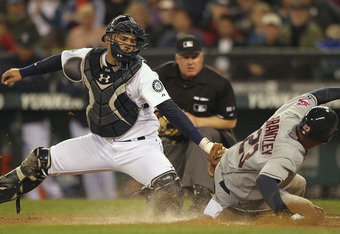 Otto Greule Jr/Getty Images
I suppose it all depends on what your definition of star really is. 
For a player in Seattle to get national recognition requires a herculean effort.  Very few players through the course of the city's brief forty plus years of pro sports history have reached this status: Griffey, Payton, perhaps Largent and Randy Johnson? 
Can Montero be considered on par with the likes of Griffey? 
Unlikely.  Griffey was the anointed future of the franchise from day one after being selected No. 1 in the '87 draft. Griffey took the Mariners from being a flight risk to move to perennial playoff contender over his decade in Seattle. 
Can he become the face of the franchise? 
It's possible, but amongst the high profile young players, I honestly think the Mariners have a better chance of rallying around Dustin Ackley.   Ackley, like Griffey, is a home-grown talent, endeared himself to fans and critics immediately upon his arrival with the big-club last summer and seems to possess the characteristics fit for leadership in the clubhouse.
Catchers meanwhile are hidden behind the mask and are often relegated to "fat kid" status both on and off the field.  Montero's pudgy, babyfaced appearance doesn't help much (and even his attempt at facial hair hasn't helped).
Can he be an All-Star?
Absolutely, provided he can catch.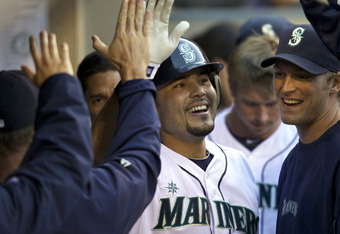 Stephen Brashear/Getty Images
For the remainder of this year, the debate is on whether Montero is more Edgar Martinez or Mike Piazza.  So far the results are hard to judge given Montero has only played sparingly at catcher,  but he seems to hit with more authority when he's playing behind the plate. 
To me it's a sign, and a very encourgaging one at that, that Montero really does want to prove himself as a complete ballplayer.  Whether he succeeds or not depends on the willingness of manager Eric Wedge to play him behind the plate. 
When asked about the team's plans, Wedge explained to the Seattle Times' Larry Stone last week:
"He's a young catcher. Every day he's back there, he's learning. He has so much responsibility back there, and there's so much going on, it just takes time. He's not ready to catch every day yet.

He needs days off. He needs to get back behind home plate every now and again to catch, but we need to be careful with his workload. We have to make sure we stay ahead of everything for him mentally and physically. The fundamental side of everything is a day-to-day process. He's got a lot on his plate."
This was Montero's fourth start at catcher in the Mariners' 15th game. Wedge reiterated their plan all along was to bring Montero along slowly:
"That was part of the equation when we brought him over here. What people need to understand is it would actually take him longer to be the total player he needs to be if he was back there every day right now. Because it would get in the way of his development.'"
Once again, patience, as well as confusion.  When you factor John Jaso's quietly promising start into the mix along with Miguel Olivo's lackluster start, the plans for Montero become harder to reconcile.  
Suffice it to say, what everyone wants and what Montero needs could be two different things.
Right now Montero is at least one year away from being a star depending on his performance both at and behind the plate. In time I think Montero will become a full-time catcher and be a decent one at that.  Perhaps he won't win a Gold Glove, but he won't embarrass himself either. 
In his limited time so far, we've seen someone with too much pride to fail.  He carries himself with a certain swagger when dressed in his gear, which gives the impression that he isn't just behind the plate because coaches or scouts figured he looked the part or failed to find him another position. 
Oddly enough, what has me more concerned is his hitting.
Sure he's managed to look good going deep to center twice this season at Safeco, but I'm not sure whether Montero can post the numbers needed to make him a star.    
So far this team lacks the leadership, discipline and talent needed to generate runs, and it's only getting worse.
Without someone at the heart of the lineup to keep pitchers honest, even the club's average hitters aren't getting any help. Months ago I thought the M's should have made a run at Prince Fielder for this very reason.  Meanwhile the reality is that Ichiro isn't getting it done at the No. 3 spot and that probably won't change.  
Perhaps more than anything, the lack of protection will hamper this young group's development.  Today the Mariners and their fans are asking the likes of Montero, Ackley, and Smoak to be the second coming of Griffey, Edgar, and Buhner. That is simply unfair. 
This group needs to carve out an identity of their own.  Will Jesus Montero become a star and help lead the Mariners back to respectability and perhaps the post-season?  We can only hope so.
For now we have to keep faith and patience—it's all we've got.