NHL Playoffs 2012: Should the Chicago Blackhawks Consider a Change in Goal?
April 20, 2012

Jonathan Daniel/Getty Images
After the overtime loss in Game 4 to the Phoenix Coyotes, I turned to my buddy and said, "I bet Ray Emery is in net on Saturday."
His response was, "No way."
When asked on Friday about making a change in net, coach Joel Quenneville said, "We're talking about that."
Not really a ringing endorsement for Corey Crawford, is it?
After two straight overtime defeats, it sounds like Crawford is whom the coaching staff is pointing the finger at. So is Emery the solution to all the Blackhawks problems?
At this point I don't think anyone knows. However Emery has struggled this season on the road, going 5-9-1 with a goals-allowed average of 3.36. His home record was 10-0-3; maybe they should have started him in Games 3 and 4.
Quenneville and the Blackhawks have been riding the goalie carousel all season. Actually they have been riding it the last four seasons, since Quenneville became the head coach.
In my opinion Crawford is not the problem. Now, don't get me wrong, I don't think he is the second coming of Glenn Hall or Tony Esposito, but he is the best goalie on the roster.
Playing Emery might guarantee the series ends on Saturday.
We can debate all day and night—does Crawford give up soft goals or does the poor defense in front of him put him in bad positions?—but it's like asking which came first, the chicken or the egg.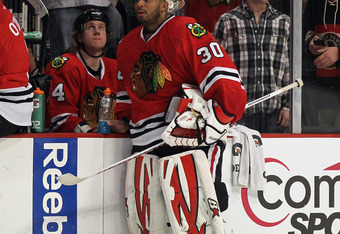 Jonathan Daniel/Getty Images
What in undeniable is that this team is not playing their best hockey and have been fortunate to force all four of these games into overtime. (By the way, it's the first time in NHL history that a series has started with four straight overtime games.)
The stars have failed to produce. The power play has struggled so much all season and into the playoffs that the word struggle can't even describe it.
The Blackhawks have been out-hit and beaten in the faceoff circle, and frankly Mike Smith has just been better than Crawford.
But all it takes is one game to turn it around, and this team, Crawford especially, is capable of having that game. Last season the Blackhawks were down 3-0 to the Vancouver Canucks and facing elimination. They came out big and won 7-2 and then the next game Crawford pitched a shutout.
That was actually the last shutout a 'Hawks goalie has had. It was in Game 5 last season and I think Game 5 this season would be a perfect time for another one.
If the Blackhawks are going to win this series it will be with Crawford in net and with the stars producing.
What do you think Hawks fans, who should start in goal on Saturday? Sound off below.
Make sure to follow me on Twitter @dachicagofan and check out my weekly Hawks podcast every Friday on my site The MG Experience.