Oakland Athletics: What to Take Away from Series Win Versus the Angels
April 20, 2012

Koji Watanabe/Getty Images
In a move that was previously thought to be nearly impossible, the American League West division got more top-heavy in the offseason, with the Texas Rangers adding Yu Darvish and, more importantly, the Los Angeles Angels picking up Albert Pujols.
With 19 scheduled meetings between the Athletics and the Angels for the 2012 season, most would predict about four A's wins over the Angels. The A's put a damper on the Angels' preseason expectations early with three wins in a four-game series in Anaheim that concluded tonight.
Here's what we learned about the 2012 Oakland Athletics in this series.
This team needs RF Josh Reddick. Bad. When Reddick is on his game, Oakland's chances of winning skyrocket. When he is not having a good day, the entire team suffers. Reddick's potential for consistent production is key especially since CF Yoenis Cespedes has the tendency to swing for the fences with every swing, and therefore will be one of the worst hot then cold, then hot, then cold players on the team.
Reddick was able to put together a .412 batting average in this four-game series against the Angels, while scoring two runs and hitting in another one.
What Cespedes can bring the team is great, but baseball is not a sport in which one can excel in by using short, quarter-of-a-second outbursts spaced out by several days. Speaking of Cespedes...
This could be a frustrating season for CF Yoenis Cespedes. I hate this part of the season. It is too early in the season to make any defining judgments about teams, but the season is right on the cusp of where teams start moving from being cold to simply being bad.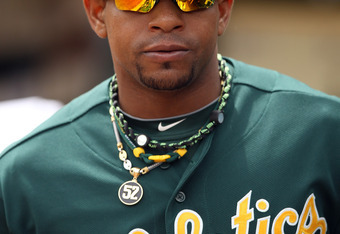 Ezra Shaw/Getty Images
Cespedes seems to have a batting average that enjoys taking two steps back and one step forward. After starting the season with a .308 batting average, Cespedes let it fall to .222 before picking it up to .273. This trend continued on throughout the young season into this week's series with the Angels.
Taking two steps back and one step forward is going to be frustrating for Cespedes.
He oozes confidence and knows he can be one of the best center fielders in the AL, but taking steps back that often could get to him. Is he going to persevere, work through it and live up to his potential, or will the occasional struggle in a foreign country be too much for Cespedes?
Oakland has trouble getting offense going on an ace starting pitcher. That's a problem. In two starts against the A's this season, Seattle Mariners ace Felix Hernandez has pitched 14.1 innings and sports a 0.992 WHIP and 13 strikeouts. The A's lost both times they faced King Felix, 7-8 and 1-3.
Oakland had to face the Angels' ace, Jered Weaver, in the first game of the four-game series and was held to a shutout.
However, there is a silver lining.
The A's are actually making contact with the aces, especially Weaver. Of the 63 strikes Weaver threw against the A's on April 16th, 37 of them (58.7 percent) were either hit foul or put in play.
This could be one of two things: Either the A's are not doing what they should be doing with the ball (i.e. not pushing balls on the outside part of the plate the other way), or they are not waiting for the most hitter-friendly pitch of that at-bat.
A's fans will have an opportunity to see them take on starting aces again soon, as Oakland will butt heads with Cleveland Indian starter Ubaldo Jimenez and Chicago White Sox starter Jake Peavy, both in the next four days.
The bullpen looked strong. This year's bullpen is striking me almost like the 2011 Buffalo Bills did in their run early in the season: All of the media frenzy surrounded how a team with no stars is performing so well, how the team, the unit is what is behind all of the success, not one or two players.
The A's bullpen to me will be that faceless success, outside of closer Grant Balfour.
Speaking of Balfour, he had two saves in the four-game series this week. Brian Fuentes in the Tuesday and Thursday games, combined for two innings pitched while allowing only two hits, no runs and four strikeouts.
Ryan Cook had similar success, as he pitched two innings and gave up only one hit in the two innings, earning holds in both appearances.
The bullpen's performance was especially good to see after the Thursday-night starter Tommy Milone only pitched five innings. The A's turned to the trio mentioned above (Balfour, Cook and Fuentes) as well as Fautino De Los Santos and Jordan Norberto to finish the win off for the A's.