49ers Caption Contest: A Deeper Look into a Rather Humorous Photo
April 20, 2012

Ezra Shaw/Getty Images
Fellow B/R 49ers Featured Columnist Phil G constructed an insightful piece in regards to the upcoming NFL draft.
After reading the article and then venturing down to the comment thread, I noticed one fellow reader had pointed out a rather ironic moment in the photo Phil chose to highlight his article. Something which I, and probably most others as well, had failed to notice.
Jim Harbaugh and Jed York's handshake.
"LOL @ Jed and Jim's 'handshake'", said Verona Locke, an avid 49er fan and frequent commenter here at B/R.
To be clear, the photo in discussion took place at a 49ers' press conference on January 7th, 2011, as York (CEO of the 49ers) and GM Trent Baalke announced the hiring of Harbaugh as their new head coach.
While Harbaugh's intent stare and firm grasp of York's hand, in addition to the curious faces of both York and Baalke, make for an interesting photo as it is—there is perhaps a much deeper meaning located inside this intriguing snapshot.
As you can see in Verona's response, there is an emphasis placed on the word 'handshake'. 
Of course, most of you are well aware this was in response to the very entertaining—and extremely overblown—fallout of the post-game handshake that followed the Niners' come-from-behind road victory over the Detroit Lions in Week 6 of the 2011 season. 
Harbaugh was fired up (and deservedly so) about the victory, and got a little carried away in the coaches handshake that follows the game. Lions' head coach Jim Schwartz took exception to the matter, and proceeded to chase Harbaugh as he jogged off the field and into the tunnel—perhaps sparking a rivalry as a result.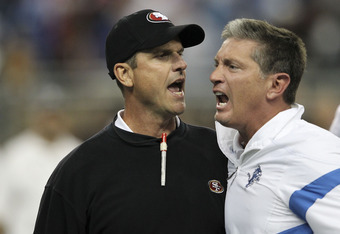 Leon Halip/Getty Images
Hey, if it's what got the Niners a Week 2 matchup with the Lions on Sunday Night Football this year, I'll take it.
So if you hadn't already, you should now be "laughing out loud" at this photo. 
No?
Then I suppose we should take it a step further. If not for yours, at least for my entertainment. I'm going crazy waiting for the upcoming draft to get here.
In fact, I've studied this picture long enough (perhaps too long) to construct a few captions on what the 49ers' brass may be thinking to themselves as the cameras were flashing.
I'll leave a couple of my ideas at the bottom of the page (you may choose to laugh with me, or at me) and leave the rest up to you.
So go ahead, please, have some fun with this photo. After all, they're the ones hard at work while we're left anxiously waiting to see who the team's newest additions may be.
We all know this tight-lipped crew isn't going to give us much in the way of valuable insight regarding the draft or the upcoming season, and for good reason.
So we may as well enjoy ourselves in the meantime, right?
Let the fun begin!
Caption No. 1: Baalke is thinking to himself. "Man, I sure hope Jim isn't squeezing Jed's hand like he did mine. I can barely hold this damn helmet now."
Caption No. 2: York: "Holy crap. If this man gets any more excited he's going to rip that helmet out of Trent's hand, throw it on, and headbutt me with it. Patrick Willis is going to LOVE this guy!"
Caption No. 3: York: "Oh, man. This guy means business. Trent, I'll leave the press conferences to you two from here on out."