WWE Extreme Rules 2012 Predictions
April 18, 2012

This year's WrestleMania was the most watched in WWE history. It was by far, the best yet. Who's to say that Extreme Rules won't be any different?
So far, the card for Extreme Rules is going to be exciting, mainly since Brock Lesnar has come back to WWE. I, for one, can't wait.
Let's see what the predictions are for this year's matches.
Chris Jericho vs. CM Punk
This match is a no-disqualification Chicago Street Fight match. Both of these men have been in no-disqualification matches before, so they both know to use that to their advantage.
Chris Jericho is good at running his mouth and fighting dirty. CM Punk is also good at fighting dirty, so this match will be interesting. We will find out if Chris Jericho is all talk or if he will actually do what he says he will do.
I believe that one day Jericho will manage to beat Punk, but I do not believe that it will happen at Extreme Rules. Punk has managed to keep the WWE Championship thus far, and I do not believe that he will let Jericho take it from him.
Daniel Bryan vs. Sheamus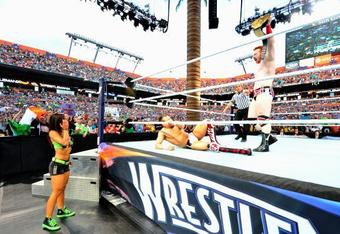 At WrestleMania 28, Daniel Bryan lost his title in 18 seconds thanks to his then-girlfriend AJ. A few days later, Daniel Bryan broke up with AJ on national television and in front of thousands of people.
So far, Daniel Bryan has taken one Brogue Kick after another from Sheamus. Even with AJ gone, I do not believe that this will work in Daniel's favor. 
Sheamus has been getting better this year, and he proved that at WrestleMania. I believe that Sheamus will keep his championship.
The match is supposed to be a two-out-of-three falls match. I believe that Daniel Bryan will collect one of these falls, but Sheamus will leave Extreme Rules with the championship still in his possession.
Dolph Ziggler vs. Santino Marella
 Santino Marella has managed to stay victorious. I do not believe that this will change any time soon. The only way I see him losing the title is if Dolph Ziggler stays in control of the match and does not allow Santino to use the Cobra.
Either way, I believe that Santino will still be the United States Champion.
Big Show vs. Cody Rhodes
Big Show is not someone to mess with. His size alone is very intimidating. But even though he is a towering giant, his size does not matter. 
Big Show has been beaten before, and I believe Cody Rhodes could beat the Big Show if he really wanted to. The only way I see The Big Show coming out of Extreme Rules a champion would be if Cody Rhodes did not put his heart into the match. I believe that if you are determined enough to win it will happen.
Brock Lesnar vs. John Cena
The first night of Brock Lesnar's return, John Cena felt his wrath with an F5. Lesnar has beaten Cena every night since.
I remember the first time Lesnar was in the WWE some 8 years ago. He was the craziest wrestler I had ever seen. He use to rub his victim's blood on his chest. He then went on to the UFC to win the heavyweight championship title. That is real hardcore fighting at its best.
Honestly, I do not see John Cena winning or even walking out of the ring on his own free will. I believe that he will need to be carried out. Brock Lesnar is on a mission to replace John Cena, and I believe this will happen at Extreme Rules on April 29, 2012.
Based on these predictions, what are your thoughts?