Sacramento Kings: Q&A with Point Guard Isaiah Thomas
April 18, 2012

Mike Ehrmann/Getty Images
The last pick in the NBA draft is usually a dead zone for a NBA career, but not for Isaiah Thomas. The Sacramento Kings point guard has overcome a lot in his tremendous rookie season.
Thomas has been a team leader since his days at the University of Washington, where he led the Huskies to two straight Pac-10 (Now the Pac-12) titles. It is no surprise that his leadership abilities have translated to the NBA game.
Thomas won NBA Rookie of the Month in both February and March, averaging 15.1 points and 5.2 assists per game as a starter. As the season has progressed, Thomas' game has continued to improve. 
I had the pleasure of talking with Thomas on Tuesday night. We discussed his decision to enter the NBA draft, his favorite point guards around the league, and how Reebok has helped him get in the best shape of his life.   
BR: I want to touch on your college career. Why did you decide to attend the University of Washington?
Thomas: Between coach Lorenzo Romar and my old assistant coach Cameron Dollar, I felt like it was the right decision and it was close to home. I felt like I was a big guy that loves my hometown and I felt like I could do anything in college, why not do it back at home in front of my friends and family? That's the main reason why I chose the University of Washington. 
BR: Was it a tough decision to forgo your senior season at the University of Washington and enter the NBA draft?
Thomas: It definitely was. Individually there was a lot at stake. There were all the records I could have broken. Things like that. And then team wise, we would have been a great team this year. We would have had a lot of talent and could have competed for a national championship.
But at the end of the day, I had to do what's best for me and I felt like what I showed in my three years of college, especially my last year in college, that I couldn't really do anything more to raise my stock and be any higher in the NBA draft, so I felt like it was my time to go and I was ready.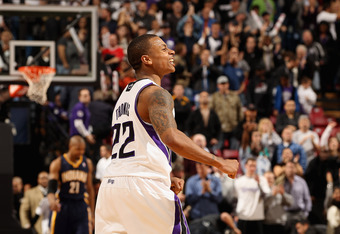 Ezra Shaw/Getty Images
BR: Who helped you with your decision?
Thomas: My family, my friends, Jason Terry, Jamal Crawford. Them two guys really helped me. Jason Terry was a big plus in my decision because he really put me through the process and really mapped out a line of ways in which it might plan out. Like being realistic: if I get drafted in the first round, if I get drafted in the second round, if I don't get drafted at all.
The lockout was coming up, so we mapped out so many different scenarios that we knew what we were getting myself into. Without him, without him helping me, even though he was going through the playoffs and things like that, if I didn't have him helping me, I wouldn't be in the position that I am now.  
BR: How tall are you?
Thomas: 5'9".
BR: As a draft prospect, do you believe that people were turned away from you as a player just because of your height?
Thomas: Oh, no doubt about it. A lot of people felt like I outplayed a lot of the guards drafted in front of me and I outworked them. I showed what I was capable of doing throughout the whole draft process, and at the end of the day, I feel like the only reason they didn't pick me was because of my height.
BR: What went through your head when the Sacramento Kings selected you with the last pick in the NBA draft?
Thomas: I was just happy. I mean, at first I was upset just because I had dropped so much but just to hear your name called and to be taken in the NBA draft, everybody doesn't get that feeling and that opportunity.
When I saw that they had drafted me, I told myself nobody ever gave me anything and all I needed was an opportunity and a chance, and they gave me a huge chance and I took advantage of it.
BR: During the NBA lockout, what did you do to prepare yourself for the start of your rookie season?
Thomas: I just stayed active, stayed working out. I mean, you didn't know when we were going to start playing and I just stayed in the gym. Stayed lifting weights. I was working out with my college, University of Washington. Practicing with them every now and then and working with the coaches.
I mean, I was just staying ready because I knew at one point in time that the season would start and I wanted to be as ready as I possibly could.
BR: What is the biggest difference between college basketball and the NBA?
Thomas: Guys are just so much better talent wise. They're bigger, stronger, faster. Some nights in college you have days off where you say, "Ah, this guy is not that good, so I can take the night off." But in the NBA, especially at the point guard position, you have no nights off. You got to be prepared.
You have to prepare yourself every day, every practice, and every game to play to the best of your abilities. That's the biggest adjustment.
BR: In your opinion, who's the best point guard you have faced this season?
Thomas: I like Rajon Rando. I like him a lot. Deron Williams. Those are the two guys I really like. I mean, there are so many great point guards. There's Chris Paul, Steve Nash. But Rondo, I really love Rondo's game.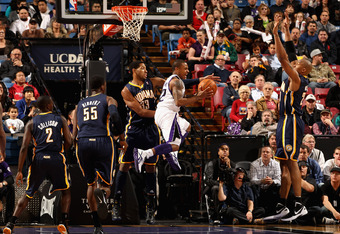 Ezra Shaw/Getty Images
BR: Why do you love Rondo's game so much?
Thomas: Just because he orchestrates the whole team. The offense, the defense. He's constantly talking. He's a great leader and he kind of controls the game. He doesn't even need to score to do it.
I mean, I respect that a lot because some guys in this league need to be scorers. They need to score to have an impact on the game and he does it by getting everybody else better and maybe score here and there when he needs to.
BR: Do you like the direction the Kings are heading in?
Thomas: Yes. I feel like we are a young team with a lot of talent. I mean, we just got to do the little things that the talented teams do in this league. The veteran teams do. Trusting each other, play to win and never give up. I think we have a lot of time and we got a bright future.
BR: You guys had a big win against the Portland Trail Blazers Sunday at home. After all that has gone on with the arena plans over the weekend, how important was it to get the victory?
Thomas: It was very important. There was a lot going on with the arena plans and you didn't know if the fans were going to come out and support us just because they were very upset. But we had great fan support. I mean, they were out there cheering us on the whole game.
They kind of led us to victory because they gave us a lot of energy. We just got to close the season out right. I mean, even though a lot is going on with this organization with the arena stuff and things like that, we got to put our heads down and really focus in and try to build some confidence going into next season.
BR: How has Reebok helped you get into the best shape of your life?
Thomas: Reebok period is just…  They have great equipment, great shoes. They are one of the top of the line endorsers in the world. I've been with Reebok since the beginning of the year but also through high school I went to Reebok camps. ABCD camp, Reebok University camp. So I have trained in Reebok for a while. I mean, through high school, things like that.
I'm comfortable in Reebok and with the new training they got going on right now with CrossFit, they are taking things to a whole different level that the world is going to see soon enough. I saw it last summer and it was probably the hardest workouts in my life but it definitely helped me prepare for this season.
BR: I noticed you play a lot of NBA 2k12 online. What is your go-to team?
Thomas: My go-to video game team is the Thunder. It's hard to stop Kevin Durant and Westbrook.