2012 NFL Mock Draft V3.0: Latest Trades and Signings Taken into Consideration
April 17, 2012

Jeff Golden/Getty Images
1. Indianapolis Colts – QB Andrew Luck, Stanford
No one is buying owner Robert Irsay's claim that the Colts are still undecided about who to select with the first pick overall. Indy has cleaned house and will rebuild with the obvious selection as their cornerstone. A white and blue "12" jersey is waiting for Luck.
2. Washington Redskins – QB Robert Griffin III
You might not be a fan of Jay Cutler, but 'Skins head coach Mike Shanahan drafted Cutler and turned him into a productive pro. Shanahan will do the same with Griffin, with the difference being that Griffin will turn Washington into winners finally.
3. Minnesota Vikings – OT Matt Kalil, USC
The Vikes surprised everyone by selecting QB Christian Ponder in the first round last year. Selecting Kalil would be a no-brainer. The Vikings allowed 49 sacks last year. Ponder already has some good weapons around him. Now he needs protection.
4. Cleveland Browns – RB Trent Richardson, Alabama
RB Peyton Hillis couldn't leave town quick enough. Cleveland is ecstatic to be rid of a player that put his contract ahead of his team. Quarterback is a dire need for the Browns, but they go with the best player available this early in the draft.
5. Tampa Bay Buccaneers – CB Morris Claiborne, LSU
The Buccaneers drafted DTs Gerald McCoy and Brian Price just two years ago. If the duo can stay healthy, play at the position should recover. What needs help is the secondary, even after signing free agent Eric Wright and re-signing Ronde Barber.
6. St. Louis Rams – WR Justin Blackmon, Oklahoma State
Not only did the Rams acquire additional picks by trading down, they still get the player they originally had their eyes on. QB Sam Bradford will have a go-to receiver for years to come after losing Brandon Lloyd in free agency. If the offensive line can stay healthy, Bradford to Blackmon could be a connection we hear from for years to come.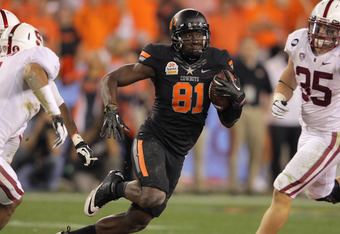 Doug Pensinger/Getty Images
7. Jacksonville Jaguars – DE Melvin Ingram, South Carolina
Jacksonville has been trying for years to find a pass rusher. They failed through the draft (Derrick Harvey and Quentin Groves in 2008) and through free agency (signing Aaron Kampman in 2008). They don't want to blow it again.
8. Miami Dolphins – QB Ryan Tannehill, Texas A&M
Reaching for quarterbacks in the first round has become a trend, from Tim Tebow (Denver, 2010) to Christian Ponder (Minnesota, 2010), and next will be Tannehill. After failing to land either Peyton Manning or Matt Flynn, the 'Fins get a signal-caller.
9. Carolina Panthers – DT Fletcher Cox, Mississippi State
The Panthers need defense in any form. Head coach Ron Rivera, a former linebacker, understands what being strong up the middle defensively does for a defense. Carolina likes Cox's versatility because he can stop the run and rush the passer.
10. Buffalo Bills – OT Riley Reiff, Iowa
LT Demetrius Bell will be taking snaps in Philadelphia next year, as he recently signed with the Eagles, leaving the Bills with Chris Hairston to protect QB Ryan Fitzpatrick's blind side. Buffalo invests in Reiff insurance.
11. Kansas City Chiefs – DT Dontari Poe, Memphis
NT Kelly Gregg is a career overachiever as a 6'0", 325-pound nose tackle. He wasn't bad, but at 35, Gregg is either almost done or is done, period. The massive Poe (6'5", 350 lbs) needs to become consistent. If Poe does, he will anchor the Chiefs' D-line for years.
12. Seattle Seahawks – LB Luke Kuechly, Boston College
Leading tackler LB David Hawthorne packed his bags and is heading to New Orleans. Signing Barrett Ruud doesn't replace what Hawthorne was to the defense. Kuechly is younger and better equipped to step in wherever he's asked.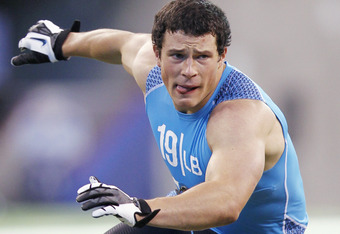 Joe Robbins/Getty Images
13. Arizona Cardinals – OG David DeCastro, Stanford
'Zona was out of the Peyton Manning sweepstakes very early. That was probably because the Cardinals couldn't guarantee Manning's safety after allowing 54 sacks last year. This could be a tough call between protecting the quarterback or addressing the run defense.
14. Dallas Cowboys – S Mark Barron, Alabama
The secondary is undergoing an overhaul after the pass defense was ranked 23rd overall. Already in the fold are CB Brandon Carr and S Brodney Pool. After adding Barron, that's three-fourths of the Cowboys secondary changed from last year.
15. Philadelphia Eagles – DT Michael Brockers, LSU
1,801 yards. 4.4 yards per carry. Philadelphia was bullied on the ground last year. The first step in shoring up the run defense was trading for MLB DeMeco Ryans for basically a fourth-round pick. Add Brockers to the mix and opponents won't go very far up the middle.
16. New York Jets – WR Michael Floyd, Notre Dame
If the Jets want QB Mark Sanchez to succeed, they must surround him with quality weapons. WR Santonio Holmes is becoming toxic and WR Plaxico Burress couldn't even fill Braylon Edwards' shoes.
17. Cincinnati Bengals – DE Quinton Coples, North Carolina
Cincinnati lost 10.5 sacks from last year's team with the departures of DE Frostee Rucker and DT Jonathan Fanene. Coples' size and strength enables him to play either position, making him too intriguing for the Bengals to pass on.
18. San Diego Chargers – DE/OLB Whitney Mercilus, Illinois
The Chargers spent the 16th overall selection on OLB Larry English in 2009. In three years, the Northern Illinois product has just seven sacks. Hopefully they have better luck with the former Fighting Illini product Mercilus.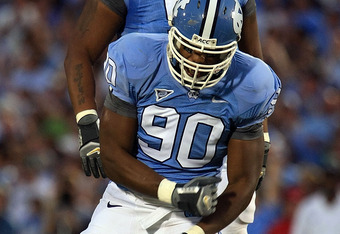 Scott Halleran/Getty Images
19. Chicago Bears – CB Stephon Gilmore, South Carolina
Even though the Bears had 20 interceptions, they still gave up 4,065 yards because they see juggernaut offenses Detroit and Green Bay twice a season. They can use some length at corner to defend the Lions' Calvin Johnson and the Packers' deep receiving corps.
20. Tennessee Titans – DE Andre Branch, Clemson
Tennessee's pass rush needs a serious boost. DE Derrick Morgan is improving slowly and DT Jason Jones left as a free agent. LB Akeem Ayers will get chances to blitz, but having Branch coming off the edge full-time will help a lot.
21. Cincinnati Bengals – CB Dre Kirkpatrick, Alabama
Even though the Bengals signed CBs Jason Allen and Terence Newman, age (Newman is 33, Nate Clements is 32) and Leon Hall's health concerns gives Cincy reason to add additional depth at the position.
22. Cleveland Browns – OT Jonathan Martin, Stanford
At some point, the Browns will take a quarterback. To ensure his future safety, Cleveland secures the pocket. With Joe Thomas holding it down at left tackle, Martin will flip to right tackle.
23. Detroit Lions – DE Nick Perry, USC
If you can't cover them, tackle them. Detroit could use a corner to replace Eric Wright, but the options here are below 6'0". That won't get it done in the NFC North. The Lions opt for someone that can get to the quarterback before he can get the pass off.
24. Pittsburgh Steelers – LB Dont'a Hightower, Alabama
This is a prefect marriage between player and defensive scheme. Hightower will fit in seamlessly into the Steelers aggressive, blitz-heavy defense next to Lawrence Timmons. Hightower immediately steps into James Farrior's spot in the starting lineup.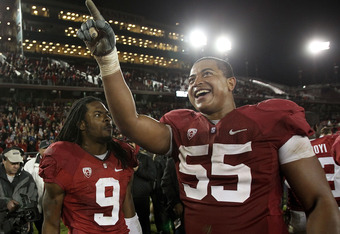 Ezra Shaw/Getty Images
25. Denver Broncos – DT Jerel Worthy, Michigan State
Denver's run defense was almost as bad as their rush offense was good. Opponents tore through the Broncos at a clip of 126.3 yards per game, 22nd in the NFL. With DT Brodrick Bunkley gone, there's a hole that Worthy can fill immediately.
26. Houston Texans – TE Coby Fleener, Stanford
More and more teams are adopting the two quality tight ends approach. Houston's offense would still be great with just Owen Daniels, but pairing him with Fleener would add diversity and size to their passing game.
27. New England Patriots – DT Kendall Reyes, Connecticut
The NFL's second-worst defense needs help in all areas. Adding Reyes gives the Patriots depth they sorely lacked as injuries piled up along the D-line. With DE Shawn Ellis and DT Gerard Warren possibly retiring, the Patriots can really use Reyes.
28. Green Bay Packers – DE/OLB Vinny Curry, Marshall
Green Bay had more interceptions (31) than sacks (29). Obviously the Packers had problems with getting to the quarterback and must address the pass rush. Curry is a relentless player that should fit well opposite the all-out play of Clay Matthews.
29. Baltimore Ravens – OG Cordy Glenn, Georgia
The 10th-ranked rush offense adds a mauler to clear the path for RB Ray Rice and friends. Ben Grubbs is no longer a Raven, leaving a hole in the line that Grubbs can fit into immediately.
30. San Francisco 49ers – CB Janoris Jenkins, North Alabama
Losing DBs Shawntae Spencer and Reggie Smith has minimal impact on the defense—but the chance to add Jenkins this late in the draft is a steal. He's considered the best cover corner in the draft. If Jenkins has matured from his Florida days, the 49ers have a future starter.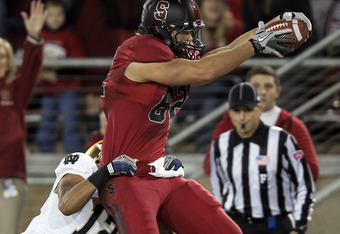 Ezra Shaw/Getty Images
31. New England Patriots – WR Kendall Wright, Baylor
Naturally, the Patriots find a way to make people scratch their heads. Including the franchised Wes Welker, New England has nine receivers on the roster. But when the likes of Welker and Deion Branch are done, Wright will be groomed to take over for them.
32. New York Giants – DE Chandler Jones, Syracuse
The Giants hoard pass rushers like gold—they can't have enough. Selecting Jones is insurance, as DE Osi Umenyiora appears to be at odds with the organization as he stays away from offseason team workouts.
Outside the First Round
Atlanta Falcons – The gamble to trade away their first-round pick in last year's draft didn't pay off, as the Falcons learned they are more than one player away from being a championship contender. Getting a pass rusher will get Atlanta closer to their goal.
New Orleans Saints – Bountygate cost the Saints their second-round selection this year and next year. That hasn't stopped New Orleans from fortifying the defense. They added three linebackers and a lane-clogging defensive tackle. The secondary might be on New Orleans' mind if they wait until their pick at 90.
Oakland Raiders – The Raiders don't have a selection until 95th in the third round. They could really use those selections, as the losses through free agency are setting the team back. Defense will be a priority when Oakland finally gets the chance to replenish the roster.
Questions? Comments? Send to talktome@randolphc.com.