St. Louis Cardinals: Is David Freese MLB's Next Great Player?
April 15, 2012

Andy Lyons/Getty Images
Pretend it's April 15, 2011.
Now if I told you there was a St. Louis Cardinals player who was among the early league leaders in hitting (.406), home runs (3) and RBI (11), who would you guess it would be?
Albert Pujols, right?
Wrong. Try David Freese.
With a huge void left in St. Louis' lineup, as well as in fans' hearts after losing who many regard as the best player in Major League Baseball, the Cardinals have a player quite capable of filling that void and helping them defend their world championship in the form of Freese.
And like many players, Freese's path to the big leagues wasn't a straight one.
After setting records for batting average (.533) and home runs (23) at nearby Lafayette High School in Wildwood, Missouri—30 miles from St. Louis—Freese was offered a scholarship to play at the University of Missouri. Feeling burned out, Freese decided to step away from the game of baseball for a year.
Freese returned to the game and attended St. Louis Community College-Meramec for a year before transferring to the University of South Alabama where he ended up being drafted in the ninth round (273rd pick) by the San Diego Padres in 2006.
The Cardinals ended up acquiring the six-foot-two, 220-pound third baseman from the Padres in a trade for Jim Edmonds before the 2008 season, a move the franchise will relish for the next decade.
Though Pujols will be making $12 million this season in his first year with the Los Angeles Angels of Anaheim, Freese will earn only $508,000 this season—a deal if there was ever was one for a guy who was the NLCS MVP, World Series MVP and Babe Ruth Award (MVP award for entire postseason) winner last season.
Freese, who will turn 29 on April 28, batted a torrid .545 in the 2011 World Series with three home runs and nine RBI with two of the blasts sealing victories for his team. He also smashed a game-tying, ninth-inning triple in Game 6 in his first real moment in the spotlight.
World, meet David Freese.
With Carlos Beltran, Matt Holliday and Lance Berkman hitting ahead of him in the St. Louis lineup and Yadier Molina behind him, opponents will have to pitch to the right-handed hitting Freese in the No. 5 spot in the order.
And what's nice about Freese's plate appearances early in his MLB career is he seems to have a very smooth swing for a power hitter and seldom has any really "bad"at-bats.
For me, Freese is the next great player in the game and the perfect guy to make the Cardinals and their fans forget about the loss of Albert the Great.
Really big fans of Freese—whose career batting statistics through 192 games (.303 BA, 18 home runs, 109 RBI and a .442 slugging percentage) are nothing to sneeze at—and investors alike seeking to someday cash in on his potential rushed to buy his most valuable rookie cards last fall, causing their prices to skyrocket.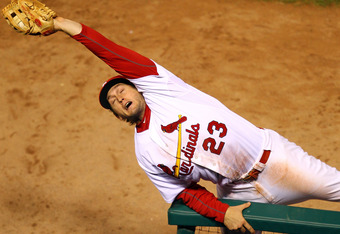 Dilip Vishwanat/Getty Images
The best of the best, David Freese's 2009 Topps Chrome Gold Refractor autographed baseball cards (only 50 made) were selling for as much as $150 with the blue version (only 199 made) going for as much as $120 at last report.
Future markets aren't always the barometer of a player's success down the road at (remember the great Gregg Jefferries card rush in the early 1990s?), but anyone lucky enough to own one or both of these cards, or a 2009 Upper Deck Ballpark Collection autographed rookie card (one sold for $120 on eBay recently). is in prime possession of a real hot commodity.
In short, this kid is the real deal. So keep your eye on him.

> Follow me on Twitter @KevinStott11