NHL Playoffs 2012: Phoenix Coyotes Generate Momentum, Capture Game 1
April 13, 2012

Christian Petersen/Getty Images
In a reversal of fortunes, the Coyotes will attempt to accomplish what no recent Phoenix hockey team could achieve.
Not only are the Coyotes out to advance for the first time of the Phoenix portion of the Jets/Coyotes franchise from the opening round of the Stanley Cup playoffs, they will attempt to get off to a creditable start.
Since the 1992 playoffs, when the franchise was still in Winnipeg, the Jets/Coyotes have won the first game of any series once in 10 playoff years. That was two years ago, when defenseman Derek Morris netted the game-winner in a 3-2 win over Detroit at Jobing.com Arena.
Make that twice now in the past three years.
After Hawks captain Jonathan Toews scored just over four minutes into Game 1, the Coyotes responded with second-period tallies from Taylor Pyatt and Antoine Vermette and ended an emotional night with a 3-2 overtime win on Martin Hanzal's game-winner at 9:29 of the extra session.
In opening the postseason Thursday night at home against the Chicago Blackhawks, the Coyotes mixed a little of the good with a little of the marginal to take this series edge, one game to none. The road ahead, according to coach Dave Tippett, remains somewhat "chippy," but the Coyotes will proceed with verve and passion.
"We want to be physical in this series," Tippett said after Game 1. "We started slowly, and had more momentum in the second. And, in the overtime, we tried to force the pace of the game."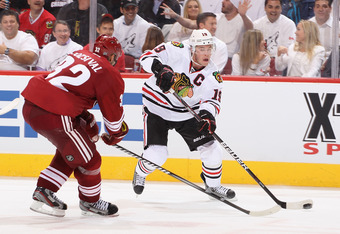 Christian Petersen/Getty Images
For the Coyotes to survive in this series, the defense needs to accelerate and tighten in front of goalie Mike Smith. Leaving Smith time after time to make more than routine saves, those on the blue line, and forwards back-checking, must find ways to better control play.
A key stat which emerged from Game 1 was the Hawks' shot total. In firing 40 shots through regulation, and another five in overtime, the total of 45 seemed high for a traditional, tight-checking playoff game.
After Game 1, the Coyotes offered several explanations.
"I think Smithy likes that number, and it keeps him in the game," said defenseman Keith Yandle. "When's he's kicking like that, he'll be fine."
For Tippett, the issue was quality and not quantity.
"It depends on where the shots come from," he said. "The number of shots in (Game 1) resulted from play in the neutral zone. We didn't control the puck very well there, and that allowed them to break in on (Smith)."
The Chicago shot total turned back the clock to a week ago when Columbus blitzed Smith with 52 shots during a Phoenix 2-0 shutout victory. This time, the Hawks zipped the puck around the Phoenix end with regularity, and Smith saw more rubber than a goalie should experience during a playoff game.
"They're a skilled team and create many chances," Smith said. "Yes, I saw a lot of shots but we also broke up many, too."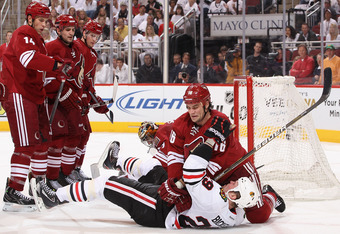 Christian Petersen/Getty Images
A Dream Come True
Tension and drama are always heightened in overtime during a playoff game, and for the winning Coyotes, that feeling and spirit was rewarded with Hanzal's game-winner.
"Overtime in the playoffs is just great fun," said Phoenix captain Shane Doan. "As a kid, you always dream of scoring the winning goal in overtime, and just to participate in something like this is special."
Defenseman Yandle had a similar response.
"Overtime is all about having fun," he said. "You think about being out there, and scoring means making a name for yourself."
Shadowing the Captain
Hawks captain Toews skated in his first game since Feb. 19, and according to Chicago coach Joel Quenneville, he played "well. I liked his game."
Though the Coyotes would not directly admit it, Doan had the task of shadowing Toews and linemates Marian Hossa and Patrick Kane, the Hawks No. 1 line.
In his first game back, Toews put in 24 minutes, 29 seconds of playing time, while Hossa recorded 24 minutes, 36 seconds and Kane, 25 minutes, 16 seconds.
"We tried to disrupt their playmaking and momentum," said Doan afterward. "It just wasn't me. We have four lines which can pressure on their forwards, and that was basically our plan."
Of the 45 shots peppered on Smith, defenseman Brent Seabrook tied Kane for the most, seven each. Seabrook also had the tying goal with 14 seconds remaining in regulation. For the game, Toews had two shots, and Hossa recorded three shots.
More Hockey
Game 2 is slated for Saturday at 7 p.m. Phoenix time. The series then switches to the United Center for Game 3 (next Tuesday, April 17) and Game 4 (Thursday night, April 19).
Should Game 5 be necessary, that would be back in Jobing.com Arena on Saturday, April 21. Game 6 returns to the United Center on Monday, April 23 and Game 7 will be played back at Jobing.com Arena on Wednesday, April 25.
Editor's Note: Quotes in this story were obtained by the author in postgame Chicago at Phoenix interviews, April 12, 2012.