Los Angeles Lakers: Breaking Down Their Amnesty Options for Next Season
April 13, 2012

Harry How/Getty Images
OK, so I was all set to dismiss Metta World Peace once and for all.  Use the amnesty clause after this season and clear $15 million off the books. 
Add in the $8.9 million trade exception money the team received in the Lamar Odom deal with the Mavericks and the Los Angeles Lakers payroll is suddenly manageable again.
But then MWP goes out and averages 22.7 points per game over a three-game period, including his highest (26) output in three years in leading the team to a surprisingly easy thrashing of the Spurs on Wednesday in San Antonio.
So now what?
The L.A. Lakers seem to have more personalities than they do uniforms.  One night they barely survive against a pathetic New Orleans team that was playing without several of its key players.  The next game they destroy the second-seeded Spurs without Kobe Bryant in the lineup.  Go figure.
But as the Lakers prepare to do battle in the upcoming NBA playoffs, what's apparent is that this team will make changes over the summer.  Regardless of what happens in the next two months.  Even if they win a title.
There are just too many loose ends on the Lakers, too many question marks of players, coaches, ownership, everything.  Of course, winning usually cures most ills, but there will be players whose contracts just won't make sense for the Lakers heading into the 2012-13 campaign.
Steve Blake is guaranteed $4 million next season.  With Ramon Sessions as their new starting point guard, do the Lakers really need to keep the inconsistent Blake?
There's also a strong possibility that Jordan Hill could be jettisoned.  He is guaranteed to make $3.6 million next year and $4.9 million in 2013-14.  Either the team is saving him or they know something we don't because Hill has seen no action since being acquired from Houston in the Derek Fisher dump.
So, what are the options for Los Angeles?  The Lakers could amnesty one of their players—they would still owe them their guaranteed money but it would not factor into the salary cap going forward.
The big three—Kobe Bryant, Pau Gasol and Andrew Bynum—make the bulk of the money for this team (combined more than $63 million next season) but they will not be amnestied, though one of them could be traded; say, Gasol to the Nets in a deal to get Deron Williams.
The Lakers just exercised their $16 million option on Bynum for next season and with the way he has been playing, they probably will try and secure his talents for a longer-term deal.  Heck, he's causing amnesia with many fans who were on the Dwight Howard bandwagon.
Bryant is owed a total of over $58 million the next two seasons, far and away the most of any player in basketball.  And even though taking that money off the books would allow the Lakers to pursue and build a new dynasty, we know that is not within the realm of sane thinking—there would be a full scale mutiny at Staples Center come next fall.
Bryant is the world's best player, one of the greatest ever to the play the game and still capable of leading the league in scoring at age 33, playing over 38 minutes per contest.  As he has said on more than one occasion, "I'm not going anywhere."
There is also good reason to believe that the Lakers could even live a few more years being over the cap and paying that tax, even the more punitive one now in place.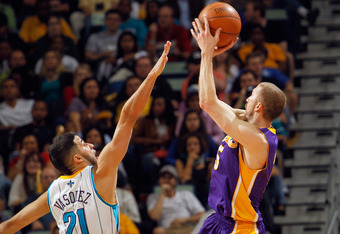 Chris Graythen/Getty Images
The reason?  How about the $900 million team owners will reap as part of the enormous new 20-year television deal the Lakers signed last year with Time Warner Cable?
As Forbes staffer Mike Ozanian wrote in a February 26, 2012 column: "When the Los Angeles Lakers inked their new television deal with Time Warner Cable that begins with the 2012-13 season they instantly became the NBA's most valuable team, worth $900 million."
He goes on to write:
Here's the best way to look at why the Lakers, whose deal with TWC will average $200 million a year and is guaranteed for 15 years, rose 40% in value from the previous year: Assuming a 7% discount rate over 15 years makes the cable deal worth $1.8 billion. The players will get about $900 million of that bounty based on the league's new collective bargaining agreement. So it's a $900 million windfall for team owners Jerry Buss and Phil Anschutz.
Who needs to worry about amnesty clauses when you're making billion dollar deals? 
Still, win or lose, players will come and go this offseason.  And as good as he's looked in the past week, that one amnesty may be Metta World Peace.