Carolina Panthers: Which Defensive Tackle Prospect Is the Best Fit?
April 13, 2012

As the 2012 NFL Draft approaches, there remains a lack of clarity as to where Carolina's head is at concerning the ninth overall pick. Months ago, it seemed Dre Kirkpatrick was the obvious choice, but as the offseason progressed, the pick became Michael Brockers, Dontari Poe, David DeCastro, Luke Kuechly and more recently, Fletcher Cox. 
DeCastro has since fallen out of the discussion after the Panthers acquired multiple offensive linemen in March, including a trade for the talented young tackle Bruce Campbell. 
Despite reports that the Panthers are interested in Kuechly, he doesn't come at a position of need, and his talent does not surpass the other prospects who were listed. 
Kirkpatrick was ousted months ago after off-field issues and concerns about his self-motivation saw his stock drop. 
When you remove those three from the list, you are left with three defensive tackles—LSU's Brockers, Memphis' Poe and Mississippi State's Cox. There has been no shortage of arguing over which is the proper pick for Carolina, but a consensus has still not been reached. To finally reach a conclusion, let's compare all three and decide which is the best fit. 
We'll start with Brockers, as he was the first defensive tackle that stood out as a possibility for the Panthers. He's scheme diverse, and fits in equally well as a 4-3 defensive tackle or a 3-4 defensive end. He has excellent size at 6'5", 322 lbs. and played against elite competition in the SEC. 
Brockers' stock fell at the combine when he didn't appear as athletic or as strong as Cox and Poe. However, he does show explosiveness and strength on film, which does alleviate those concerns in my mind.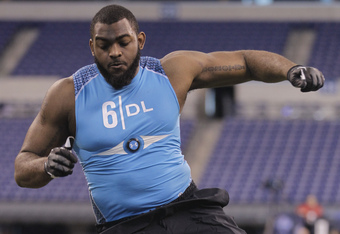 Brockers could blossom for the Panthers if utilized correctly. When he is used in a consistent rotation, he is far more effective and can be so over the entire course of a game. When he's left in the game too long, he is unable to hold up against the double-team and becomes an average player. 
Remember, Brockers only has one legitimate year of experience playing against elite competition. He has made some strides over his short career, and if the Panthers coaching staff sticks with him, it could pay dividends. If they are impatient, though, the pick could be a waste. 
Poe's story has been much different. He's shown that he is an elite physical talent, with 44 reps and a 4.87 forty-yard dash time. However, since the combine and his pro day, scouts have gone back to the film and that athleticism does not show up on tape. 
At 6'3", 346 lbs., Poe is a handful when he gets a good jump off the ball, but he isn't typically quick on film, which counters his impressive 10-yard split of 1.68. He also isn't an impressive pass rusher and lacks the upside that Brockers has in this area. 
Although he can occasionally show the ability to split the double team and make highlight plays, he doesn't consistently live up to his talent on the field and is a better fit as a nose tackle in a 3-4 scheme. 
Cox is an even more compelling athlete than Poe, and his abilities translate more directly to the film, where he showed aggression and instincts that suggest a player with great upside. 
The 6'4", 298 lb. defensive tackle is an ideal fit for the Panthers' 4-3 scheme and his high motor, as well as two-and-a-half years of starting experience, make him a potential impact player from day one. He does, however, need to add some bulk because he has the frame to do so while not sacrificing his quickness. 
Cox can occasionally be handled by double teams due to that lack of strength, but he disengages quickly and shows great explosion in his upper body. He is also a developing pass rusher who can become even more productive with improved technique. 
After analyzing the three prospects, here are my rankings: 
3. Dontari Poe, Memphis
2. Michael Brockers, LSU
1. Fletcher Cox, Mississippi State 
In the end, Poe has less upside and doesn't appear to be as skilled once the ball is snapped. Both Brockers and Cox have elite talent, but Cox has refined his game more at this point and is more relentless on tape, making him the right choice for the Panthers, who could instantly insert him as a starter on the inside. 
Final Verdict: Fletcher Cox