NHL Playoff Schedule 2012: When and Where to Watch Weekend's Stanley Cup Action
April 13, 2012

Frederick Breedon/Getty Images
The 2012 Stanley Cup Playoffs are off to a great start, and this weekend is sure to give fans plenty more excitement. 
Game 1 is out of the way for everyone, and the next couple days are extremely important. If a team gets down 0-2 tonight or on Saturday, bouncing back will be incredibly difficult. 
Look for each playoff team to give it their all this weekend, which will only result in the best hockey of the year. 
That being said, here's all the TV info you need to know 
Friday, April 13 
New Jersey at Florida
7:00 p.m. ET on NHLNET, TSN, FOX--FL, MSG+
Philadelphia at Pittsburgh
7:30 p.m. ET on NBCSN, TSN, CSN-PH, FOX-PITT
Detroit at Nashville
7:30 p.m. ET on CBC, CNBC, FOX-DET
Los Angeles at Vancouver
10:00 p.m. ET on NBCSN, CBC, KCOP-13 
Saturday, April 14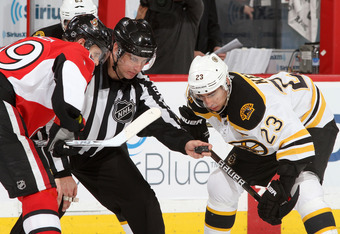 Jana Chytilova/Freestyle Photo/Getty Images
Washington at Boston
3:00 p.m. ET on NBC, CBC
Ottawa at NY Rangers
7:00 p.m. ET on NBCSN, MSG, CBC
San Jose at St. Louis
7:30 p.m. ET on CNBC, TSN, CSN-CA, FOX-MIDWEST
Chicago at Phoenix
10:00 p.m. ET on NBCSN, FOX-AZ, CSN-CH, TSN
Sunday, April 15
Nashville at Detroit
12:00 p.m. ET on NBC, CBC
Pittsburgh at Philadelphia
3:00 p.m ET on NBC, TSN
New Jersey at Florida
7:30 p.m. ET on NBCSN, TSN, MSG+
Vancouver at Los Angeles
10:00 p.m. ET on NBCSN, FOX-WEST, CBC