Brandon Jacobs Blaming Giants O-Line for Struggles Is No Surprise
April 12, 2012

Nick Laham/Getty Images
Brandon Jacobs has scored more touchdowns than any other running back in New York Giants history.
He also has the club's fourth-most rushing yards and fifth-most carries.
For seven seasons, he wore Giants blue and helped the club win two Super Bowl rings. But make no mistake about it, plenty, if not all, Giants fans were happy to see him leave this offseason.
What good is a 6'4", 264-pound back that cannot convert a 3rd-and-1 anyway?
Jacobs was a changed man after the 2008 season. He, for whatever reason, became a weaker back who ran with shyness behind his pads rather than thunder. Not only did the smaller and tougher Ahmad Bradshaw take his starting spot, but he took over third-and-short situations initially as well.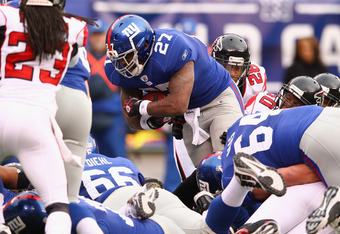 Al Bello/Getty Images
In the last few years, Big Blue went back to Jacobs in short-yardage situations and his struggles were well documented—beyond well documented, in fact. And to go along with it, he never shut his mouth.
This year, in particular, the Giants were horrendous on the ground. Some of that had to do with consistent shuffling on the line, but Jacobs was as much to blame for their league-worst ground attack.
Of course, he has no problem taking shots at his former teammates. Now that he's far away and cozy on the other side of the country, Jacobs told KNBR-AM in San Francisco (via SportsRadioInterviews) that the O-line was to blame for his struggles:
"No one's perfect -- somebody's gonna get a step on you at some point somewhere and you're not gonna be perfect. Because we had issues. When I was with the Giants, we had issues down the line. Of course, I took the blame for those (because I was) holding the ball. But ultimately, at the end of the day it is my fault because I do have the ball and that's what people see. But there's a lot more than that going on."
New York's 89.2 yards per game were undeniably atrocious, but there is no denying Jacobs' consistently decreasing numbers. Following back-to-back 1,000-yard seasons in 2007 and 2008, the big back failed to break 900 yards in any of the past three years. Yes, his role was decreased, but this season he didn't even eclipse 600 yards and averaged only 3.8 yards per carry.
Ask any Giants fan the outcome of a third-and-short and they'll tell you they didn't get it. Of the 313 first downs New York had this season (10th-most in the league) only 84 came on the ground.
And yet it comes as no surprise that Jacobs is running his mouth—again. He was always more efficient with his mouth than with his legs.
The same O-line that Jacobs blamed for his struggles helped turn out the sixth-most rushing touchdowns in the league—seven of which went to Jacobs—and gave up the seventh-least amount of sacks in the league as well.
Oh yea, and the line was good enough to win the Super Bowl.
Jacobs can say what he wants, but the numbers speak for themselves.