2012 NHL Draft: 5 Players the New York Islanders Could Pick at No. 4
April 12, 2012

Richard Wolowicz/Getty Images
The 2012 NHL draft will take place on Friday, June 22 and Saturday, June 23 at the Consol Energy Center, home of the Pittsburgh Penguins—that much is certain.
The only other aspect of the draft that's considered—to borrow a phrase from ESPN's Mike and Mike in the Morning—to be a stone-cold-lead-pipe lock, is that the Edmonton Oilers will use the first overall pick to select consensus top prospect Nail Yakupov, right winger for the OHL's Sarnia Sting.
Other than those two facts, nothing is set in stone regarding this year's edition of the draft.
The myriad of mock drafts that have flooded the Internet over the past few days have made it clear that there's little agreement on the order in which the elite NHL-ready prospects will be called to the stage on draft night.
From NHL draft experts to Bleacher Report writers to hockey fans trading emails in the office, opinions abound.
With the recent results of the NHL draft lottery going final, it's time for the teams that couldn't secure playoff spots this year to start assembling their scouting departments—those draft "big boards" won't put themselves together on their own.
Besides, it gives teams like the New York Islanders something to focus on instead of bemoaning another offseason that started too soon.
It's no secret that the Islanders could use some help along the blue line—veteran stopgap solutions like defensemen Steve Staios and Milan Jurcina aren't the answer to the team's ongoing need for a physical blueliner who can contain the top-line players on opposing teams.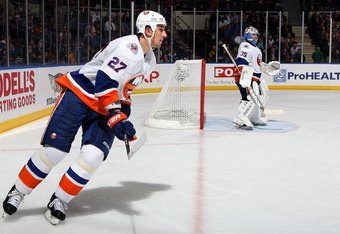 Jim McIsaac/Getty Images
Yes, captain Mark Streit is a solid D-man, but his offensive contributions are of greater note than his defensive capabilities. And while it's true that homegrown talents Travis Hamonic and Andrew MacDonald will anchor the defense in the years ahead, there's no denying that the Isles need a big-time defenseman to shore things up at the back.
After all, the team can't continually rely on goaltender Evgeni Nabokov to bail out the defense.
The Isles will almost certainly weigh their options when it comes time to court big-name free-agent defensemen like Shea Weber (Nashville Predators) and Erik Karlsson (Ottawa Senators), but their main focus should be drafting well this June.
Building through the draft has been a strength of the Islanders over the past four or five seasons, as team owner Charles Wang has given general manager Garth Snow license to implement his style of scouting and development as part of the team's ongoing rebuilding effort.
With the fourth overall pick, the Isles are poised to take advantage of the deep defensive talent pool in this year's draft class.
Despite the team's history of taking the best available player at any position—regardless of their biggest draft-day need—it's assumed that Wang and Snow will look to take a top defensive prospect with their first-round selection.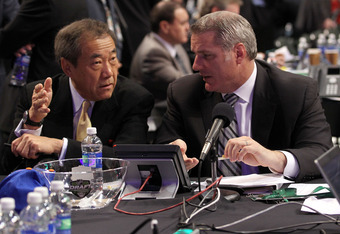 Bruce Bennett/Getty Images
(Also, it's unlikely that a top forward would drop past the top three picks and fall into their lap at No. 4.)
With that in mind, here's who the Isles will be looking at when they're on the clock for the first time…
Ryan Murray—D, Everrett (WHL)
Listed 6'1" and 201 pounds, Murray is the top defensive prospect on the board. According to NHL Central Scouting, he's also the second-ranked North American skater in this year's draft class overall, regardless of position.
Murray might lack the offensive touch of some of the other highly ranked D-men in the prospect pool, but the Islanders need a blueliner with a physical presence to ensure that opposing top-line forwards can't roam the offensive zone at will.
With his size advantage over most prospective defensive draftees, Murray holds the most upside for the Isles when it comes to shoring up their defense.
The bottom line: Murray has great potential to be a top-four NHL defenseman, which is exactly the type of player the Islanders need going forward.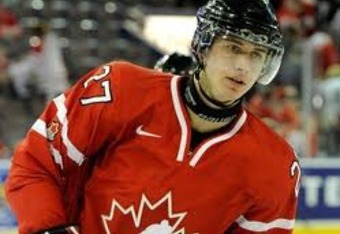 Mathew Dumba—D, Red Deer (WHL)
More offensively gifted than most of his peers, Dumba often has to be coached with regards to defensive positioning and protocol. This isn't to say he can't handle himself on the blue line, however.
Dumba is the kind of player who plays bigger than his size—5'11" and 183 pounds—which might endear him to the Islanders' front office. He has the ability to take on bigger players and land big hits when the opportunities arise.
Seeing as how the Isles already have Streit as their go-to offensive defenseman, drafting Dumba might not make the most sense, but his skill set is undeniable.
If he's available—which he should be when the fourth pick rolls around—Snow might see the potential to develop him into another Streit and play him as a third defenseman, which would give the second defensive pairing the ability to score a few goals while harassing opposing forwards.
Morgan Rielly—D, Moose Jaw (WHL)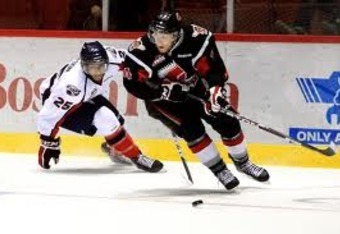 Rielly is another relatively undersized defensive prospect, which might move him further down the Islanders list. At 5'11" and 190 pounds, his stature is similar to Dumba's.
What sets Rielly apart from his fellow defensemen is his characteristic energy when he's on the ice.
Scouts have noted he plays a high-octane style of hockey but is able to rein in his emotions while seemingly straddling the line between playing in- and out-of-control.
It should be noted that Rielly is currently rehabbing from an injury suffered earlier in the WHL season, but he's expected back before the end of the year. If the Isles are sure that he's not suffering long-term aftereffects from the injury, they might decide to bring him on board.
Cody Ceci—D, Ottawa (OHL)
When the term "sleeping giant" is thrown into the scouting report for a particular player, it tends to pique the interest of general managers league-wide. When referring to Cody Ceci, this is exactly how NHL scouts view him.
Ceci has NHL size—he's listed at just over 6'2" and 207 pounds—which is an attribute that can't be taught, as the cliché goes.
Coupled with a booming right-handed shot, Ceci's size and defensive ability make him an intriguing prospect. The Islanders could certainly use a defense-first blueliner, and Ceci would certainly fill that hole in their current lineup.
He might be somewhat off the radar, but you can bet that a strong defenseman with the ability to work the point and get the puck to the net will definitely be near the top of Snow's wish list for the Islanders.
Griffin Reinhart—D, Edmonton (WHL)
Setting his bloodline aside for a moment—his father, Paul Reinhart played 730 NHL games during his career in the 1980s—Griffin Reinhart has the two-way style of game that can endear him to NHL scouts.
He's only 18 years old and is still growing into his 6'4", 204-pound body—just think of how he'll be able to command the defensive zone when he fills out.
The Islanders would love to add his size and physicality to their defensive unit, which might outweigh the fact that he's not as polished a prospect as Murray, Dumba or Rielly.
Despite that, Reinhart could be a sleeper pick—more of a developmental project than other potential draftees—for a franchise that hasn't had a dominant defenseman in years.
Did I miss someone? Is there another prospect you can see the Islanders drafting? Sound off in the comments section below.