Masters 2012: Bubba Watson Emerges as the Anti-Tiger Woods
April 11, 2012

Streeter Lecka/Getty Images
The golf world that's been utterly consumed by the Tiger Woods story—and saga—over the last 14 years underwent a pivotal transition when new Masters champion Bubba Watson emerged as the antithesis of the Woods-ian narrative. 
Sunday at the Masters—a brief span of competition that eclipses the suspense of a World Series or NBA Finals Game 7—featured many intriguing stories, but was capped off by the guy they didn't see coming.
Tiger's a worldwide name, commodity and legend after his unparalleled career, which still has a ways to go. His presence alone can radically shift the TV ratings of a competitive event (Sunday's ratings were down 22 percent with Woods a non-factor, as reported by USA TODAY). He wears red on Sundays, has won 14 major championships, 72 PGA Tour victories and has become synonymous with the sport of golf.
However, he didn't prove worthy of the spotlight at last week's major championship. In his place was his opposite: Bubba Watson.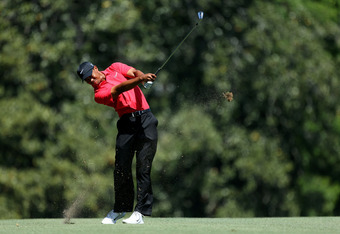 Andrew Redington/Getty Images
The gangly fella with a heavy Southern accent slipped into the coveted green jacket—golf's Heisman, Stanley Cup, gold medal and heavyweight title belt combined—after 74 holes of championship golf and mind-boggling pressure.
Everything about Bubba Watson's Masters victory—his swing, demeanor and even his finale of tears—challenged the conventional norms of golf.
The current criteria for golf has been a consequence of Woods' unprecedented success, captivating a generation of golfers—as well as those before them—and inspiring them to mirror the Woods method.
Living and breathing golf. Committing your mind and body to a rigid, nonstop path that's measured solely by W's. It's stern, repetitive and robotic.
Those immersed in Tiger's philosophy believe problems in their game are a product of flawed technique. This mentality gives reason to the problem, as well as to the solution.
Bubba resides on the other side of the spectrum—way on the other side.
He's not a mechanical player because he opposes that route, but rather, he wouldn't know the first thing about swing technique since he's never taken a golf lesson.
"Self-taught" is an almost taboo thing to say around golf courses these days, and is rarely, if ever, uttered among the elite golfers. Besides, Woods and more than half the players on tour have a coach for their swing, putting stroke and mental game—and that doesn't even include their caddies.
Watson's swing, though, is homegrown.
It goes far past parallel at the top, nearing the point of whacking himself in the head. He moves his front foot—a mechanical no-no—and he tweaks his finish into all sorts of bizarre positions based on the shape he chooses to create for the ball.
Oh, and you know how guys like Luke Donald, Ernie Els and Fred Couples look completely effortless when they swing? Bubba is more of a grip-and-rip-it kind of guy. He swings out of his shoes, as hard as he can every time, pounding through the ball with the force that would very well challenge Happy Gilmore.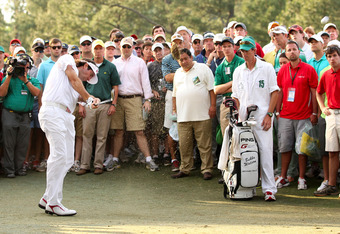 Andrew Redington/Getty Images
Aside from the difference between Watson and Woods' beliefs in technique, consider the way Bubba won. 
Tiger doesn't win majors from behind, both an impressive and telling statistic (Woods has 14 majors and is 14-1 when going into the final round of a major with at least a share of the lead).
In Watson's first major championship victory, he played from behind. He had no lead or even the slightest bit of momentum. To make matters worse for the lanky lefty, on the fifth hole of the final round, Watson's playing partner and competitor, Louis Oosthuizen, made history with a double-eagle albatross. The thunderous roars of Augusta have caused countless players to plummet in the past.
Watson proved that he's not just any other player.
He fought hard throughout his round and carded four consecutive birdies on the back nine, reminiscent of the previous Masters winner, Charl Schwartzel, who birdied his final four holes last year to win.
It all came down to the second shot on his 20th hole Sunday, the second playoff hole. It was an ideal display of Watson's style, which he's dubbed "Bubba Golf."
A narrow gap from the trees called for one thing—a massive hook. Watson cranked his ball through the pine straw and watched it whip from left to right, hit the green and then spin forward towards the hole, as if on command.
It was the shot of the tournament, and so far, the unforgettable shot of Watson's budding career. But it will also be memorable because of who was waiting for him after he captured the win.
There they were—Ben Crane, Rickie Fowler and Aaron Baddeley—close friends of Bubba and two of the three members of the viral golf video "Golf Boys."
In addition to post-win hugs, "Crane even stood on a chair and recorded Bubba's walk to the Augusta National practice green for the awards ceremony," according to ESPN golf writer Gene Wojciechowski.
This isn't a competition about who has more friends—Tiger Woods or Bubba Watson—but rather, a telling disparity between two golfers' relationships with their peers, and ultimately, the respect they've garnered. Have you ever seen any fellow players wait around to congratulate Tiger after his 14 majors?
Watching Watson only solidified how much less enticing Woods has become. Woods hits a bad shot and does this. Watson hits a bad shot and does this.
The really sad part about all this is that we've come to expect such childish behavior from Woods.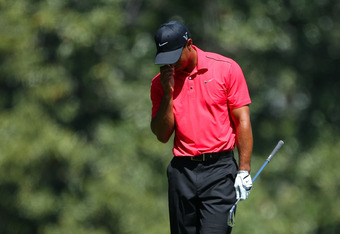 Andrew Redington/Getty Images
Kicking his club, yelling at himself, shouting profanities—classic Tiger. Petulant child comes to mind.
Watson, on the other hand, is known for his whimsical and outgoing nature off the golf course, but is earnest and mature when competing.
As golf legend Bobby Jones once said, "Competitive golf is played mainly on a five-and-a-half-inch course, the space between your ears."
Tiger Woods has become far too cerebral. It's to the point that when things don't go his way, his psyche erupts and leads to the kind of outburst that is losing him fans by the thousands.
Bubba Watson's game and demeanor are stark contrasts to Woods, and it's the best thing that could've happened to golf.